AA assists evacuation of residents and IDPs ahead of storm's Arakan State landfall
"AA members have come and helped those who don't have their own motorboats evacuate. I saw AA members also providing healthcare services for elderly persons. Almost the entire island has been evacuated now,"
By Admin 12 May 2023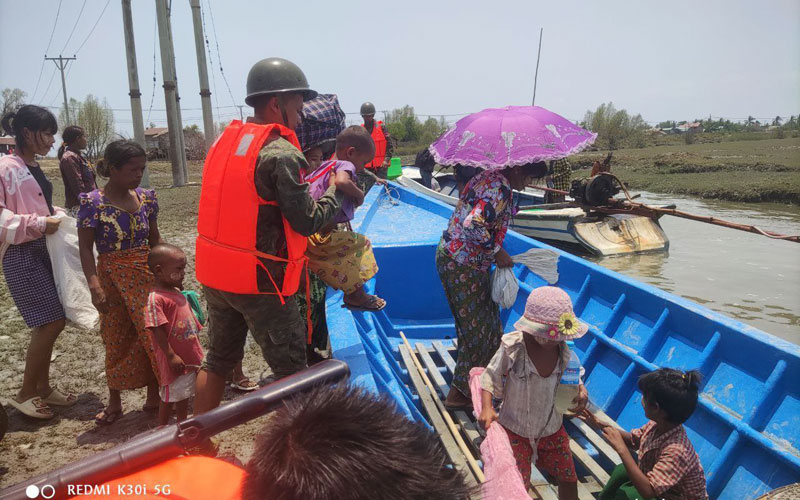 DMG Newsroom
12 May 2023, Myebon
With Cyclone Mocha barreling down, the Arakan Army (AA) has been helping to evacuate local residents of Ngamanye Island in Arakan State's Myebon Township since Thursday, and hundreds of internally displaced people (IDPs) elsewhere in the state have also been moving to safer locations with the assistance of the ethnic armed group in recent days.
More than 370 IDPs from the Wah Taung IDP camp in Kyauktaw Township were evacuated to a school in Panphechaung Village on the afternoon of May 12 at the arrangement of the Arakan Army.
"The Arakan Army officials told us to move to safer places ahead of the cyclonic storm. The AA members helped us in the evacuation. All IDP shelters will be destroyed when the storm hits," said an official from the Wah Taung displacement camp.
The AA said it would provide the evacuees with food as many were able to bring only a few personal belongings and very little, if any, food.
Arrangements have been made to evacuate more than 500 IDPs from the Cedipyin displacement camp in Rathedaung Township to a village monastery.
"The elderly people, children and people with disabilities will be moved to the monastery on a prioritised basis. The remaining IDPs will be evacuated depending on weather conditions. The entire displacement camp will be destroyed when the storm hits," said U Thein Kyaing, manager of the Cedipyin IDP camp.
While many IDPs are relocating to ride out the incoming storm, others are hunkering down as they feel they lack a better option.
As many as 300 IDPs at the Nyaungchaung displacement camp in Kyauktaw Township have no place to go, so they decided to stay put. Others are planning to leave, but had not done so as of Friday.
"We were told by camp officials and the village administrator to be vigilant about the storm. We have carefully packed our important documents. We will leave the displacement camp when the storm hits," said Ma Aye Nwe Soe, an IDP woman from the Nyaungchaung IDP camp.
Meanwhile AA personnel have been assisting the residents of Ngamanye Island in Myebon Township, who face the added evacuation challenge of needing to arrange for boat transport.
"AA members have come and helped those who don't have their own motorboats evacuate. I saw AA members also providing healthcare services for elderly persons. Almost the entire island has been evacuated now," said a resident of Ngamanye Island.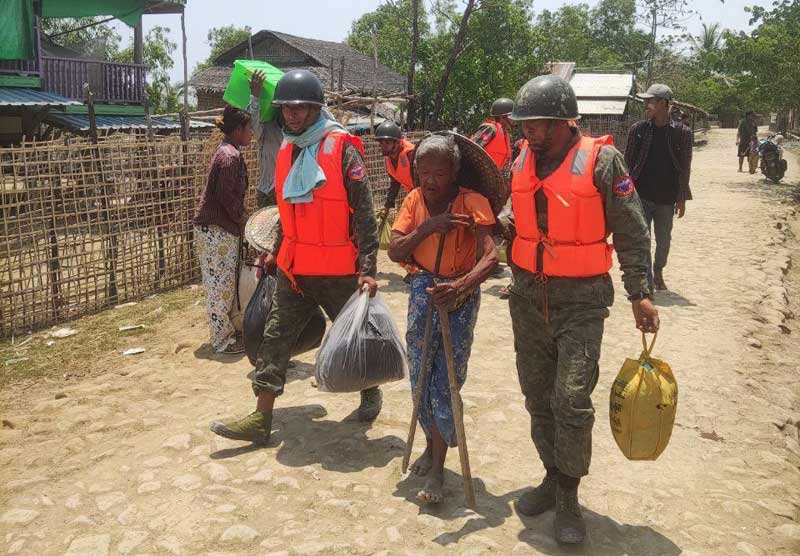 After those who were able to arrange their own way off the island had done so on Wednesday, the AA transported by boat some 2,000 people who remained on the island to neighbouring Kyetsin Island in Minbya.
The evacuees are taking shelter at monasteries and their relatives' homes on Kyetsin Island, where food and drinking water are needed for the new arrivals.
"Most of them are taking shelter at monasteries. Some brought food, but some didn't. We need food," said Ma Khin Mar Shwe, who fled Myauk Kyein Peikseik Village.
The Department of Meteorology and Hydrology said Cyclone Mocha is likely to make landfall between Cox's Bazar in Bangladesh and Arakan State's Kyaukphyu, with the Arakan State capital Sittwe in its forecast path.
The AA is issuing alerts to local people in real time about the trajectory of the cyclone, as well as providing humanitarian assistance, said AA spokesman U Khaing Thukha.
"We are giving priority to people with disabilities, children and women in helping villages in Myebon that are likely to be hit by the storm. We have also provided lifejackets and other assistance to people who choose to stay in their villages," said U Khaing Thukha.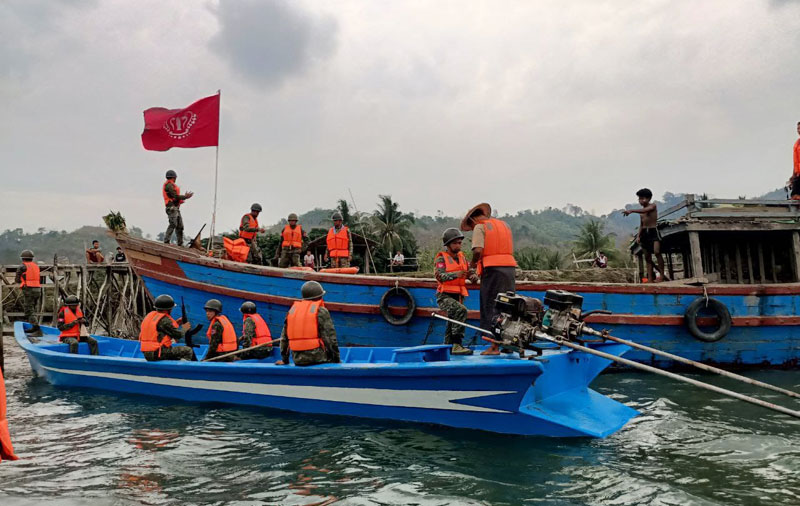 More than 1,000 people died and nearly 60,000 houses were destroyed by a storm that hit Sittwe, Pauktaw, Minbya and Myebon townships in May 1968. The storm left some 300,000 people homeless.
"Many people died then because there was no storm alert. Then, the entire Ngamanye Island was devastated. So, islanders feel dread once they hear of a storm," said U San Shwe Mya, a resident of Myauk Kyein Pikeseik Village.
Myanmar's military regime said it has also made preparations for search and rescue efforts, and cyclone shelters.