Can Arakan State's Conflict-Rattled Fishing Industry Rebound? 
Small-scale fishermen are facing some of the same challenges. Due to the nature of the job, fishermen go out to sea at night and work in conjunction with the tides. But many local fishermen are now wary of going out at night, even in the aftermath of the latest ceasefire.
21 Dec 2022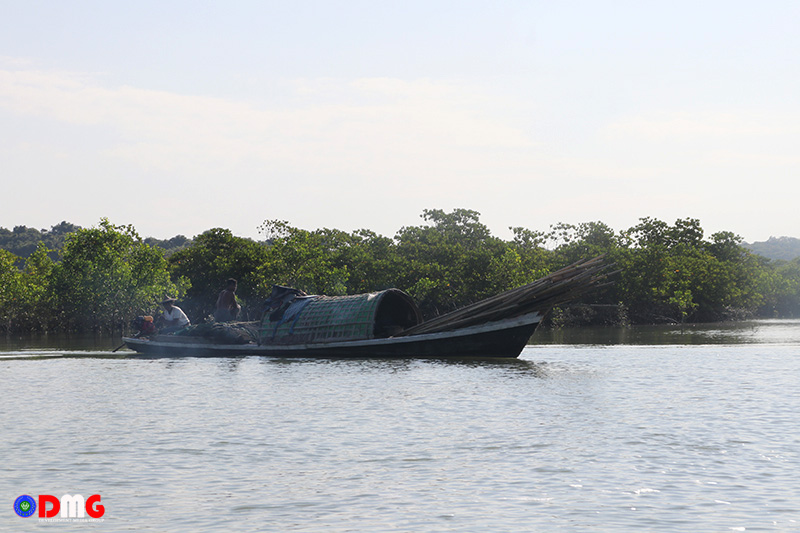 Written by Min Tun
Ko Aung Chay was feeling reluctant to go to work one October day in Arakan State's Buthidaung Township. He makes a living catching crabs — a job he has done since he was a child. But the sound of shelling, which he had heard since the morning, was making him uneasy.
As the time for high tide approached, Ko Aung Chay decided to take the risk. He loaded some bamboo crab traps onto his motorboat and left his village. After sailing for an hour along the stream, he turned off the engine and dropped the traps in the water.
The 20-year-old crab catcher is from Zedi Taung Village in Buthidaung Township, and there are no creeks or streams that he has not been to in the area. But as conflict raged in Arakan State earlier this year, he found himself cutting back his hours and the distances he was willing to travel for a good catch.
Previously, he ventured to waterways as far as 10 miles from his village and would stay on his boat for three to four days catching crabs and fish. But he dared not do so when DMG spoke to him due to ongoing fighting at the time.
"I can't go far like I did before. If something bad happens, it is me who will suffer consequences. So, I try to avoid conflict areas as much as I can," Ko Aung Chay said with a sigh.
After two years of intense fighting from late 2018 to November 2020, Myanmar military's and the Arakan Army (AA) observed an unofficial ceasefire, and peace prevailed for more than a year. But renewed fighting broke out in August, and only in recent weeks has another informal peace pact been reached to put a halt to hostilities for a second time.
From August until the second ceasefire on November 26, some 20,000 people were displaced by the renewed fighting in Arakan State and neighbouring Chin State's Paletwa Township.
The total number of internally displaced people (IDPs), including those who remain at displacement camps due to the 2018-2020 fighting, stood at about 95,000 by mid-November, according to a December 3 report from the United Nations Office for the Coordination of Humanitarian Affairs (UNOCHA).
Like Ko Aung Chay, other crabbers from Zedi Taung and nearby villages dare not go far from their villages. As they flock to streams closer to their home villages, catches have declined, and crabbers are making smaller profits.
"Only on lucky days, I get 10 crabs using 50 crab traps at one time. Mostly I only get two or three crabs per time," Ko Aung Chay lamented.
Small-scale fishermen are facing some of the same challenges. Due to the nature of the job, fishermen go out to sea at night and work in conjunction with the tides. But many local fishermen are now wary of going out at night, even in the aftermath of the latest ceasefire.
U Khaing Htoo, who made a living by fishing for 40 years, has quit and now does casual jobs for livelihood.
"We dare not go to the sea now as Navy vessels are sailing in the sea," said the 55-year-old from Sapar Htar Village.
A fisherman from Sittwe said adding to pressures on the industry, they are not covering costs due to high fuel prices. "Some fish and prawn trawlers have suspended operations because the catch does not cover operating costs," he said.
Daw Ma Chay, in her 40s, has been selling fish at Sittwe's Myoma market for more than 10 years. She buys fish from mongers near the jetty and resells them at the market.
But Daw Ma Chay said sales of fish are down and profits have decreased significantly.
"Sales of fish are on the decline because the military council has blocked both water and land routes. Previously, Sittwe's Myoma market was crowded with people from across Arakan State townships. We are not comfortable selling the fish. The roads are empty," Daw Ma Chay told DMG in October.
Being a largely coastal region, Arakan State is rich in marine resources, and many of its people rely on the seas and streams for their livelihoods. The junta imposed travel restrictions in northern Arakan State townships such as Buthidaung, Maungdaw, Rathedaung and Pauktaw after renewed fighting broke out in August, wreaking economic havoc as well as endangering lives.
Most blockades were lifted following the November 26 ceasefire, but for four months various facets of the fishing industry were disrupted.
"Fish wholesale centres are also dependent on fishermen, so they got less in terms of material, but the business does not stop. But if fish wholesale centres can't buy marine products, it's the same as stopping the business," said a fish and prawn trader in Sittwe.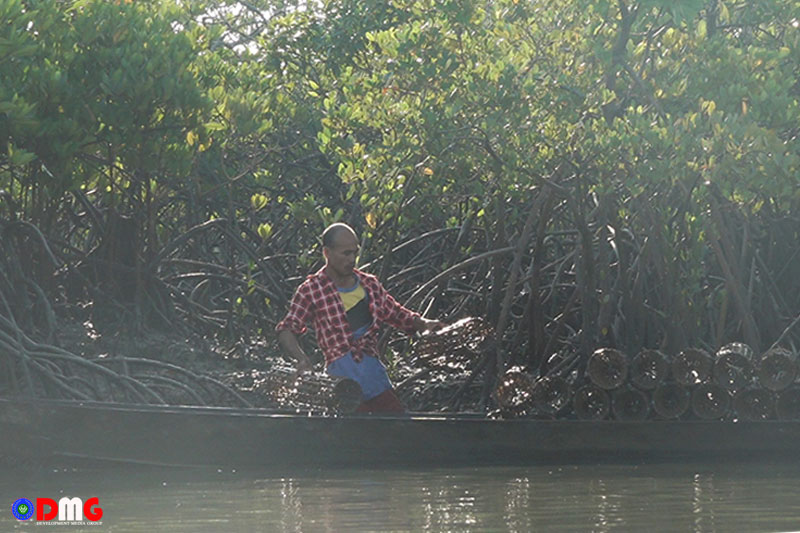 As the quality of fish, prawn and other fisheries products bound for Yangon declined due to lengthy delays along the roads, they failed to fetch good prices when shipped to the commercial capital, said U Ko Ko Maung, who asked that DMG identify him by a pseudonym. At the height of the latest conflict, people in Arakan State travelling by land from Sittwe to Yangon had to pass through more than 10 security checkpoints set up by the military junta across multiple Arakan State townships.
"Delays along the road due to tight checks at security checkpoints negatively affect the quality of fisheries products … As a result, we are offered lower prices for our products," U Ko Ko Maung said.
"The military council focused on the security point of view without considering the people's livelihood, safety and economy, and the public felt the negative effects of these restrictions," said U Khin Maung Gyi, a veteran businessman from Arakan State.
About one month since the latest ceasefire was agreed, the industry is moving toward a return to some semblance of its pre-conflict ways, but fuel prices remain high and the threat of a resumption of hostilities continues to loom large.