One Month After Latest Ceasefire, Many Arakan IDPs Still in Wait-and-See Mode
Junta troops' continued presence in villages and nearby areas, despite the ceasefire, along with the ongoing danger of landmines and explosive remnants of war (ERWs) surrounding their villages are contributing to IDPs' reluctance to return.
26 Dec 2022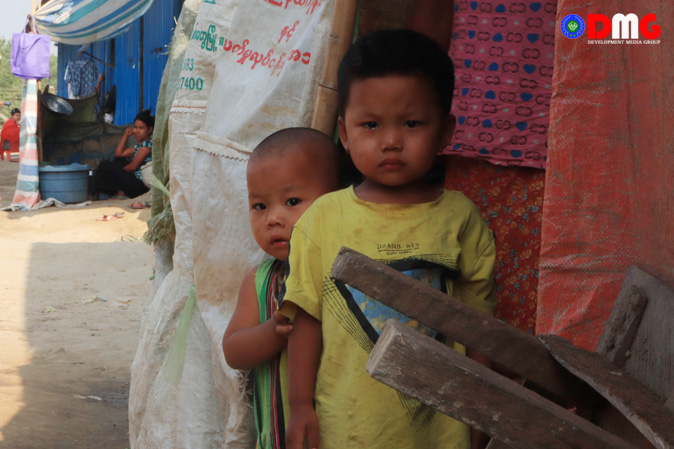 Written By Min Tun
A 28-year-old woman was rocking the cradle on a bamboo bedstead in a tiny room made of matted bamboo walls and thatched roof. A 75-year-old man in a faded white vest was sitting near her.
U Aung Tun Sein looks old for his age, worn out by the war and struggles of life and livelihood. "Life has become more difficult here [at the displacement camp]. I miss my home," he said.
U Aung Tun Sein and his daughter Ma Thein Shwe have grown weary of crowding into this tiny room, together with another family, where they wait for food supplies from donors. There were, at times, a total of nine people living in this tiny room.
Ma Thein Shwe and her father have made guesses about when they might be able to return home, which is Namadar Village in Chin State's Paletwa Township, some 100 miles from the displacement camp where they are currently taking refuge. Leading a simple and relatively carefree life as a farmer in pre-conflict times, U Aung Tun Sein and his family never thought that they would become victims of armed conflict.
They fled for their lives following fighting between the Myanmar military and Arakan Army (AA) near their village in March 2019. They have been living at this displacement camp, opened at a Buddhist monastery in Sittwe's Mingan Ward, for nearly four years.
Recently, they heard a bit of good news that rekindled their homesickness as well as hopes for a return: Like tens of thousands of other internally displaced people (IDPs) in Arakan State, word of a November 26 ceasefire between the Myanmar military and AA has them dreaming of a trip back to Namadar Village.
Many Arakan State residents had lived in fear amid the frequent gunfire and shellings that signalled a resumption of the military-AA conflict, which began in earnest in August. More than 16,000 people were displaced amid regime attacks carried out by ground troops as well as occasionally helicopters and fighter jets. 
The often-fierce fighting came to an abrupt halt with Myanmar's military regime and the AA agreeing to the truce on November 26. The AA said the truce was informal and observed on humanitarian grounds, in consideration of multiple crises facing Arakan State residents that were exacerbated by the fighting.
At a press conference on November 28, however, AA spokesman U Khaing Thukha warned that hostilities could resume at any time, given the informal and tenuous nature of the ceasefire accord.
U Aung Tun Sein first thought he would be able to go home soon after the truce was reached, but later learned the agreement was fragile. "It is uncertain where we can go back home," he lamented.
Both Myanmar military and AA troops are active across Paletwa Township, and soldiers are still deployed near Namadar Village despite the latest ceasefire, adding further uncertainty to U Aung Tun Sein's hoped-for homecoming.
Ceasefire(s)
After two years of intense fighting from late 2018 to November 2020, the military and AA similarly observed an informal ceasefire. More than 230,000 people were displaced in the fighting.
During that first ceasefire, the two sides de-escalated military tensions and managed to maintain cordial relations for more than a year, despite some skirmishes. Many IDPs returned to their homes as stability was restored over time, but more than 40,000 displaced people including U Aung Tun Sein and his family remained in displacement camps.
The informal ceasefire collapsed as military tensions escalated in the region, and renewed fighting erupted in July in Paletwa and Maungdaw, and later spread to parts of Arakan State farther south.
About 20,800 people uprooted by the renewed fighting in Arakan State and Paletwa Township remained displaced as of mid-November, and the number of IDPs including those who were displaced by previous fighting and remain in IDP camps stood at about 95,000, according to a United Nations Office for the Coordination of Humanitarian Affairs (UNOCHA) report on December 3.
Local residents suffer considerably from travel restrictions, including a large number of security checkpoints and road blockades in Arakan State and Paletwa Township, UNOCHA noted.
U Maung Than Sein, 67, from Rathedaung's Aung Tharzi Village, also hoped that he would be able to go back home due to the latest ceasefire.
Aung Tharzi had more than 100 households, but all the villagers fled their homes following heavy fighting from October 3-6, 2020, near their village.
"They attacked with fighter jets and artillery. So, we fled. Houses, a monastery and school in the village were destroyed by artillery strikes," U Maung Than Sein said.
"I hope to return to the village during the cessation of hostilities, but I can't. We will be able to return home only when peace and stability are restored," he added.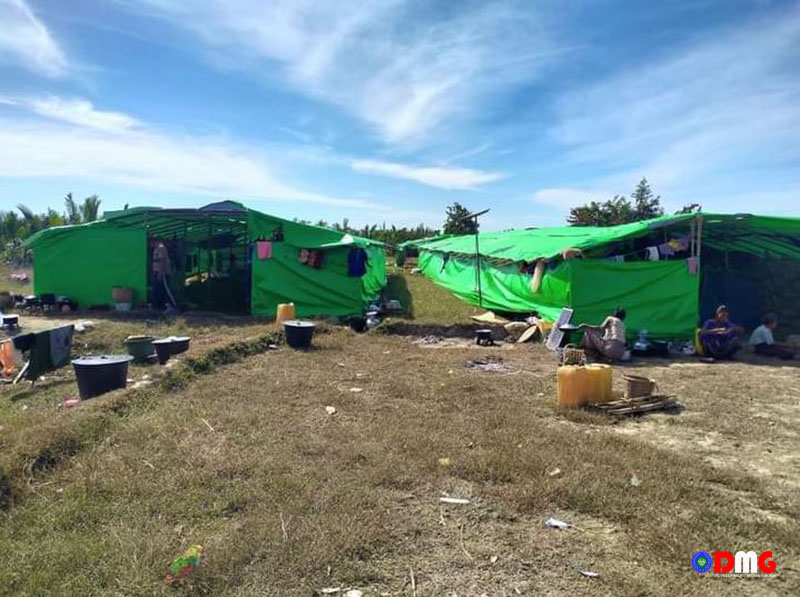 The Ministry of Social Welfare, Relief and Resettlement, UN World Food Programme (WFP), International Committee of the Red Cross and local charities provide some food items to the IDPs, but the provisions are not enough for them, many IDPs say.
"WFP provides K22,000 to each IDP monthly and the Ministry of Social Welfare, Relief and Resettlement sometimes furnishes us with relief items," U Maung Than Sein explained.
Local and foreign organisations and concerned departments have been providing assistance to the IDPs, but there have been almost no donors due to the Covid-19 pandemic and the current political crisis, according to the IDPs.
Difficulties and Dangers Remain
Some IDPs earn a living as odd-job labourers, but the lack of regular work leaves many feeling demoralised.
Junta troops' continued presence in villages and nearby areas, despite the ceasefire, along with the ongoing danger of landmines and explosive remnants of war (ERWs) surrounding their villages are contributing to IDPs' reluctance to return.
"We have been here for three years," said Ma Aye Aye Nu, an IDP originally from Hteeswel Village in Rathedaung Township. "Myanmar military personnel have been stationed near the village for almost three years. We are unable to return home due to the military's presence near the village."
Three civilians were killed and 23 others were injured in shooting incidents and landmine explosions in Arakan State and neighbouring Paletwa Township in September, according to a DMG tally. Eleven people were killed and 31 others were injured in similar incidents in Arakan State and Paletwa Township in October. In just one week last month, from November 10-16, more than 70 civilian casualties were reported in Arakan State.
In some long-abandoned villages, nature has begun to reclaim the land. 
"Now the village is like a forest," said Daw Hla Yin Oo, a former resident of Tinma Village in Kyauktaw Township, who has been taking shelter at Wibezzawadi displacement camp for nearly three years. "There are no more houses in the village, and our cattle are gone. So, we will only return home if the government ensures rehabilitation and guarantees our security."
In March 2020, Tinma Village residents fled their homes amid clashes between the Myanmar military and Arakan Army, with dozens of houses torched as the village was largely emptied of its inhabitants. Daw Hla Yin Oo's home, under construction at the time, was among dozens of houses destroyed by the fighting between the military and AA. 
"I will have to start a new life in my village like before. There is nothing left, everything is needed," she said.
IDPs want a formal ceasefire via a treaty with security guarantees rather than the informal agreement that currently keeps the two sides from clashing.
With distrust between the armies lingering, IDPs like U Aung Tun Sein say they will wait for a more substantive peace pact before they return home. Until then, cramped quarters and handouts from aid groups will continue to characterise their day-to-day existences.
"What I want to say to the leaders of both sides is to negotiate so that everything is easier," U Aung Tun Sein said.