Rathedaung Farmers Measure Cyclone's Devastation in Terms of Cattle Killed 
By Admin 10 Jul 2023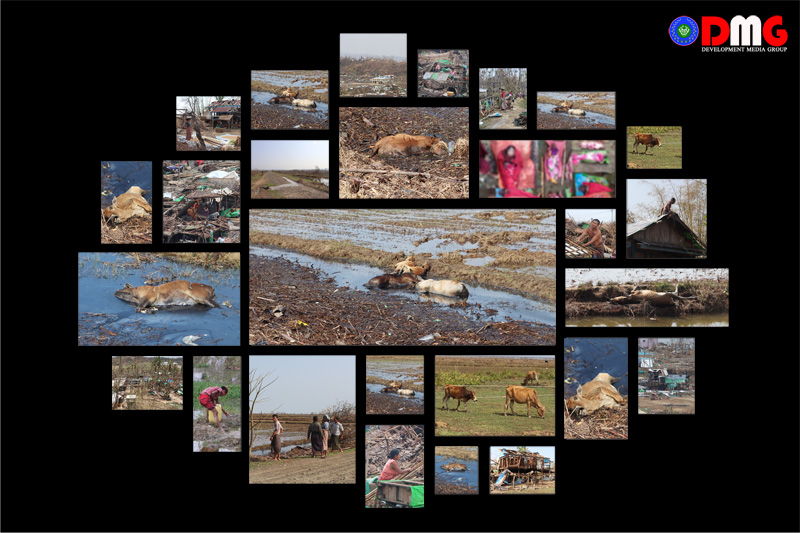 Written By Gaung and Htet Aung
The air was filled with a pervasive smell from the hundreds of dead cattle that lay scattered across paddy fields on both sides of the road.
Ignoring the order in place, U Maung Thar Cho, 60, was dashing through fields, searching for his five cows, hoping that they were still alive after he discovered that at least three of his eight cows were killed by Cyclone Mocha, which hit Arakan State in mid-May.
"My son had five of his cows killed by the cyclone. I had three killed by it. Other villagers also lost their cows. At least 100 cows were killed in Ywar Thit Kay alone," said U Maung Thar Cho, a resident of Ywar Thit Kay Village in Rathedaung Township.
It is a huge loss for U Maung Thar Cho, who relies on cows to do farming for his livelihood.
A total of 15,388 cattle were killed by Cyclone Mocha across Arakan State, according to the Cyclone Mocha Emergency Rescue and Rehabilitation Committee for Arakan (Cyclone Mocha ERRCA) formed by the Arakan Army (AA).
According to the Myanmar military junta, the cyclone left 4,206 buffaloes, 7,593 cows, 2,283 pigs, 738 goats and 489,205 chickens dead in Arakan State.
Many cattle died in Keinkalein, Koetankauk, Donepike, Sinpike and other villages in the west of Mayu Mountains, and Zedipyin, Aukkyaungtaung, Kwasone, Pauktaw and Kanyinchaung villages in the east of Mayu mountains, according to residents.
In Donepike village, more than 700 of the village's 1,600 cattle were killed by the storm, said villager Ko Yan Myo Aung.
"The price of cows has increased as a result. The price of an ox has increased from 700,000 kyats before the storm to around 1.2 million kyats now," said Ko Yan Myo Aung.
Rathedaung also sees dozens of human casualties
Rathedaung Township is considered to have been hit hardest by Cyclone Mocha. The cyclone killed 103 people in Sittwe, 41 in Rathedaung, nine in Pauktaw, five in Buthidaung, four in Ponnagyun, and two in Kyauktaw, totalling 164 people, said Cyclone Mocha ERRCA.
Daw Sandar Win, 52 from Sapar Htar Village in Rathedaung Township, described the cyclone as the most horrible thing she has experienced in her life.
"I cried during the storm. I didn't know where to run. I had to hide beneath my house. At first, I had thought of running to school or to a monastery. But they all were hit and damaged by the storm," she said.
In Rathedaung, 13 died in Donepike village, 20 died in Nyaungbingyi village, one died in Thaungdara village, two died in Myinkharchaung village, one died in Rathedaung town, two died in Zeekaing village, and two others also died.
The Donepike villagers were killed as the monastery they were taking shelter in collapsed during the storm.
At least 10 internally displaced people were injured when a religious hall they were taking shelter in collapsed at a displacement camp opened at Myo U Kyaung monastery in Rathedaung.
Daw Thein Nu Wai from the Myo U Kyaung displacement camp said: "We were sitting inside the religious hall. The roof collapsed and we were covered by bricks. I injured my head."
Recovery plan
According to the Arakan State Administration Council, the financial losses inflicted by the storm totaled over 4698.6 million. The cyclonic storm destroyed 971 schools, 252 health facilities and 1,507 religious buildings, and affected 1,156,796 people in Arakan State, the Arakan State Administration Council said.
Cyclone Mocha destroyed 288,530 homes in Sittwe, Ponnagyun, Kyauktaw, Mrauk-U, Minbya, Myebon, Rathedaung, Buthidaung and Maungdaw townships, and affected 1,547,761 people in Arakan State, according to figures released by Cyclone Mocha ERRA.
As of June 12, a total of 21,164 households had received food supplies and 51,942 households were provided with shelters, while 199,609 households needed food items and 169,206 households were in need of shelter assistance, said Cyclone Mocha ERRA.
Cyclone Mocha ERRCA is managing donations and continues to donate food, including rice, to people in the storm-affected areas, but there is still a need for emergency assistance.
"All homes in the village were destroyed by Cyclone Mocha. The junta provided 35 rice sacks from all people in the village. The Arakan Army helped us build our damaged homes. There are many people who cannot repair their homes due to lack of tarpaulin donors," said Ko Maung Hla Thein, a local man from Thaungdara Village in Rathedaung Township.
ASAC spokesman U Hla Thein said: "Frankly speaking, the financial losses totalled K522 billion and the government can only provide K7 billion."
"If international aid comes smoothly, everyone may get a certain amount of assistance. The junta allocated only K7 billion for rehabilitation of storm victims in Arakan State," he added.
The Arakan State Administration Council has received relief supplies donated by China, India, Thailand, Bangladesh, ASEAN member countries, UK, Japan and the United States, but humanitarian assistance is still needed for storm victims in Arakan State, he said.
Daw Khin Saw Wai, a former Arakan State lawmaker who is providing relief items to storm victims in Rathedaung Township, said that since the damage in the township was 95 percent due to the storm, everyone will be able to recover with the help of everyone in the rehabilitation.
"As there are many requirements on the ground, rehabilitation works in Rathedaung Township can only be carried out with everyone's help," the ex-legislator added.
"We have distributed relief items such as food and shelters to storm victims in Rathedaung Township. The rest of the relief materials are distributed to storm victims depending on the amount received. We have submitted a request to provide storm victims with necessary relief items," said U Naing Lin Htet, the Rathedaung Township administrator.
About 80 percent of the paddy seeds stored by farmers in Sittwe, Pauktaw, Rathedaung, Kyauktaw, Mrauk-U, Ponnagyun and Maungdaw townships were reportedly destroyed by Cyclone Mocha. In addition, some rice barns in Gwa, Kyaukphyu and Thandwe townships were destroyed by the storm, according to farmers.
"For farmers, paddy seed is the number one, most important thing," said U Khin Maung Soe, a local man from Khahnaunggyi Village in Rathedaung Township. "Farmers have to farm for a living, so if they can't farm, they don't know how to survive. I am worried about our livelihoods."
For U Maung Thar Cho, the Ywar Thit Kay villager, the fates of cattle and their owners are often inextricably bound.
"When cattle die," he said, "it means a lot of suffering for the farmers."