Kin Seik Shelling a Familiar Tale of Lives Destroyed, Accountability Lacking
Maung Myat Thu Lin and Daw Aye Yin Nu, 60, died at the scene of the strike. U Hla Aung Thein, 35, a native of Chaung Thit who was working in Kin Seik village at the time of shelling, died later at the hospital of a wound to his throat. 
By Gaung 09 Sep 2022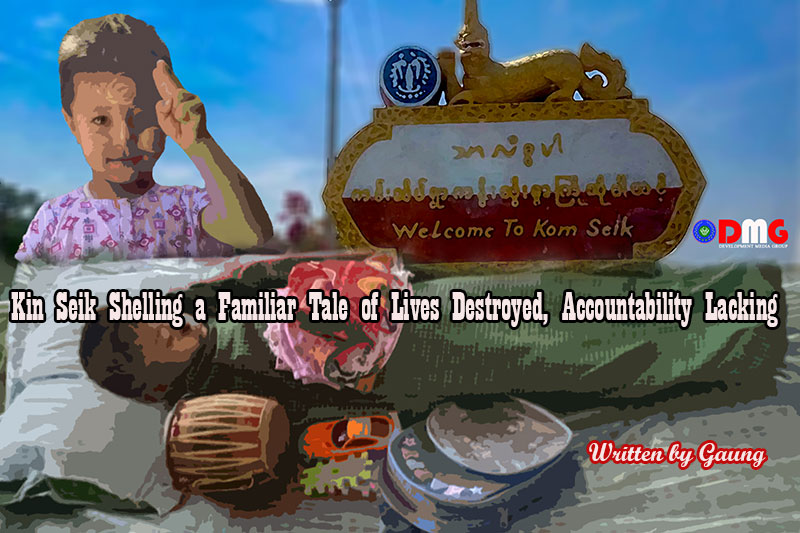 Written by Gaung 
With artillery shells having landed near their village at five-minute intervals for the past 20 minutes, the panic-stricken villagers dared not stay and ran from their houses in various directions. Then a fifth shell landed on Kin Seik village's main road. 
Villagers have described how a barrage of artillery shells hit in and around Kin Seik village beginning at around 4 p.m. on August 28, when military battalions based in Mrauk-U shelled their village. 
Kin Seik residents felt fortunate not to be hit by the first four artillery shells, but when the fifth shell landed on the village road, at least 10 villagers — including a child, women and elderly people — were killed or injured. 
"We did nothing wrong. My grandson was too young to die," said U Tun Hla Kyaw, the grandfather of Maung Myat Thu Lin, a 4-year-old boy who was killed in the shelling.  
Maung Myat Thu Lin and Daw Aye Yin Nu, 60, died at the scene of the strike. U Hla Aung Thein, 35, a native of Chaung Thit who was working in Kin Seik village at the time of shelling, died later at the hospital of a wound to his throat. 
Maung Myat Thu Lin's mother, 26-year-old Ma Oo Win Khaing, was also injured. Others wounded included three men aged 35, 40 and 63, respectively, and three women aged 32, 45, and 55. They are currently receiving treatment at Mrauk-U Hospital. 
"They were hit by shrapnel, and injured in their chests, arms and legs," said a Kin Seik villager who witnessed the strike's aftermath. 
A piece of shrapnel tore through the abdomen of Daw Aye Yin Nu, killing her on the spot, said the witness. Maung Myat Thu Lin was hit by shrapnel in his head as Ma Oo Win Khaing carried her son and fled. Her husband is currently working in Malaysia.  
Kin Seik Had Been Devoid of Hostilities 
A skirmish took place near Lekka village when junta troops approached an Arakan Army (AA) outpost some eight miles to the north of Mrauk-U town on August 28 at around noon, AA spokesman U Khaing Thukha told DMG. 
Following the fighting, junta battalions in Mrauk-U fired around 30 artillery shells on nearby villages. 
Asked about the junta shelling of Kin Seik village, U Khaung Thukha said: "It is a wicked act to target civilians. It is an unhamne and cowardly act." 
The AA has warned that the regime would have to pay for its war crimes against civilians in Arakan State. 
DMG was not able to obtain comment from junta spokesman Major General Zaw Min Tun or Arakan State Security and Border Affairs Minister Colonel Kyaw Thura. The regime has not yet released an official report on the shelling of Kin Seik village. 
During a regime press conference in May as tensions between the two sides were rising in Arakan State, Maj-Gen Zaw Min Tun said the junta was tolerating the AA's "provocative acts" and threats because it did not want to see the people of Arakan State get dragged into renewed conflict between the previously warring armies. 
However, he added what many perceived to be an implicit threat: "Don't blame the Tatmadaw [Myanmar military] if something bad happens," the junta spokesman said. 
The Myanmar military's Mrauk-U-based battalions fired artillery shells into Kin Seik village following the clash near Lekka village, locals have said, noting the distance between the two villages. 
Kin Seik village is located close to the town of Mrauk-U, to the west of the ancient Arakanese capital. The village of Lekka, where the fighting took place, is located to the north of Mrauk-U, more than eight miles away. 
"The fighting broke out north of Mrauk-U and the military fired artillery shells into Kin Seik village west of Mrauk-U. The junta troops deliberately fired artillery shells into the village without there being fighting near the village," said U Nandasara, the abbot of Mya Tanzaung Monastery in Mrauk-U. 
A Lack of Accountability Returns to Arakan State 
The 2018-2020 armed conflict in Arakan State came to a halt when the Myanmar military and Arakan Army reached an unofficial ceasefire ahead of the country's 2020 general election. Now, however, weeks of intermittent but intensifying skirmishes have analysts predicting a return to all-out war in the region. 
With clashes reported in Maungdaw, Mrauk-U, Rathedaung and Taungup townships, the fighting has also spread to neighbouring Paletwa Township in Chin State. 
Arakanese people have criticised the military council's silence regarding the deaths of multiple civilians in this latest iteration of conflict, which they say mirrors the lack of accountability that characterised the 2018-2020 hostilities. The military's firing of heavy weapons at Kin Seik village is a violation of the Geneva Conventions, they allege. 
"The Myanmar military has yet to take responsibility for the heavy weapons fire. Here, we can consider that accountability is not in the job description of soldiers and the military," the monk U Nandasara said. 
"If you look at the Kin Seik village incident, it seems that the Myanmar military still wants to kill the people, and there is no accountability," said Daw Nyo Aye, chairwoman of the Rakhine Women's Network. 
Chapter 3, Article 9 of the Nationwide Ceasefire Agreement (NCA), which covers the protection of non-combatant civilians, states that women, children and the elderly must be fully protected. The NCA has been signed between the military and several ethnic armed organisations. 
The Arakan Students' Union issued a statement on August 28, in which it condemned the military's indiscriminate firing of heavy weapons into communities, saying such "inhumane acts" result in injuries and deaths. 
"The junta troops are launching deliberate attacks against civilians and residential areas, and we strongly condemn the military's inhumane acts," said Ko Tun Nain Linn, a central committee member of the Arakan Students' Union. 
Considerations of international law aside, once-bustling Kin Seik village is now quiet. Residents dare not stay in the village and are currently taking shelter at their relatives' homes and a monastery in downtown Mrauk-U. 
Family members of the village's dead and injured are devastated and in despair, with no apparent path to seek justice for their loved ones. Though their circumstances vary, it is grief that they share. 
Thinking about his grandson, who was killed by the artillery fire directed at Kin Seik village on August 28, U Tun Hla Kyaw said in a choked voice: "If there is a fight, they should shoot each other. It has nothing to do with us."