Kyauktaw Activist Among Many Caught Up in Military-AA Tit for Tat as Detentions Rise in Arakan
It was pouring rain in Kyauktaw on June 21. Residents were on edge and the town was a scene of chaos, with junta soldiers infuriated by the Arakan Army's recent abduction of three local policemen. 
By Nay Myo Linn 12 Jul 2022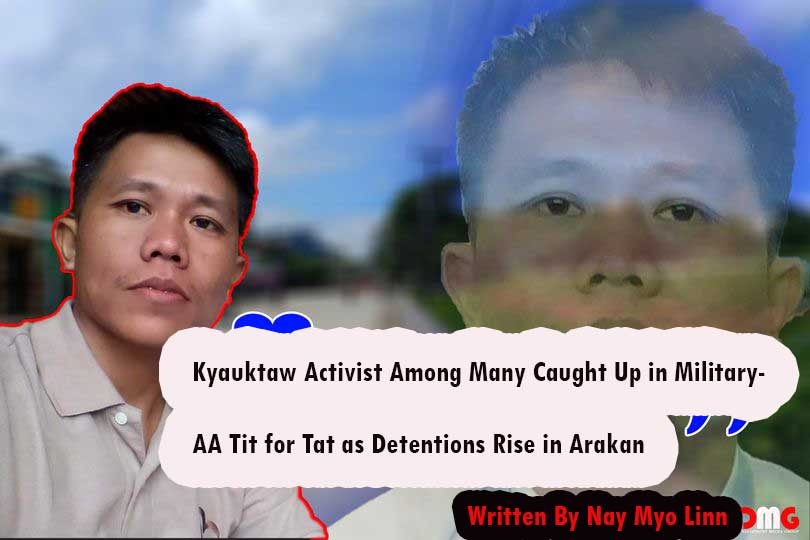 Written By Nay Myo Linn 
It was pouring rain in Kyauktaw on June 21. Residents were on edge and the town was a scene of chaos, with junta soldiers infuriated by the Arakan Army's recent abduction of three local policemen. 
At around 10 a.m., some 40 junta soldiers raided the house of Ko Zaw Win, also known as Ludu (meaning "for the public" in Burmese) Zaw Win, in Kyauktaw's Pyi Taw Thar ward. Ko Zaw Win, a 40-year-old social and political activist, was having lunch together with his wife and three children at the time. 
"Soldiers arrived in front of our house and asked if this was U Zaw Win's house. They took him handcuffed, saying they had questions to ask him," said Ko Zaw Win's wife, Daw Khin Hla San. 
A day earlier, the Arakan Army (AA) abducted a police officer and two constables of the Kyauktaw Township police station. Junta soldiers and police looked for the three in vain. As they conducted house-to-house searches the next day, eight residents were detained, including Ko Zaw Win. Four female detainees were later released, but Ko Zaw Win and three other male detainees are still being held by the regime. 
Searching for Ko Zaw Win 
Family members were not told why the regime had detained Ko Zaw Win. After her husband had been detained for more than 24 hours, Daw Khin Hla San was on edge. She went to the township police station to inquire about him. But police said that they could not provide any answers because the case was being handled by the Myanmar military. 
"The police said my husband was not being detained there, and that they couldn't help because the case was being directly handled by the military. They suggested that I should go to the [military] checkpoint near the bridge. I went there and I was told that he was not there," she recalled. 
Her concerns for him have grown over time, as she has heard about brutal and deadly interrogations of civilian detainees in Myanmar military custody, and amid rising tensions between the military and Arakan Army.  
"So I asked a major at the township's General Administration Department. He said my husband was detained by security personnel, and that he didn't know more. But he helped me ask about my husband, and I was told that Ko Zaw Win was being held properly," she said. 
Nonetheless, she is well aware that the regime has never really treated detainees well. Her concern for her husband's wellbeing is thus acute. 
Due to his bubbly personality, Ko Zaw Win seems to be a healthy man, even when his actual health may not be so.  
"He can't bear hunger. When he feels hungry, his body starts shaking uncontrollably. He has to eat something nearby," said Daw Khin Hla San. Ko Zaw Win also can't bear the cold, and his wife is concerned that he could be being kept in a cell with a concrete floor, without any kind of proper matting. 
"He also suffers from neck pains. I am concerned that he might be beaten because I heard detainees have been beaten during interrogations," she added. 
A Respected Figure 
Ko Zaw Win has a big heart and lives for others, those close to him say. He actively assisted civilians displaced by fighting between the Myanmar military and the Arakan Army over the years, sometimes risking his life to do so.  
"He went to places where others usually dare not go, and made the international community know about human rights violations against civilians," said Kyauktaw resident Ko Kyaw Hla Myint, who is also a social and political activist. 
Fighting between the military and Arakan Army broke out in the last week of December 2018, and the government subsequently cut off internet access in Arakan State, citing security concerns. During this time, Ko Zaw Win still managed to post on social media about the various forms of human rights abuses taking place in Arakan State, including people being shot at and killed by the Myanmar military. 
"He is seen as a person who really works hard and is honest about Arakanese nationalism," said Ko Kyaw Hla Myint. "He is also a man who is demanding the rights we deserve, even when the people are being persecuted." 
One of Several Recent Arrests 
Myanmar's military and the Arakan Army have largely observed an informal ceasefire since November 2020, after two years of often-intense fighting. The military, meanwhile, has been busy suppressing widespread opposition to its coup on February 1, 2021. 
The Arakan Army, which aims to liberate Arakan State from the control of the central government in Naypyidaw, has gained influence in part by establishing an administration, judiciary and security apparatus in the state that runs parallel to the junta's own. 
The military, which continues to champion the "three main national causes" —  non-disintegration of the Union, non-disintegration of national solidarity, and perpetuation of sovereignty — as a national duty, is unhappy with the AA's growing clout in Arakan State. Nonetheless, Maj-Gen Zaw Min Tun, a spokesman for the regime, told a news conference that the military had been "very tolerant" of the Arakan Army's actions. 
The Arakan Army, however, says the Myanmar military is expanding its presence in Arakan State, disrupting the AA-established judiciary, tax collection and administration, and threatening to arrest its staff. In addition, the AA says the military has been attempting to undermine Arakanese-Muslim harmony and exploit their historically turbulent relations in Arakan State. 
The AA also says that tensions between the Myanmar military and the ethnic armed group have been rising for some time. As a result, the Arakan Army announced in May that fighting could resume in Arakan State at any time. 
Arrests by both sides of the other's personnel began last month. The Arakan Army detained 14 junta soldiers and policemen. The Myanmar military arrested at least 40 locals across Kyauktaw, Ponnagyun, and Mrauk-U townships. U Khaing Thukha has said the Arakan Army is open to the possibility of arranging a prisoner swap with the military regime. 
In many cases, family members do not know where the detainees are being held. The military has not given any official statement to the media as to why these locals were arrested. 
"The Myanmar military should not make arbitrary arrests of civilians. If the Myanmar military arrests civilians, it should first contact ULA officials to investigate," said U Mrat Tun, executive director of the Arakan Human Rights Defenders and Promoters Association, referring to the United League of Arakan, which is the AA's political wing. 
"Among the detainees were underage children and this is a violation of human rights," he added. 
U Mrat Tun also condemned the military's refusal to allow the detainees to contact their families after their arrest. He called on the military to allow the detainees to contact their loved ones as soon as possible. 
Three people, including Ko Zaw Win, were charged with incitement under Section 505(a) of the Penal Code on June 30, according to the Kyauktaw Myoma police station. A police officer said the three are being held in military custody due to security concerns, but declined to say who was bringing charges against the trio. 
Daw Khin Hla Zan, the mother of a 14-year-old boy, a 9-year-old girl and a 1-year-old boy, said she felt like she was going insane in her husband's absence, and wanted to see him as soon as possible. 
Standing in front of the junta soldiers who were there to arrest him in his own home, Ko Zaw Win assured his wife: "I did nothing wrong, and I will be released soon."  
"If he is guilty, the military should charge and sentence him," said Daw Khin Hla Zan. "But if he is not guilty, release him as soon as possible."