Youth Face Uncertain Future Amid Violence and Despair
"I did nothing wrong, and they have done this to me. My dreams and hopes are all shattered."
22 May 2023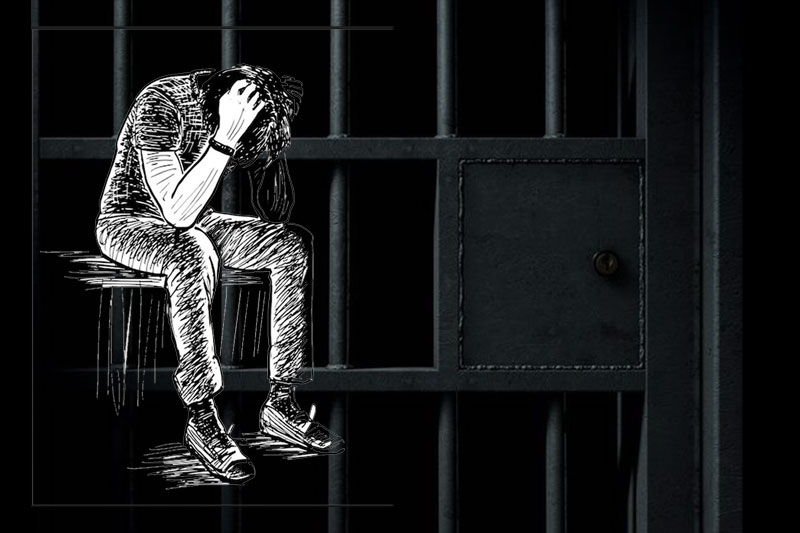 Written By Aung Htein
A car ran down the road fast, and pulled up outside a house. Ten armed men in ordinary clothes got out of the car, entered the compound, and shouted a name. A young man came out of the house, and after a brief conversation, he was handcuffed and taken away.
"They asked who Aung Naing Myint was. My younger brother said it was him. Then they asked for his phone. After my brother gave his phone to them, they handcuffed him and arrested him," Daw Ma Nan Soe recounted of how her brother Ko Aung Naing Myint was detained.
Ko Aung Naing Myint was one of thousands detained by Myanmar's military regime on suspicion of having ties to the anti-junta resistance movement.
Ten regime police officers arrested Ko Aung Naing Myint at his home in Arakan State's Mrauk-U on October 15, 2021, more than eight months after the putsch. As he was detained, Ko Aung Naing Myint was beaten as he struggled out of fear.
"My younger brother asked them why they were arresting him. They slapped him in his face, saying he was too mouthy. Then they hit him with a gun barrel seven or eight times and dragged him into the car as if my younger brother were an animal," said Daw Ma Nan Soe.
A grim future also awaited him.
A Young Writer's Hopes Dashed
Ko Aung Naing Myint, also known as Ko Min Di Par, is a native of Pan Maw Village in Arakan State's Mrauk-U Township. He has been a bookworm since he was young, and his dream has long been to become a celebrated writer, an aspiration he has worked hard to attain.
Under the pen name 'Min Di Par' (Old City), Ko Aung Naing Myint has written nine novels. His books were published by Shwe Luck Publishing House in Yangon, according to family members. He was finishing his 10th book, 'Life Mire,' when he was arrested.
"My younger brother had just started out on a successful career, and his career was wrecked," said Daw Ma Nan Soe.
Myanmar has been in chaos since the February 2021 coup, ushering the country into a sustained period of political uncertainty.
Ma Tin Htay, 23, from Pauktaw, was planning to work as a professional accountant, but her dream was shattered by the military takeover. She was attending relevant training before the coup, but she could not continue because of the post-coup turmoil, financial difficulties and other factors.
"I'm concerned that I might not be able to realise my dreams. I feel lost," she said.
Though Arakan State has not experienced fighting as in many other parts of Myanmar, it has suffered from consequences of the coup. Many young people in Arakan State feel feelings of uncertainty about their futures.
Courts Weaponised
A case was opened against Ko Aung Naing Myint under Section 50(j) of the Counter-Terrorism Law for funding the People's Defense Force (PDF) on October 18, 2021. He was remanded in custody for two weeks.
Police claimed that they had found messages and mobile money transfer records with PDF members on Ko Aung Naing Myint's phone, his lawyer told DMG.
Family members have denied the junta's allegations.
"I can guarantee that my younger brother does not have any ties to any organisation. He only reads and writes, every single day. He was trying to realise his ambition to become a writer one day. We feel very sorry that his dream is shattered now," said Daw Ma Nan Soe.
After four months of trial, Ko Min Di Par was sentenced to 10 years in prison with hard labour by the Mrauk-U District Court on February 25, 2022.
The Arakan State High Court rejected an appeal seeking to overturn the district court's ruling. Ko Min Di Par is currently being held in Sittwe Prison.
Though there have been few coordinated anti-coup activities in Arakan State since the coup, the Myanmar military regime has made several arrests of individuals on suspected ties to PDFs.
Over the past two years since the coup, more than 20 people were arrested on suspicion of having ties to PDFs in Kyaukphyu, Thandwe, Taungup and Mrauk-U townships. Ko Min Di Par was the first in Arakan State to be arrested and given a lengthy prison sentence on suspicion of PDF affiliations.
"The regime is attempting to instil fear in young people so as to retain its grip on power. So, it is arresting them on various pretences. You can get arrested anytime," said information officer Ko Oo Than Naing of the Arakan Students Union.
The regime harbours suspicion also because the Arakan Army is consolidating its control in Arakan State.
Renewed fighting erupted in August of last year after some 18 months of relative calm in Arakan State following two years of often-intense conflict.
The Myanmar military returned to arresting civilians, as it did during the previous fighting, when the clashes resumed in August. In the latest fighting, which lasted for more than three months, the military arrested over 100 people on suspicion of having ties to the AA, and around 50 of them were charged under the Unlawful Associations Act or Section 505 of the Penal Code, an incitement provision.
One social activist said: "While both sides are trying to consolidate their control, young people are not in a position to live freely. And the Myanmar military regime is arresting young people on suspicion of having ties to AA or PDF."
Chilling Effects
Arrests and prosecutions have discouraged young people from speaking up for their rights and speaking out against rights violations. Young people have been forced to direct their energies toward survival rather than the development of their regions. Morale has declined as a result.
Ko Min Di Par was 23 when he was arrested, and he is now 26. He will be older than 30 when he gets out if made to serve his full sentence.
What her brother said to her following his arrest still echoes in Daw Ma Nan Soe's ears.
"I did nothing wrong, and they have done this to me. My dreams and hopes are all shattered."
Anti-regime protests and other forms of resitance persist, and although there has been little outward sign of opposition to the coup in Arakan State, the people have been facing the consequences of the coup for more than two years.
Young people have their own individual ambitions for the future, but they have been crushed under the weight of the coup and its aftermath. They walk with great uncertainty into the future.