Landmines Continue to Upend Lives
Hostilities between the Myanmar military and the Arakan Army broke out in Paletwa in 2015. Amid the heavier fighting that ensued from 2018 to 2020, thousands of Paletwa residents were forced to flee their homes to displacement camps.
By Gaung 28 Sep 2022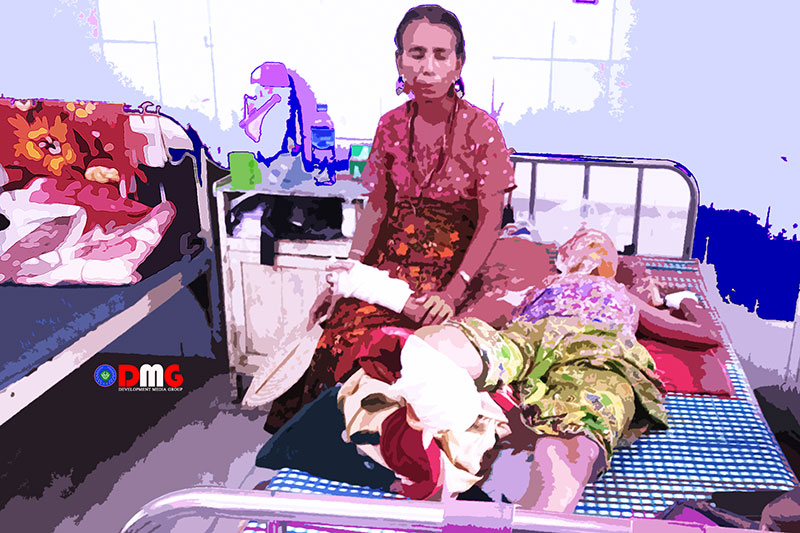 Written by Gaung

It was a pleasant day, with the tops of the mountains shrouded in mist in Chin State's Paletwa Township. Daw Che Khin and Daw Win Khin, two friends in their 50s, together with a man were walking along a forest path to collect bamboo shoots and other vegetables, singing folk songs.

All of a sudden, a loud blast brought their singing to an abrupt halt. Daw Win Khin was found lying on the ground, soaked in blood from shrapnel that had hit her face, body and limbs. Her two friends carried her back to the village with much difficulty, and she was sent to Paletwa Hospital. The date was June 20, 2022.

The mine blast took place near the forest between Abaung Thar and Takar Chaung villages, according to the two who accompanied Daw Win Khin. Because the explosion inflicted serious injuries to her, Daw Win Khin was transferred from Paletwa Hospital to Kyauktaw Hospital, and then to Sittwe Hospital in the Arakan State capital.

"She's had to have her right leg amputated below the knee. She has also lost her nose, and the doctor said that she will be permanently blind," said Ma Lun Lone, Daw Win Khin's younger sister.

Daw Win Khin is currently receiving intensive care in the orthopaedic ward of the 500-bed hospital in Sittwe.

She is Khumi, a tribe of ethnic Chin people. She has been taking shelter at a displacement camp opened at a football pitch in Paletwa town following fighting between the Myanmar military and the Arakan Army (AA) near the village of Takar Chaung, Paletwa Township, in 2020.

With food in short supply at the displacement camp, many IDPs catch fish and collect vegetables in the nearby forest to scrape by. Daw Win Khin, a widow with five children, became another landmine casualty in a region beset by them.

Hostilities between the Myanmar military and the Arakan Army broke out in Paletwa in 2015. Amid the heavier fighting that ensued from 2018 to 2020, thousands of Paletwa residents were forced to flee their homes to displacement camps.

Some IDPs have returned to their villages following the informal ceasefire between the Myanmar military and the AA in late 2020, but Daw Win Khin still dares not return to her village, where troops of both sides are still active in the area.

Villagers say there is significant risk of landmines and other unexploded ordnance in the forest near Takar Chaung Village. But local residents who rely on forest produce to survive have no choice but to go to places where the two sides have previously clashed, and where armed groups were previously stationed.

"As food is short at the displacement camp, we have to go [into forests to search for food], and nobody ever thought this could happen to my sister," said Ma Lun Lone.

Currently, Daw Win Khin is receiving treatment with money donated by Khumi and Chin civil society and religious organisations, and Arakanese civil society organisations, according to family members. They are worried that they might run into financial difficulties if Daw Win Khin has to receive long-term treatment.

The Myanmar military and the AA have clashed recently in Paletwa Township, and military tensions remain high in the area, already dotted with landmines and other unexploded ordnance.

The extent to which either side has planted landmines is not clear. What is clear is that whenever civilian fatalities or injuries from landmine explosions occur, each side attempts to shift blame to the other.

Assistance groups have sought the provision of short-term and long-term assistance for these victims' rehabilitation, and have called on the warring sides to observe international humanitarian laws.

According to the International Campaign to Ban Landmines (ICBL), the rate of landmine injuries in Myanmar ranks third in the world, after Afghanistan and Colombia.

"We have urged the government on these issues [de-mining] in the past. The government should work on the issue of how to free the public from the danger of landmines," said Daw Khin Saw Wai, a former Arakan State lawmaker.

"No civilian knows exactly where the landmines are. Locals are more affected by landmines. Now she [Daw Win Khin] has become a cripple due to a landmine explosion," the ex-MP added.

Arakan and Chin are the poorest and least developed states in Myanmar, with few employment opportunities. With few other options, many displaced people go to nearby forests to forage for vegetables in order to pay for their children's school fees and feed their families. These excursions can be deadly.

As part of rehabilitation efforts, local civil society groups and international organisations are helping landmine victims, but the government is doing nothing, said Saw San Nyein Thu, chairperson of the Rakhine Women's Initiative Organisation, a rights group in Arakan State.

She suggested that in order to effectively address the landmine problem, both armed parties should consult and act together, while also cooperating with civil society organisations, which are already working to raise awareness about landmine dangers.

A total of 692 landmine victims have been provided with K138.4 million since the fiscal year 2017-2018, said the junta-appointed Union Minister for Social Welfare, Relief and Resettlement Dr. Thet Thet Khaing at a meeting with the ASEAN Regional Mine Action Center (ARMAC) on July 8.

Civil society groups say that the biggest victims of armed conflict are women, children and the elderly. For the families who fled the fighting in Paletwa, they know that they did not create the war, but they do not yet know how to avoid its consequences.