Vox Pop: Activists weigh in amid spotlight on child rape cases in Arakan State
DMG recently spoke to Arakan State activists in various fields to discuss these troubling trends, with a focus on the understandably high-emotion issue of child rape.
By Admin 05 Oct 2023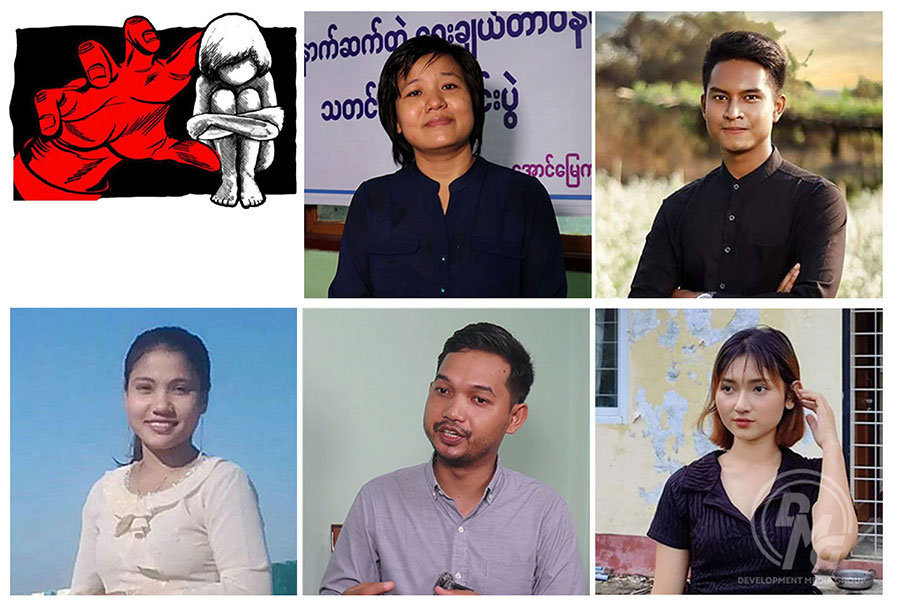 DMG Newsroom
5 October 2023, Sittwe
An increase in crimes such as theft, robbery, murder and rape in Arakan State has left residents feeling insecure. Multiple cases of child rape have hit their respective communities particularly hard.
DMG recently spoke to Arakan State activists in various fields to discuss these troubling trends, with a focus on the understandably high-emotion issue of child rape.
Saw San Nyein Thu || Chairwoman || Rakhaing Women's Initiative Organization (RWIO)
Due to the lack of law enforcement and effective measures against crime under criminal law, it can be said that such sexual violence is being repeated. Another thing is that because the political, economic and social conditions in Arakan State are deteriorating, the people are becoming mentally unwell. Now there are even rape cases between fathers and daughters.
The most important thing is that if tangible measures are not taken effectively, there is a feeling of impunity, either for the perpetrator or for the person who will commit the next crime, and future crimes may become worse than now. It is now a situation where even high-profile crimes disappear without a trace, so people can commit more crimes. The most important thing is to take action against the perpetrators.
Ko Min Saw Khaing || Gender Trainer
Rapes happen because the perpetrators have no knowledge. They don't understand that consent is required. If the victim doesn't say anything, they think they have reached an agreement.
Another thing is the weak rule of law. The perpetrators should be properly punished and the victims need to stand up without being humiliated. For some girls, even if they are assaulted, they are ashamed and don't speak up. Perpetrators need to be treated like perpetrators.
Daw Ma Hlwan Po || Educational Employee
The reason for child rape and sexual violence is that people use mobile phones and the internet without age-appropriate rules. Criminals are trying to do the same in real life as in social media videos.
Some of them started using drugs without understanding [its consequences]. I think that some of them could not control their conscience, morals, and decency, so they became like this. In order to control them, as children's parents and teachers, we need to teach them diligently enough for children to understand. Showing and sharing sex education videos should be done more often in the environment. As for the relevant authorities, if it becomes a sexual issue, I think that if the effective punishment is severe, it [sexual crimes] will decrease.
Dr. Maung Maung Oo
One of the reasons that child rape happens is because the victims are not in a safe place. Another reason is the lack of knowledge about sexuality in our environment. Another thing is that the legal system needs to be strengthened because the perpetrators cannot be effectively prosecuted.
Another factor is a lack of sexual knowledge. It is necessary to provide age-appropriate sexual knowledge. In terms of laws, child protection laws need to be made carefully. We need to teach children what they should know about sex. Only by creating a safe environment for children and women will the number of child rapes decrease.
Ma Yun Nadi Oo || Kyauktaw Youths Association
I feel bad when I hear that sexual violence is happening in all parts of Arakan State. Most child rapes are committed against children by adults and relatives who are related to them. The perpetrators do this because they don't know how to deal with their sexuality. That's why children's schools should include what is appropriate for them when it comes to sexual knowledge.
As adults, the issues that can be resolved and what should be observed should be arranged by the officials. Victims do not know who to complain to and are not sure which government to rely on. Child protection laws must also be strictly enforced. Effective action must be taken against the perpetrators.