Vox Pop: High hopes for new Sittwe Port 
Business owners, entrepreneurs and politicians spoke to DMG about the Sittwe Port's potential to jumpstart the local economy.
By Admin 02 Aug 2023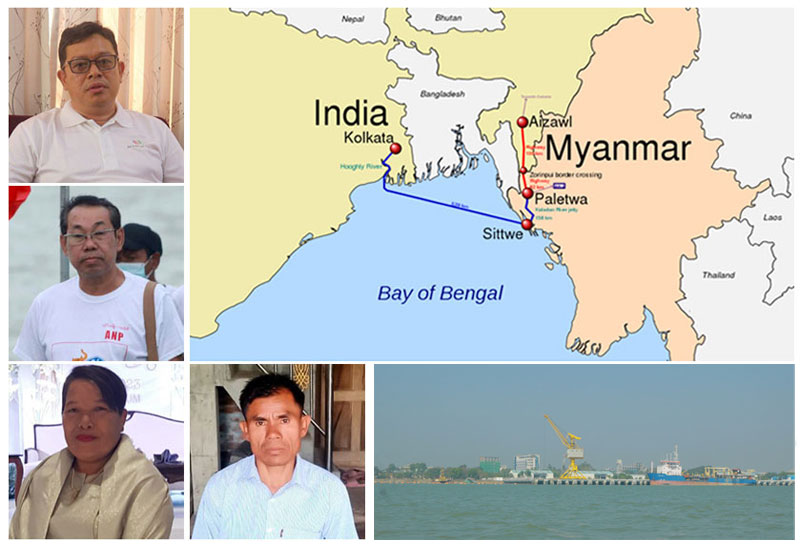 DMG Newsroom
Sittwe Port, which is part of the Kaladan multi-modal transit transport project, was opened on May 9. The project will provide an alternative route for connectivity from India's eastern coast to its northeastern states through the Sittwe Port. The port links to Paletwa in Myanmar's Chin State via an inland waterway and from Paletwa to Zorinpui in the Indian state of Mizoram via a road segment.
Locals hope that direct trade with India will bring economic prosperity for Arakan State. More agreements are yet to be made between the two countries for direct trade.
Business owners, entrepreneurs and politicians spoke to DMG about the Sittwe Port's potential to jumpstart the local economy.
U Tin Aung Oo || Chairman || Rakhine State Chamber of Commerce and Industry
I am optimistic about the port. Currently, Bangladesh is the only country Arakan State trades with, and it is the cross-border trade.
Through Sittwe Port, we will be able to trade directly with India's Kolkata Port. This means there will be more choices for traders. There will also be more job opportunities. I assume that the trade will improve.
Myanmar and India have yet to sign a coastal shipping line agreement to launch direct trade between Sittwe and Kolkata. A request has been made through our organisation to allow using coastal ships owned by Myanmar business owners in the trade. We are still negotiating about that.
The two governments have to decide how many times cargo will be shipped between Kolkata and Sittwe. For example, they can choose to operate one ship a week or two ships a month. Shipping lines will not get much profit during initial operations. The port has been opened, but it will be operational only after a shipping line that will run regularly between Koklata and Sittwe is launched.
U Tha Tun Hla || Chairman || Arakan National Party
It will create some benefits for Arakanese people if products from Arakan State are allowed to be traded through Sittwe Port. Local business owners should find new business opportunities out of the port. Concerned authorities should also create an environment that enables local traders to engage in international trade.
However, if port management and trading is centralised, there will be fewer benefits for locals. The port is funded by India, so India has interests in it. What I understand is the project is an investment mainly intended for [India's] northeastern states through the Sittwe Port.
Daw Ma Aye || Owner of Shwe Kyar Garment || Sittwe
If there is a regular ship operating between Kolkata and Sittwe, we may not need to buy the whole container of materials, but we will be able to buy just the amount we need.
I hope that I will be able to buy cotton threads from India in a short period of time through Sittwe Port. Currently, we buy cotton threads from Monywa, Mandalay and Yangon. They are, in fact, imported from India. If we can buy directly from India through Sittwe Port, it will save on transportation costs.
U Thein Kyaw Mya || Farmer || Pipayin Village, Mrauk-U Township
Arakan State's economy is based on agriculture, and I view the port as a great opportunity for our agricultural produce. There is a good possibility of growing beans and pulses, including mung beans, in Arakan State. There is also agricultural land. We don't grow because production costs are high and profit is low. No farmers will leave Arakan State if they can get real benefits from farming.
Local farmers do not grow mung beans because there is not much difference between production costs and the potential profits. To grow beans and pulses that are normally grown in central Myanmar, there are conditions that we need to meet. For example, there is a need to improve the soil. I believe Sittwe Port will serve the interests of Arakan State, including farmers, so I hope it will take shape soon.