Offline and on thin ice in Arakan State
 May 21 marks the 11-month anniversary of a mobile internet ban imposed on seven Arakan State townships and Paletwa Township, Chin State, on June 21, 2019.
By Min Tun 18 May 2020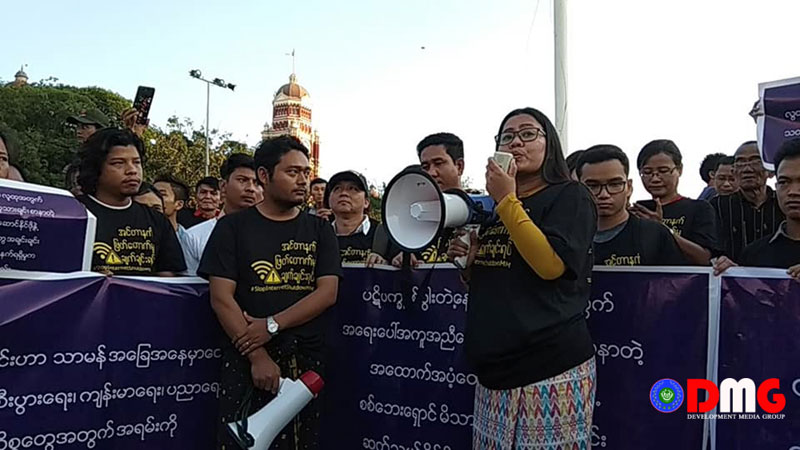 Written by > Min Tun
May 21 marks the 11-month anniversary of a mobile internet ban imposed on seven Arakan State townships and Paletwa Township, Chin State, on June 21, 2019.
 In a rare welcome development for Arakan State, the internet shutdown was lifted in Maungdaw Township on May 3, but it remains in effect in the townships of Buthidaung, Rathedaung, Ponnagyun, Kyauktaw, Myebon, Mrauk-U and Minbya, as well as Chin State's Paletwa Township. 
U Zaw Htay, spokesperson for the President Office, on May 1 told a news conference that the government would restore internet in the township least affected by conflict in the region. (Ongoing hostilities between the Tatmadaw and the Arakan Army are the government's ostensible justification for denying internet to more than 3 million residents of western Myanmar.) 
Because the shutdown targets areas of armed conflict, it also affects a disproportionate number of internally displaced people (IDPs). 
This presents its own set of challenges in the time of COVID-19: Residents of the affected townships struggle to obtain information about the deadly virus, according to the director of the Wanlark Foundation, Khaing Kaung San. 
"We are worried for them. They do not know how to prevent the deadly virus. 
Additionally, it is impossible for IDPs to have 3 feet of distance among them," he said.
In some IDP camps, a family of five must stay together in a tiny room about 6 feet wide, he added. 
"People from Arakan State are working abroad in places such as Thailand, Malaysia and China. They have returned home and arrived at their villages now. When villagers are unable to receive required information about COVID-19, villagers face a situation that can cause rapid transmission of the virus," Khaing Kaung San explained. 
The number of IDPs who have been displaced from their homes due to fighting in Arakan State has surpassed 164,000, the Rakhine Ethnics Congress said on April 30. 
U Zaw Htay said Myanmar's four main mobile operators are sending SMS messages about COVID-19 for users in townships where mobile internet has been cut off, including information on preventive measures such as washing hands, and monitoring and limiting the arrival and departure of people at the camps, to prevent the spread of the virus. 
Ko Min Bar Chay, a young Arakanese, said sending messages containing COVID-19 information through mobile operators' SMS systems was not an effective public health strategy, urging the government to instead lift the internet ban if it wanted to effectively communicate preventive measures to the residents of Arakan State. 
"People here are afraid of the risks of war as well as the danger of the COVID-19 pandemic. They are worried too much about the threat of the disease because they lack information access," he said. 
"I hope the international community knows all acts of the government in Arakan State," he added. 
MPs, local and international CSOs, and foreign embassies have called for restoring internet access in the affected townships. 
The shutdown of mobile internet services is a human rights breach, said Maung Saungkha, executive director of Athan, a group that promotes freedom of expression in Myanmar. 
"The internet shutdown was imposed after armed conflict occurred in the townships. So, it is a big breaching of human rights. And it is obvious that more oppression over freedom of expression has been found in Arakan State following the fighting there," he said. 
Indeed, earlier this month Athan reported that since the National League Democracy government took office four years ago, freedom of expression was most severely infringed in Arakan State. 
U Myat Tun, director of the Arakan Human Rights Defenders and Promoters Association, said human rights violations such as civilian deaths and injuries from conflict, and the destruction of homes by fire, are primarily found in townships where the internet ban has been imposed. 
"The Myanmar Tatmadaw killed or arrested people lawlessly; set houses on fire; and shot artillery shells or fired from planes toward villages accused of harbouring members of the AA," U Myat Tun said. 
To get precise information about human rights violations transpiring in western Myanmar, the government should lift its internet ban and allow local and foreign media to access the region unrestricted, advocates of transparency have suggested. 
Fighting between the Tatmadaw and the AA has intensified in recent months. According to a DMG tally, at least 32 civilians were killed and 68 others were injured in April by stray — and sometimes targeted — small arms and heavy weapons fire, landmines and other combat-adjacent violence in Arakan State.