Letter From a Son to His Mother
Mom, I wrote this letter from somewhere in the forest. How are you? Are you worried about me? Do you miss me? Do you pray for me before you go to sleep every night? Are you losing sleep over me? Are you sad that I am not at the dining table with you? Do you miss me whenever my friends visit you?
18 Dec 2022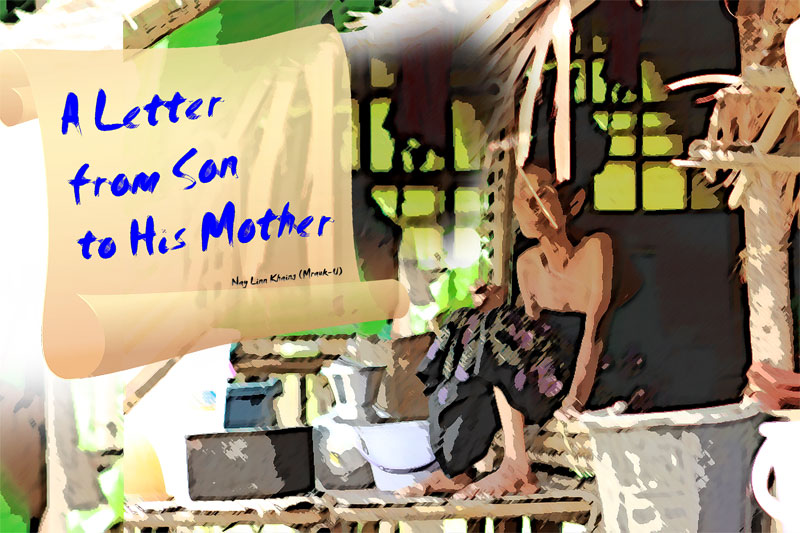 (Editor's Note: This Letter was written in October 2022, several weeks before the informal ceasefire was reached between the Myanmar military and Arakan Army on November 26. Its sentiments transcend the before and after, DMG feels.)
Written by Nay Linn Khaing (Mrauk-U)
Dear Mom,
Mom, I write this letter from somewhere in the forest. How are you? Are you worried about me? Do you miss me? Do you pray for me every night before you go to sleep? Are you losing sleep over me? Are you sad that I am not at the dining table with you? Do you miss me whenever my friends visit you?
I worry about you as much as you do about me. Have you lost weight because you miss me? I miss you every day. I am sad that I have left you alone. If possible, I want to stay beside you all my life. It is difficult to leave you behind as you are my only family. I am sad. But I hope you understand that I am obliged to do so. I pay my respects to you from here, and please forgive me for leaving home without your knowledge.
You said humans must have humanity. You said when the time comes for someone to make sacrifices for his motherland and his own race, one must assume that duty without reluctance; and that if someone is not dutiful when it comes to his own family and race, he does not deserve to be a human. I have come here because I want to be a real human, and don't want to have a guilty conscience. And also because I felt embarrassed about how my friends, who were already here, might view me. And, I don't want regrets. Though I miss you, I try to be happy doing my job here. I suppress my homesickness and try to accomplish the duties assigned to me.
Here, I have like-minded comrades in arms, and helpful colleagues. We love each other as if we were blood brothers. We share joy and sorrow with each other. I am, therefore, satisfied. I am really glad to meet those who are willing to sacrifice life and limb for their country and their race. I understand that you might be on edge because your only son has chosen this path.
But I don't think I could sit at the dining table without feeling a pang of conscience. I think working-age people like me, especially those without many attachments, should actively work for our country and race. I understand that some might not be able to join in person because they have to support their families or they are away, but it is important that they do what they can and do their fair share. It is also important for them to see clearly that the ongoing fighting is not just with the Arakan Army (AA) alone, but with the entire Arakanese people.
This place is, of course, not as warm and cozy as your home. I know that no place is like mom's home, where I can eat and sleep as I like without any worries. But I keep your advice — "No pain, no gain" — in my mind, and I tell myself that I can't achieve success if I don't go through tough days. I have hardened my mind. 
Though I never ate low-quality rice at your home, I now try to eat it up one plate at a time, telling myself I can. As you advised me at the dinner table, I now have a deeply held belief that I eat to live, and do not live to eat. Though I sometimes long for the curries you cooked for me, I can't be picky here. I eat whether I like it or not, and I tell myself that the most important thing is to be fit, and to be able to work.
Here, I don't have a thick, cozy bed like the one at our home. But I am satisfied with the small space on the bamboo floor. I no longer feel irritated by mosquito bites. For drinking water, water from the creek is the best. Because survival is the most important thing, I am no longer a fussy eater.
Here, I don't get the rest needed, but I get the love of my comrades, superiors, and villagers near the campsite. When we receive such love, we are satisfied with the life we have, which pays for the difficulties and inconveniences we face. 
Sometimes we have sleepless nights, mom. When we get news of the enemy, we stay awake all night, and when there are battles, there are days when we fight for our lives. But every time we win a battle, we are happy without knowing where all our hard work has gone. The feeling that we have succeeded in trying is the most gratifying. 
Mom, you will also hear news of our battles. There are times when we can return to camp with our comrades in good health, and there are times when we cannot. At times like this, we feel sad for our comrades and heroes, who have sacrificed their lives for our nation. The prevailing feeling is that those of us who are left must win, and try harder to achieve what they died for.
Fighting is a game where lives are at stake. If you don't want to die, you have to kill someone else. The horrors of war cannot leave my mind. I'll never forget the dying enemies rolling by the stream, and the bloodthirsty and screaming comrades who were hit by mines. War is really painful. War is not good for anyone, and lives are lost. So why do wars happen, I've wondered.
What makes people poor? In Myanmar, the powerful people have a poor attitude; they are physically strong but mentally very weak. On the other hand, when the relatively weaker ethnic groups feel that they are not getting equal rights, they take up arms and revolt against the government. 
When the majority does not respect the minority, the minorities are hurt. When mainland Myanmar, where the majority of Burmese people live, is developed, while the minority ethnic areas are not developed, minorities feel suppressed. Thus the civil war in Myanmar goes on, cycle after cycle. 
Sometimes I pray that we wouldn't have to go to war for whatever reason. Our superior has something to say every time. The superior has told us that war is inevitable, and that he would like to discuss it around the table and negotiate a solution if it were possible. He's said that we have family and our enemy comrades also have family. But on the battlefield, if you have compassion for others, you must give your life. If the enemy wants to kill you and if you don't kill him, he will kill you. Armed men put aside their pity for a moment, and then win the battle. Mom, you will be sad to hear about this.
Don't go outside the home, mom. At night, don't go anywhere without a companion. Mom, don't forget to buy enough medicine and food for home. War is hard to predict. No one can tell when or what will happen.