Was the 2020 election free and fair for Arakan State?
Since independence and prior to the November 2020 general election, multi-party elections were held in Myanmar in 1951-52, 1956, 1960, 1990, 2010 and 2015. It is notable that elections could not be held at regular intervals, indicating a lack of political stability and poor governance in the country.
28 Nov 2020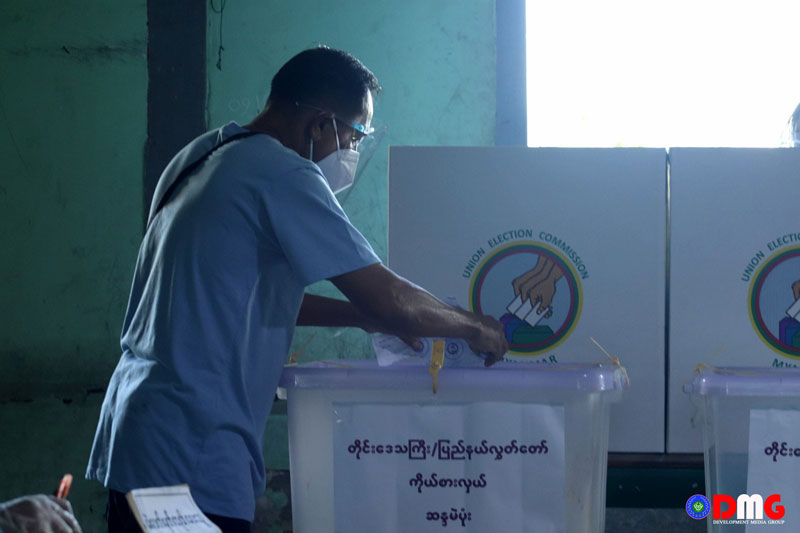 Introduction
Since independence and prior to the November 2020 general election, multi-party elections were held in Myanmar in 1951-52, 1956, 1960, 1990, 2010 and 2015. It is notable that elections could not be held at regular intervals, indicating a lack of political stability and poor governance in the country.
Studying the 1951-52, 1956, and 1960 general elections, voting could not be conducted simultaneously across the country, and instead the polls were held over several months because Myanmar at the time needed to establish its sovereignty as a newly independent state, lacked political stability, and was struggling with internal conflict. The Anti-Fascist People's Freedom League (AFPFL) split into two factions in 1956, and General Ne Win seized power and formed an interim government two years later. General elections were held in 1960 amid political instability and concerns about sovereignty. While ethnic leaders were negotiating for a change to administrative and political systems due to ethnic people's exclusion from political decision-making processes, and a failure to honour the pledges of the Panglong Agreement (the aspirational foundation of today's Myanmar), General Ne Win staged a coup on March 2, 1962. More than a decade later, under the 1974 Constitution, he imposed dictatorial rule, establishing Myanmar as a one-party socialist state. Though elections were held in 1978, 1981 and 1985, even the global community did not recognise those polls as they were against democratic principles and practices, most notably because they took place under a one-party system.
The one-party dictatorship came to an end after people around the country rose up against the repressive military regime in 1988. General Saw Maung seized power and formed the State Law and Order Restoration Council (SLORC) government, which conducted multi-party elections in 1990. But the SLORC government refused to recognise the 1990 election results and did not hand over power to the winning party. Instead, it unlawfully imprisoned political dissidents. General Than Shwe came to power in 1992, and replaced the SLORC government with the State Peace and Development Council (SPDC) government. The country remained under direct military rule until the 2010 general election.
Before 2010, elections were not held at regular intervals and voters were not able to vote freely, factors hampering the establishment of a functioning democratic government that many had aspired to since independence. 
Studying the electoral system that emerged under the 2008 Constitution, there remain restrictions on the right to form political parties freely, the right to formulate and communicate policy/political ideas freely, and the right to rally and campaign, and there are still significant shortcomings when it comes to voter registration and the overall electoral environment. Due to a lack of equality in political representation and political decision-making, internal conflicts have continued to plague the country. There is an urgent need to establish genuine democratic governance in order to solve political and armed conflicts in Myanmar.
Elections are key to boosting a democractic culture and establishing a federal Union that guarantees self-determination and equality for all ethnic groups in Myanmar. In any nation, only when democratic governance flourishes will there be true peace and stability, and resultant development. 
Democratic administration and free and fair elections
To establish a democratic government, it is important that democratic practices are followed and allowed to be practised. Because elections are the basic foundation for democratic administration, it is critically important that they are free and fair.
In a free and fair electoral process, ensuring the right to freely exercise political rights and equality for political parties is vital. Among other metrics, the credibility of an election is judged based on whether: 
1)   elections are held at regular intervals in a political environment that allows for holding elections regularly;
2)    there is will to conduct elections;
3)    there is transparency and representation in designating constituencies;
4)    voter rolls are compiled transparently and accurately;
5)  political parties and candidates have the right to share political/policy ideas freely during the campaign period;
6)    there are equal rights in campaigning;
7)    appropriately punitive legal action is taken against campaign misconduct and electoral fraud;
8)    people have access to relevant electoral information;
9)   every eligible voter can freely vote and take part in elections;
10)  polling stations are monitored freely;
11)  there is transparency in vote-counting, and announcing voting results;
12)  electoral disputes are settled systematically;
13)  the outcome of the election is accepted;
14)  the winning party or parties form the government.
These criteria are applied below in an effort to determine whether or not the November 8 election was free and fair in Arakan State.
1) Elections are held at regular intervals in a political environment that allows for holding elections regularly

Under the 2008 Constitution, elections have been held at regular five-year intervals since 2010, and the November 8, 2020, election was the third under the current system. However, the political landscapes and environments have been significantly different in each of the three polls.
The 2010 general election was a transition from military dictatorship to quasi-democracy. Much of the political opposition boycotted the election as they opposed the military-drafted 2008 Constitution. The military regime nonetheless went ahead with holding the elections. There was a tug-of-war between two philosophies — to boycott elections until the Constitution was changed, or to contest elections in hopes of amending the Constitution from within the parliament. This sparked disputes between opposition political forces, with one side choosing to boycott the elections and the other choosing to contest. The majority of political parties that took part in Myanmar's 1990 election did not contest in 2010, but some members resigned from their original parties, established new parties and joined the election. The military proxy Union Solidarity and Development Party (USDP) won the majority at the national level, and the Rakhine Nationalities Development Party (RNDP) won most of the seats in the Arakan State legislature.
The 2015 election was a kind of inversion as many of the political forces that boycotted the 2010 poll contested — first the 2012 by-election and then the nationwide vote three years later — determining that there was no other political option than to enter parliament and amend the 2008 Constitution. As a result, democratic forces dove into the 2015 general election. The political landscape was different from that of 2010, with dozens of political parties showing eagerness to contest the election. The main opposition National League for Democracy (NLD) contested with the campaign slogan "Time for Change" and promised to work toward constitutional reform. In Arakan State, the RNDP and the Arakan League for Democracy (ALD) merged to form the Arakan National Party (ANP) ahead of the 2015 poll. The NLD won in a landslide at the national level, and the ANP won the majority of elected seats in Arakan State.
The electoral landscape in 2020 was a new one yet again. Clashes between the Tatmadaw and the Arakan Army (AA) had intensified for the better part of a year in the lead-up to the vote, and by early November more than 236,000 people were displaced, hundreds more were killed or injured, and nearly 600 people were arrested for suspected links to the Arakan Army. A surge in COVID-19 cases in Arakan State coincided with the election campaign season, straining local administrative and hospital capacities alike. Due to security concerns, the Union Election Commission (UEC) cancelled balloting in nine Arakan State townships as conditions were deemed not conducive to holding free and fair elections in the affected constituencies. Arakanese political parties and many local people wanted elections to be held, and called on the UEC to review its decision, but the commission did not do so.     
Though there was ongoing fighting between the Tatmadaw and the Arakan Army in Arakan State, critics of the election cancellations contended that the conflict was not so bad as to prevent the holding of voting in many of the scrapped constituencies. The problem was that there were no efforts made to create an environment enabling elections. It was not necessary to cancel the voting in certain townships; if the UEC considered Ann and Chin State's Paletwa Township conducive to elections despite frequent fighting and military activities there, the motivation behind the cancellation of voting in other townships that were relatively stable compared to Ann and Paletwa is open to question.
Attention was paid to the fact that election cancellations in Arakan State took a significant pocket of ANP support in the state's northern half off the board, leaving the NLD's more favourable political territory untouched. As a result, many political parties, civil society organisations and political observers have viewed the 2020 general election in Arakan State as neither free nor fair.
2) There is will to conduct elections
Some political observers and political leaders initially suggested that elections were unlikely statewide in Arakan State due to the fighting between the Tatmadaw and the Arakan Army. On September 8, the 60-day election campaign period began.
The UEC issued statement No. 196/2020 on October 16, saying conditions were not conducive to holding voting in Buthidaung, Maungdaw, Rathedaung, Pauktaw, Ponnagyun, Kyauktaw, Mrauk-U, Minbya and Myebon townships, as well as two wards and 52 village-tracts in Kyaukphyu, three wards and 29 village-tracts in Ann, four village-tracts in the state capital Sittwe, and five wards and 57 village-tracts in Taungup. The wording of the announcement read as if elections would not be held at all in those townships. In fact, the UEC should have said something more along the lines of those townships "not being able to conduct elections according to schedule, but intending to hold the vote at a later date". The announcement suggested that the UEC did not have the will to hold elections in Arakan State.
The UEC said elections had to be cancelled due to the conflict between the Tatmadaw and the Arakan Army, but if it had the will, it could have negotiated with the Tatmadaw, the Arakan Army and Arakanese political forces prior to the election. But no side bothered to negotiate and disenfranchisement was the outcome.
During the run-up to the election, the fighting was most intense in Rathedaung, and clashes were seldom in Kyauktaw, Mrauk-U, Minbya and Myebon townships. Clashes had de-escalated in Ponnagyun and Buthidaung townships, and there was no fighting at all in Pauktaw and Maungdaw townships. So, had there been the will, the vote could have been held. There was no reason elections could not be held in other townships where security concerns were not as acute as war-stricken Paletwa Township, Chin State. Meanwhile, elections were held as planned in Taungup despite the AA's abduction of three NLD candidates. It is obvious there was political motivation behind the UEC's decision to call off elections in nine townships that were not as unstable as Paletwa and Ann townships.
On the other hand, Arakanese people were less interested in the election. Public dissatisfaction with political parties' activities over the past 10 years, fierce fighting in Arakan State and resultant displacement, and human rights violations even in the absence of fighting, were all contributing factors to this. It is not that the public was opposed to the election; rather they were frustrated that the people they had voted for were not able to protect and promote the rights of Arakanese people.
Nonetheless, as the public has gone to the polls delivering solid support for local parties, Arakanese parties have won the majority in every election since 2010. So it was predictable that Arakanese parties would claim a large share of votes in the eight townships where elections were held on November 8.
To summarise, Arakanese people have suffered a lot from the failure to conduct statewide elections in Arakan State. It is regrettable that armed groups and political forces did not bother to negotiate for possibly holding voting in the nixed constituencies. In the final analysis, in the view of many Arakanese people, the government deliberately prevented Arakan State from political engagement based on unreasonable concerns.
3)  There is transparency and representation in designating constituencies
According to Myanmar's 2008 Constitution, the designation of constituencies is based largely on the number of townships. No matter how much the number of eligible voters increases, the number of MPs will not rise, nor will representation be adjusted to reflect relative changes in population distribution. Because representation is a fundamental aspect of democracy, it is necessary to urgently review representation in the politics of a future Myanmar.
As such, it can be said that the UEC announcement on October 16, 2020, regarding the decision not to hold elections across a large swath of Arakan State, lacked transparency. What we can say is that the commission made its decision based on the stance of the Union government, rather than the opinions of voters and political forces from the respective constituencies. If the cancelled townships simply could not hold elections, the commission should have released the announcement before the canvassing period began on September 8, after analysing all aspects of the situation in a timely manner. Instead, the announcement came after the campaign season was  underway, with candidates in the scrapped constituencies complaining that they had expended time and money to contest parliamentary races that were not to be. Calls for a review of the UEC's decision-making processes have not been heeded thus far.   
4) Voter rolls are compiled transparently and accurately
The list of eligible voters is the main artery of an election. In the casting of votes, a party/candidate could lose to an opponent by just one ballot. Voter list errors could thus be determinative in close races. The process of correcting voter lists requires both administrative capacity and voter buy-in; individual people are responsible for ensuring that they are properly enumerated in their correct constituency. With this in mind, voter apathy was an issue in 2020, as voter list errors inevitably cropped up but sometimes not until Election Day, when possible remedies were fewer.
According to a preliminary post-election statement from the Carter Center, an international election observer: "Most stakeholders positively evaluated the quality of voter rolls. On election day, the mission did not find significant issues with the voter rolls in polling stations visited, although the media reported that voters were missing from voter rolls for the ethnic affairs minister races in Mandalay and Yangon." That included the Arakanese ethnic affairs minister race in Yangon.
Back in Arakan State, there were difficulties compiling accurate voter lists in villages affected by armed conflict, and at camps for internally displaced people.        
5) Political parties and candidates have the right to share political/policy ideas freely during the campaign period
There is no question that the campaigns of political parties and candidates were more constrained than in Myanmar's 2010 and 2015 elections, due in large part to COVID-19. One hopes that the extraordinary circumstances presented by the pandemic will not be an issue in 2025 or beyond, and that there is therefore no reason to worry about history repeating in this respect. (There will inevitably be disagreement over whether election officials were too strict or too lax in enforcing public health measures that tamped down the 2020 election campaign period. Enforcement-related issues are also addressed in election criterion No. 6.)
Unrelated to the pandemic, however, there were several instances of campaign signboards being vandalised or torn down in Arakan State. This affected signage from both of Arakan State's two most competitive political parties, the NLD and the ANP. Local law enforcement and election officials showed little capacity or willingness to track down and punish those responsible for the vandalism.
Articulation of policy platforms, whether by parties or candidates, is or should be a key factor helping to determine voters' choices. Being able to communicate this information without censorship or other hindrance is therefore a logical metric that any evaluation of an election's freeness and fairness must take account of.
Myanmar's political parties had the opportunity to officially explain their platforms on state-owned TV. Each political party was given a broadcast of 15 minutes to share their policies. But there were multiple instances in which censorship was reported, including the Arakan State-based Arakan Front Party, which declined the broadcast opportunity rather than read out a censored version of the party platform speech.
In Myanmar, where often ethnic allegiance or personality politics can play outsize roles in voters' choices at the ballot box, it is that much more important that "ideas" are allowed to flow freely from candidates/parties to the electorate, and vice versa. In this respect, Myanmar's election fell short.
6)  There are equal rights in campaigning
Campaign finance limits are one tool by which a more level playing field can be established among parties with a wide range of financial resources at their disposal. It remains to be seen whether there will be unbiased enforcement of the expenditure reporting requirements, which will come due starting in the second week of December.
While there is room for debate over whether pandemic-related restrictions were justified, where there can be no contention is that whatever rules are put in place must be applied equally to all candidates and political parties. In this regard there were complaints, with some political parties accusing election officials of favouring the ruling NLD by allowing it to campaign in ways prohibited for other parties.
7) Appropriately punitive legal action is taken against campaign misconduct and electoral fraud
There is a risk of malpractice in every election. That includes vote-buying and voter fraud, which were allegations made this year as in each of the previous two general elections. 
It is the responsibility of not only the Union Election Commission, but also election observers, political parties and candidates, to monitor and expose canvassing and Election Day malpractice. Likewise, members of the public must inform the relevant election subcommissions and election observers about misconduct that is witnessed or suspected. "If you see something, say something" is a collective attitude that helps curb election misconduct.
In the aftermath of the November 8 vote, it appears that incidents of election misconduct in Arakan State were fewer than in 2015; an indication, it can be hoped, of a maturing democractic culture.
8) People have access to relevant electoral information
It is necessary for the electorate to have information about the election and its candidates that is both accurate and timely in order that they might make informed choices. As such, news agencies must be allowed to cover and publish election-related news freely. Likewise, the rights to canvass, mobilise and communicate should be allowed online via social media and other internet avenues in the coronavirus-affected election of 2020.
This was notably not the case in several Arakan State townships, where internet restrictions worked against the notion of an informed electorate. Nationwide, the growth of internet use compared with 2010 is dramatic, so the problems with internet access in Arakan State regrettably defy the technological tide, to the detriment of efforts to ensure free and fair elections.
DMG's election coverage was also subject to government control, as its website, along with that of another Arakan State-based media outlet, Narinjara, were blocked for internet users in Myanmar. What's more, action was taken against the chief editors of DMG and Narinjara under Section 17/2 of the Unlawful Associations Act and Section 50(a) and 52(a) of the Counter-Terrorism Law. It was difficult to present election information to the people in a timely and unfettered fashion, because these news agencies were not able to easily gather information about the election from relevant government officials and departments. This in turn was a limitation on voters' ability to independently receive information from sources like DMG and Narinjara.
It can be said that the media problems in Arakan State apply to Myanmar as a whole, to a certain extent. These concerns are reflected in the country's ranking of 139th out of 180 countries surveyed in the World Press Freedom Index compiled by Paris-based Reporters Without Borders (RSF).
9) Every eligible voter can freely vote and take part in elections
The above criterion is the cornerstone of democratic governance, and once again this year, Myanmar failed the test, with Arakan State a particularly glaring case study.
More than 1.2 million eligible voters in Arakan State were disenfranchised with the UEC's mid-October announcement of cancelled constituencies. Only 755 polling stations were set up as elections were partially cancelled in four other townships — four village-tracts in Sittwe; two wards and 49 village-tracts in Kyaukphyu; three wards and 25 village-tracts in Ann; and 10 wards and 52 village-tracts in Taungup. Elections were held township-wide in only Manaung, Ramree, Gwa and Thandwe.
In addition, hundreds of thousands of Muslims in Arakan State were not eligible to vote under the country's Citizenship Law, as was the case in 2015; but notably, many of these Muslims were able to vote in 2010.
Only about 450,000 eligible voters were able to cast ballots in Arakan State this year, and voter turnout was just under 69%.
The disenfranchisement of more than 1.2 million eligible voters will rightly be an asterisk on the election in Arakan State, and is arguably the most compelling case for concluding that the 2020 election did not meet the free-and-fair benchmark.  
10) Polling stations are monitored freely
For Arakan State as elsewhere in Myanmar and around the world, election observers play an important role in facilitating free and fair elections. These election monitoring groups and observers must be free to observe the entire electoral process. Their findings are then used to help gauge the overall freeness and fairness of the vote.
Preliminary reports from a handful of monitoring groups reported no major, systemic issues with access to the polls on Election Day, with some "misunderstanding of the role and regulation of observers by the sub-commission and polling station officials" being the extent of lack-of-access issues, according to the country's biggest election monitoring organisation, PACE.
11) There is transparency in vote-counting, and announcing voting results
Accurate, transparent vote-counting reflects the will of the people and determines who emerges from an election victorious. However, according to Myanmar's Constitution, the ruling government is not directly elected by the people, but rather by the legislature. Regardless, it is very important that there is transparency in the vote-counting.
The election monitoring group PACE reported that this process largely occurred without issue, though the lag time between Election Day and some official results was again a question this year. In an ever-faster-paced world, the demand for quicker official tallying is not likely to change; the question for the UEC and its subcommissions is whether reporting of future election outcomes can be sped up without sacrificing the accuracy or integrity of the count.
12) Electoral disputes are settled systematically
Electoral disputes encompass matters such as contention over the counting of valid votes and invalid ballots to objections against a winner by a loser. In the event of such disputes, the Election Commission is charged with resolving them.
Out of a total of 84 objections (over two general elections and two by-elections from 2010-17), 11 were filed in Arakan State, a disproportionately high amount that should focus attention on this aspect of elections in the weeks and months to come as dispute resolution plays out. It can be said that the previous disputes were resolved by the Union Election Commission as fairly as possible. It is still unknown how many complaints concerning the 2020 general elections will be lodged, and it remains to be seen how the election commission will deal with any objections. Only then will it be possible to say whether the election was free and fair on this point.
Likewise, it is still too early to say whether the outcome of the election is accepted, and whether the winning party or parties form the government in accordance with the will of the people.
Conclusion
It is difficult for Arakan State to say that the 2020 general election was free and fair. The most obvious democratic shortcoming was the disenfranchisement of a significant majority of eligible voters in Arakan State. Not only local political forces, but also election monitoring groups, civil society organisations and the international community, have pointed out that the election was unfair to the Arakanese people. Taken as a whole, the abovementioned analysis leads one to conclude that the 2020 general election in Arakan State should not be considered free and fair. Can Arakan State's parliament truly be considered representative if fewer than half its constituencies, and just over one-quarter of its eligible voters, were able to cast ballots? An imperfect but necessary remedy to this situation, in the short term, would be to hold by-elections in those constituencies denied the vote on November 8 as soon as possible.
Newsroom and Research Department
Development Media Group (DMG)
November 28, 2020