Past Is Feared Prologue Regarding Legacy of Conflict in Arakan State
By Admin 08 Nov 2023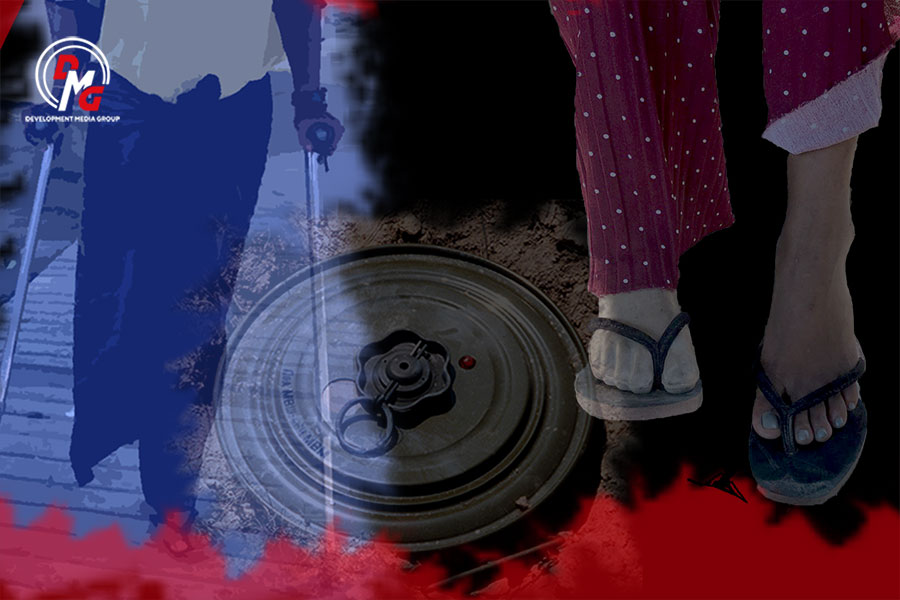 Written by Myat Swe
It was a characteristically rainy monsoon season day, and Ma Khin Win Chay was alone inside her home, sitting on a chair. The roof was leaking and drop after drop of rainwater was falling on her. But she could not move, and was looking out the window for a passer-by to ask for help.
"I am immobile. I spent that whole day sitting on the chair. I can no longer work," she said.
More than 1,000 civilians were killed or injured by two years of intense fighting between the Myanmar military and Arakan Army (AA) from December 2018 to November 2020, according to civil society organisations (CSOs) based in Arakan State.
By their count, at least 380 civilians were killed and 694 others were injured in Arakan State during the conflict. Ma Khin Win Chay, in her 30s, is among the wounded.
While fleeing a clash, she was hit in the back by a stray bullet. The neurological damage inflicted by the gunshot wound rendered her lower limbs immobile.
"I was with my daughter when I heard gunshots. We didn't know where to flee," she recounted. "As villagers fled to the monastery in the south of the village, I carried my daughter and fled with them. As I handed my daughter over to a sister, I was hit."
On that fateful day, August 13, 2019, the Arakan Army attacked some 30 Myanmar military troops heading from Rathedaung town with remotely detonated mines. The troops responded by opening fire indiscriminately, forcing more than 1,000 residents from Tun Yawai Village in Rathedaung Township to flee their homes.
Tun Ya Wai Village is just a 20-minute walk from the scene of the fighting. Ma Khin Win Chay's husband Ko Pauk Sa fled their village for fear that Myanmar military troops, who tend to detain male inhabitants of nearby villages whenever fighting flares, would come for him too.
Ma Khin Win Chay was reportedly the only villager to be hit and injured by the gunfire. She was rushed to Rathedaung Township Hospital, from where she was transferred to Sittwe Hospital. Sittwe Hospital lacked resources to treat her, however, and she was sent to Yangon General Hospital the following day.
"The doctor told me that my spinal nerves were damaged, and that I was paralysed from the waist down," said Ma Khin Win Chay.
She spent four months at Yangon General Hospital, and had only a 10 percent chance for full recovery. However, she could not afford the operation costs.
Previously, Ma Khin Win Chay worked at garment factories. She was preparing to work as a dressmaker when she was injured and became disabled. She has a 5-year-old daughter who is attending kindergarten. Ma Khin Win Chay's husband has gone to the border to support the family by doing casual jobs.
"I can do nothing for my family now. I am concerned for the future of my daughter," said Ma Khin Win Chay.
Fresh clashes broke out between the Myanmar military and the AA in July of last year. A total of 51 people died and 143 others wounded by artillery, landmines, drone attacks, and stray bullets as a result of the latest fighting in Arakan State and neighbouring Chin State's Paletwa Township, according to a DMG tally.
And with widespread concern in Arakan State that a recently launched offensive dubbed "Operation 1027" by the Brotherhood Alliance — of which the Arakan Army is a member — could lead to renewed conflict in Arakan State, a look at the legacies of past conflict seems all too pertinent.
A 6-month-old baby girl from Jeitchaung Village, Maungdaw Township, who was severely injured by mortar strikes on November 16, 2022, succumbed to shrapnel wounds at Maungdaw Hospital less than a week later. The infant's death brought to 13 the number of residents who were killed after three mortar shells struck Jeitchaung Village on November 16. Twenty-four others were injured in the artillery strikes.
Among those injured was U Yin Nyi's second son, 12-year-old Maung Po Yin. Maung Po Yin's father, U Yin Nyi, said that he lost his left leg as a result of the explosion and is currently wearing a prosthetic leg thanks to the help of the International Committee of the Red Cross (ICRC).
"Seeing my son made me feel utterly sad. When he was traumatised by his leg injury, he stopped talking to anyone. Those moments are very emotional for me as a father," said U Yin Nyi. Maung Po Yin is no longer able to play like normal children, so he is lonely and depressed, and his parents are worried about his future.
U Yin Nyi said that Maung Po Yin is currently wearing a prosthetic leg, but he can only walk for about 20 minutes at the most. His son's loss of a limb at such a young age is a once-unthinkable tragedy, U Yin Nyi added.
"He said it hurts when he walks with his prosthetic leg. The weight of the prosthesis is too much, so he can't go far. And he is still young. He will have to go through a lot in life. We want him to be an educated person," U Yin Nyi said of one of his remaining hopes for his son.
Five civilians were seriously injured after artillery shells landed and exploded in Shwepyithit and Letsaungkauk villages in Kyauktaw Township, Arakan State, on November 4, 2022. The injured included 86-year-old U Maung Tu Chay and Ma Lay Khaing, 32.
Ma Lay Khaing, who suffered injuries to her body and skull, is currently receiving medical treatment and is in need of assistance to pay for her medical expenses.
"I couldn't speak much because of the gunshot wound to my skull, and when I spoke, I became very tired. As I have bullets in my brain, I am often taking nerve agents. Medicine costs are expensive at the moment, so I am having trouble affording medicine," she said.
Those affected by the various explosions of artillery shells and explosive remnants of war (ERWs) have received some help from social aid groups for medical expenses during the incident, but there is never enough assistance to go around, it seems.
U Zaw Zaw Tun, executive director of the Action for Community Resilience Organization (ACRO), which works to educate the public about landmines and ERWs in Arakan State, says one thing is clear: Families whose loved ones have lost limbs due to conflict in Arakan State and those who have lost their heads of household — and in some cases now find themselves living in IDP camps — face difficulties well above and beyond those of most ordinary families.
U Zaw Zaw Tun added that it is necessary to give special vocational training to people who have lost their limbs.
"Whether it's from civil society organisations or international organisations, it is necessary to survey for information on individual needs, and provide necessary support. Otherwise, their lives can be very bad," he said.
U Pe Than, a veteran Arakanese politician, urged all warring sides to protect innocent people and refrain from committing war crimes, including not destroying people's property in the event of hostilities.
"Any [armed] organisation must protect innocent people when fighting. They are responsible not to commit violations of military ethics. These are the standards and military ethics set by the world for all armies to follow," he said.
Ma Khin Win Chay, who may never again be able to move her legs, is focused on those things within her control.
"I want to give my daughter full attention, like other children. Now it is impossible. Anyway, I want a job that suits me," she said.