Investments Galore, but Jobs for Locals Lacking in Kyaukphyu
Companies will post job advertisements at labour offices and ward and village administration offices, and will often interview local applicants. But locals say they never get the jobs.
By Admin 02 Oct 2023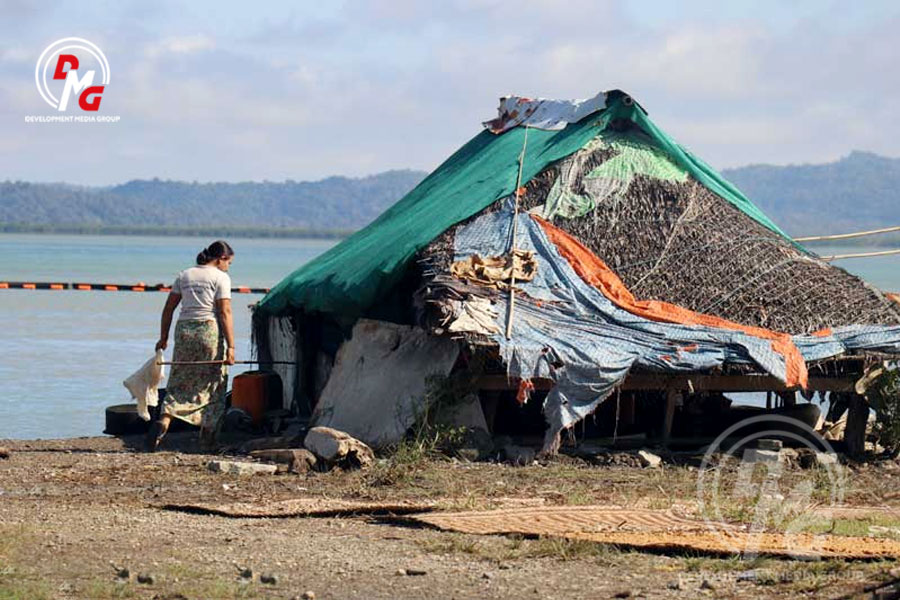 Written By Moe Pauk
"When there is a job advertisement, all of us go to apply for it. But they have predetermined appointees. So, we only incur costs for application and asking for clearance letters," said 30-year-old Ko Tun Moe Naing, lamenting that he did not get a single job offer despite applying for several job openings at Chinese investment projects in Kyaukphyu Township over the past year.
Kyaukphyu in Arakan State is known for the plethora of China investments it hosts, including the Shwe oil and gas project, and a major special economic zone.
Not only Chinese and Korean companies including CNPC, Power China, VPower and POSCO, but also joint ventures between Chinese and Myanmar companies are operating in Kyaukphyu, engaged in a range of business activities including gas distribution, construction, transportation and electricity production.
Those companies operate factories that employ various professionals, from engineers and technicians to construction workers, drivers and security guards. But there are few job opportunities for locals.
Ko Tun Moe Naing did not complete secondary education, but he has learnt certain levels of Chinese and English language competencies, and computer skills, over the past four years as he seeks to equip himself with the skills needed to land a job in the Kyaukphyu investment bonanza. It is difficult even to get a job as a security guard, however, said Ko Tun Moe Naing.
"I have applied for job openings at the Shwe gas project over the past two years. I was not even short-listed for the interview," said Ko Tun Moe Naing.
Like Ko Tun Moe Naing, young local people in Kyaukphyu Township are finding it difficult to get a job working for companies that often employ hundreds of workers.
Activist Ko Nay Soe Khaing from Kyaukphyu Township said: "As those companies are receiving benefits from this region, they should provide jobs for local people. The recruitment process is corrupt, and you can't get a job if you don't have ties with them, or if you can't bribe them."
Local residents are only offered low-skilled and low-paying jobs such as security guards and cleaners.
Companies will post job advertisements at labour offices and ward and village administration offices, and will often interview local applicants. But locals say they never get the jobs.
"Even if you meet the requirements for the job, if you don't know someone inside the company, you can't get the job. It is easier to get the job if you have friends and know those who hold senior positions in the company," said Ko Tun Moe Naing.
For those few locals who succeed in securing a job, complaints about workplace conditions abound.
U Nyi Nyi Swe, who was sacked as a security guard at the Shwe gas factory, said: "There are many people who put up with unfair situations at work just to support their families. There are many people who dare not complain for fear of dismissal. I complained, and I was sacked by them when the opportunity arose."
U Nyi Nyi Swe was fired when the company reduced its workforce in 2022. He filed a complaint with the Kyaukphyu Township labour office, but the office failed to effectively handle the matter, he said.
Politicians say the Department of Labour's lack of effectiveness in dealing with labour issues related to Kyaukphyu projects is due to the weak labour protections included in the legislation that pertains to such investments.
"In Myanmar's projects legislation, it is not clear how many workers will be assigned to the project, so it can be said that only the project developer will benefit from the benefits of the local area, and the local residents will suffer," said U Phoe San, a former Arakan State lawmaker for Kyaukphyu.
Myanmar's Foreign Investment Law was enacted in 2012, with the law subsequently amended in 2015 and 2016. In the latest amendment to the legislation, the employment of staff and workers is mentioned in Chapter 13, but there is no provision to ensure employment for locals in a given project area.
Once the Shwe gas project began in 2010 in Kyaukphyu, many companies rushed to the coastal township to do business.
With the entry of such companies into the Kyaukphyu area, locals had high hopes that there would be more job opportunities. But the near-impossibility of securing employment has been coupled with the fact that the businesses and trades they have traditionally worked in have been badly disrupted and worse, through confiscations and the like, to make way for project developments.
Due to restrictions on the water zone due to the undersea gas pipeline and the access of oil tankers, the fishing industry has had difficulties, and agricultural lands in the project area owned by locals were also seized.
"Before the start of the project, local authorities and company officials said that they would give priority to the locals to employ. In reality, it's different. If there are currently 100 workers in that company, there are only around 30 local workers," said Ko Wai Yan, a local man from Myaday Island in Kyaukphyu Township.
In 2016, more than 200 people marched from Sittwe to Kyaukphyu in a mass protest on the topic of whether the Arakanese people will be allowed to manage the resources belonging to the Arakanese people.
In 2017, fishermen from Kyaukphyu Township staged protests on the water with boats, and other protests took place at least five times regarding losses due to projects, according to residents.
But project officials, who said that local development and employment of local people would be prioritised, turned a blind eye to the wishes of the public, and in the meantime, government officials agreed to implement Myanmar's largest special economic zone in Arakan State.
The Kyaukphyu Special Economic Zone is a strategic project for China, which began with discussions on the Shwe gas project in 2009. It became more publicised in the decade to come, particularly after the National League for Democracy (NLD) government signed the final investment certificate in 2018.
Kyaukphyu resident U Tun Lwin, who monitors the SEZ issue, said residents have already faced bitter experiences during implementation of the Shwe gas project, and they are also worried about the broader Kyaukphyu SEZ development to come.
"In the past, there have been many cases of bitterness for the locals. If they fail to learn these lessons, the locals will continue to suffer. On the other hand, there is currently a situation where people are under military rule without a representative," he noted.
According to a 2017 International Commission of Jurists (ICJ) report, the SEZ project consists of three parts: industrial zone, residential area and deep-sea port.
A total of 607 acres of land — 370 acres of farmland from Myaday Island in Kyaukphyu Township, and 237 acres of farmland on Ramree Island — will be included in the project area, and around 20,000 local people in the project area will be relocated to new places, the report said.
The Myanmar regime's second in command, Vice Senior General Soe Win, said in June 2021 that the project would create employment opportunities for 30,000 to 100,000 people, implying that the project's implementation would provide significant support for the development of Arakan State.
It is not clear when the project will be fully implemented due to the current and seemingly perpetual state of conflict in Myanmar.
In the meantime, the residents of Kyaukphyu Township, which is said to be among the poorest parts of Arakan State, will continue to make sacrifices for the supposed benefit of the nation at large.
After trying several times to get a job at a project company in Kyaukphyu Township, Ko Tun Moe Naing decided to leave Kyaukphyu.
"No matter what projects we do, under these conditions, we will continue to suffer," said Ko Tun Moe Naing, who is currently working in China. "If there is no urgent action taken by the state or local authorities to prioritise local people, it will continue to be the same."