'I want to go back and live in my village in peace and quiet, like before'
DMG interviewed Daw Ma Tin about her native village, her life in the displacement camp, and her hopes for the future.
By Admin 01 May 2023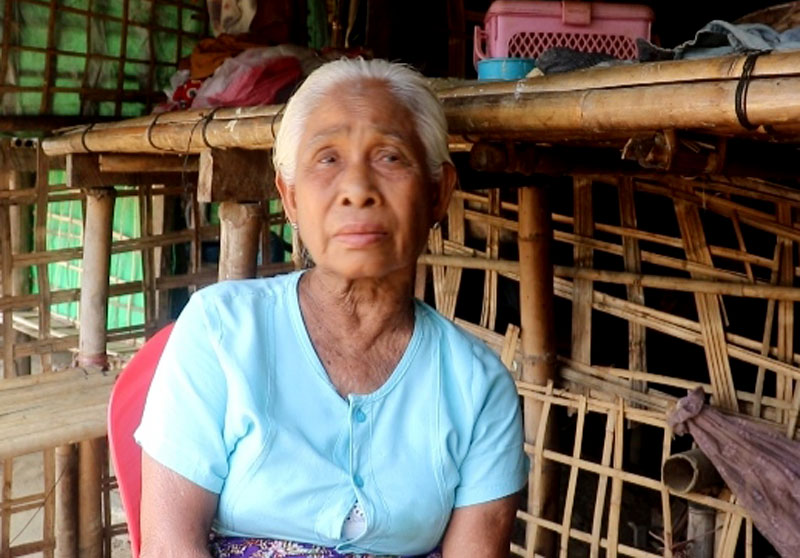 DMG Newsroom
1 May 2023
Traditionally, Thingyan is a time of revelry, merit-making and family gatherings. But in recent years much of the celebratory mood has been dampened by conflict; first between the Arakan Army (AA) and Myanmar military, and subsequently between junta forces and those opposed to military rule.
Daw Ma Tin, a 75-year-old former resident of Aungthazi Village in Rathedaung Township, was uprooted by fighting between the military and Arakan Army in late 2018, and she remains at the same displacement camp in the Arakan State capital Sittwe more than four years later.
Though the AA and military were not engaged in active hostilities during Thingyan 2023, Daw Ma Tin still dared not return to her village. Home returns are a once-common aspect of the Thingyan holiday that thousands of people in Arakan State have been forced to forgo in recent years.
DMG interviewed Daw Ma Tin about her native village, her life in the displacement camp, and her hopes for the future.
DMG: Tell us your feelings about this year's Thingyan.
Daw Ma Tin: Previously, together with my friends and relatives, I went to the pagodas and monasteries in the village to offer water to the Buddha statues and keep the Sabbath. The elderly people in the village used to go to the abbot of the village monastery to work together to clean up the neighbourhood around the monastery. We also did good deeds with the money donated by our grandchildren during Thingyan. Together with our friends, we went to the village monastery to keep the Sabbath.
DMG: Do you miss your village during Thingyan?
Daw Ma Tin: Yes, I miss my native village especially during Thingyan. When I see the old leaves falling and the young leaves sprouting as the seasons change, it reminds me of the village I left behind. I think about how, if the fighting had not happened, the grandchildren would be making donations to the elderly and paying respect to them, and the villagers would be happy on Thingyan days. Now we are separated from each other because of the fighting, and now some people have died while fleeing the fighting. When I think about these things, I remember a lot and feel sick.
DMG: What do you know of the situation in your village these days?
Daw Ma Tin: I think the homes and monastery in our village are now damaged by the weather. During the fighting, the Myanmar military fired heavy weapons at the village monastery, leaving shattered glass strewn all over the monastery grounds. The monastery in our village is a two-storey building, and a big structure. The village monastery was built at a cost of about K200 million, donated by local people. The village monastery was badly destroyed by the military's shelling. It's not good to see Buddha statues being broken and blown away due to the Myanmar military's heavy weapons fire.
We were forced to flee our homes by the military's shelling. Since then, we have not returned to our village.
DMG: What will be the difference between living in the village and the current situation?
Daw Ma Tin: I got to work on my own farm in my village and store rice in a rice barn, so I didn't worry about food. Now we rely on others for food, so sometimes we don't eat enough. As I am old and incapacitated, I am no longer useful anywhere.
DMG: If you were to return to the village, would you be OK?
Daw Ma Tin: My home in the village was destroyed. Junta soldiers and AA members are reportedly stationed near the villages. The cattle left behind in the village ran away into the forest, and some of them must have been slaughtered. I don't know exactly, as I have been sheltering at the displacement camp for four years.
I miss my home and my village. I miss how my family used to live under the shade of mango and tamarind trees. When I remember them, I want to go back to my own village. But I think I can't get back to my village. I want to go back and live in my own village in peace and quiet, like before.
DMG: Is there anything you would like to add, in the spirit of Thingyan?
Daw Ma Tin: As we get older, our health deteriorates. There are priority donations for IDP children and women, but at our age, there are very few special donations. That's why I encourage donors to give priority to IDPs from other displacement camps and the elderly in this displacement camp.