Vox Pop: Sittwe residents talk Cyclone Mocha's economic, physical tolls
Cyclone Mocha, which made landfall over Arakan State with deadly force on May 14, destroyed tens of thousands of homes and buildings across Arakan State, leaving many people homeless.
By Admin 24 Jun 2023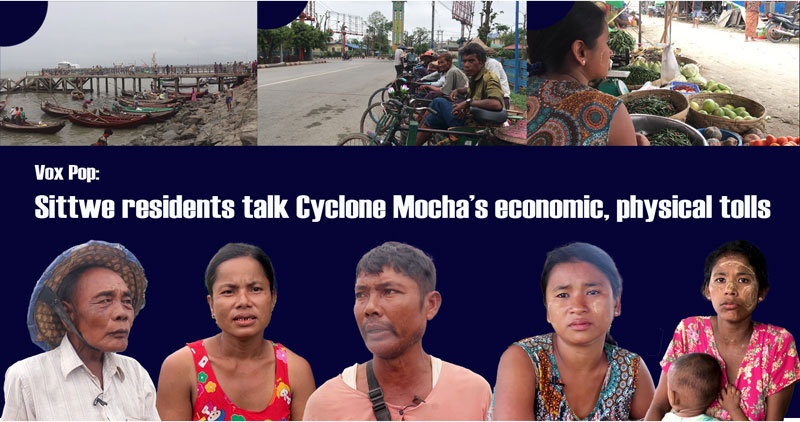 DMG Newsroom
24 June 2023, Sittwe
Cyclone Mocha, which made landfall over Arakan State with deadly force on May 14, destroyed tens of thousands of homes and buildings across Arakan State, leaving many people homeless.
About 30 percent of the victims of Cyclone Mocha in Arakan State have received relief items from international organisations, civil society organisations and donors, but around 70 percent are still in need of emergency assistance, the Arakan Army said on June 14 via the Cyclone Mocha Emergency Rescue and Rehabilitation for Arakan (Cyclone Mocha ERRA).
There are significant challenges to post-storm recovery, including but by no means limited to skyrocketing commodity prices in Arakan State, which has been plagued by poverty for decades. DMG interviewed Sittwe residents on how to overcome their difficulties amid the economic and other hurdles facing them in the wake of Cyclone Mocha.
Daw Moe Moe Win || Vegetable Vendor
Before, I had never left my home to sell vegetables. I used to return home to a rural area after I sold vegetables. Vegetables have not sold well following the cyclonic storm. Now I live here and sell vegetables. Although I want to return home, I won't go back. I miss my children at home.
I face various difficulties. Sometimes, I want to return home, but I never go back home due to livelihood hardships. I am the only breadwinner in my family. As the price of goods went up, the income and expenditures did not match. I am currently unable to repair my home destroyed by the cyclonic storm. When it rains, we stay at each other's home. My business is not OK these days, so I will repair my home only partially.
U Kyaw Hla Maung || Trishaw Driver
My income and expenditure do not match these days. I cannot eat enough due to the inconvenience of my work. Four tins of rice cost around K3,000. I can buy rice after I return from work.
I cannot repair my home destroyed by Cyclone Mocha. We are now living in a makeshift tent. When it rains, the makeshift tent also gets wet. I can't rebuild my home because I am struggling to make ends meet. My daily income ranges from K3,000 to K5,000. I am not comfortable with that income. To feed my family, I need at least K10,000 a day. Sometimes we have to eat only rice with salt.
Daw Ma Khin Soe || Grocery Owner
My business was OK and I didn't worry about my livelihood prior to Cyclone Mocha. Although my shop was small, many packets of coffee mix and betel leaves were sold. My shop was destroyed by Cyclone Mocha and I became unemployed. Being a person with disabilities, I cannot do hard work like other people. I have three children, so I am struggling to make ends meet.
Sometimes, families near our home give us rice and cooking oil. I don't even know how to manage my livelihood as I no longer have a job. With no capital and no job, I can't even figure out how to manage my health and livelihood.
U Ni Hla Maung || Ferryboat Operator
During this period, there are few people travelling by boat, so my job is not good. Our income is not enough for our families and commodity prices are rising excessively, so how are we going to solve our livelihood problems?
The grassroots earn around K10,000 per day and one pyi of rice costs around K5,000. In such a situation, how can poor people like us make a living? Many people are struggling to make ends meet following Cyclone Mocha. There are many poor people who have no food or shelter.
Daw Ma Gyi || Odd-job Worker
We face livelihood hardships and sometimes we eat rice with chilli as we cannot cook curry. I collect vegetables near my home to cook curry but I cannot add seasoning power and cooking oil into the curry. I cannot pay an allowance to my children.
Previously, I earned a living as a fish vendor. I became unemployed since the cyclone made landfall in Arakan State. Sometimes I run out of rice as I cannot borrow money from others. My husband is a mason, but now he is unemployed. The cyclone caused more suffering for the grassroots.