Nearly Four Months Later, Cyclone Mocha Still Causing Pain for Pauktaw Fishing Village 
"I have lost everything, not even a pot was left," said Daw Than Than, shedding tears.
By Admin 10 Sep 2023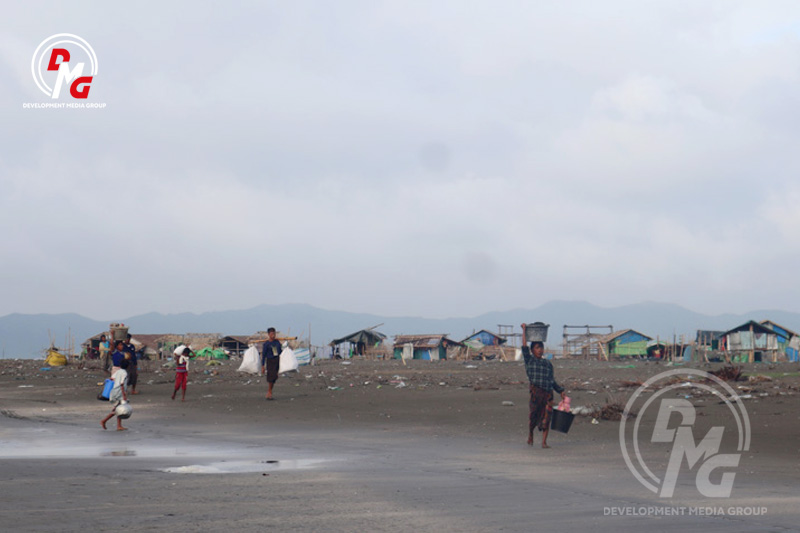 Written By May Gyi Shin
When Daw Anuma and her family had their home swept away by the storm surge during Cyclone Mocha, it was just three days after the new house had been completed.
"My house had just been built when it was swept away by the tide," she said of the wrath of Cyclone Mocha, which was particularly felt in Thaekhon Village, part of Arakan State's Pauktaw Township.
The 55-year-old widow had spent a sizable amount of her hard-earned money to purchase her thatched bamboo house in May. Three days after it was ready for Daw Anuma to move in, her village was hit by Cyclone Mocha, and just like that her new house was gone.
More than 1.5 million people were affected by Cyclone Mocha, which made landfall centred on Arakan State on May 14. Thaekhon Village is located at the mouth of the Kaladan River, where it empties into the Bay of Bengal. The fishing village was one of the worst-hit by the storm, which caused an estimated $2.24 billion in damage, according to the World Bank.
Daw Anuma has two sons, both of whom have physical disabilities. She makes a living doing casual work such as helping dry fish for fishing households in the village. She had scrimped and saved to be able to afford her new house, and Cyclone Mocha had wiped it off the map in moments.
Daw Than Than and her family also lost their house, their business and fishing equipment — the result of over 10 years of savings — in the storm.
"I have lost everything, not even a pot was left," said Daw Than Than, shedding tears. The family lost their house, fishing nets, fishing boat, and their shop, which sold timber and bamboo.
Residents of Thaekhon Village including Daw Than Than, Daw Anuma and their families currently live in makeshift tents built of tarpaulin sheets, and rely on donors for food.
"It is not easy to replace things that have been bought over the course of years," said Ko Hla Sein Tun, a local fisherman from Thaekhon Village, discussing the difficulties faced by fishermen whose fishing boats and fishing nets were damaged or destroyed by the storm.
Thaekhon Village was originally established as a gathering place for fishermen, and the villagers today still primarily earn a living by fishing.
Residents of Thaekhon Village who previously possessed their own boats and fishing nets are now unemployed due to the storm. For Daw Anuma, who earns a living as an odd-job worker and also must take care of her two sons, finding jobs is more of a challenge in the cyclone's aftermath.
"Even the former employers have become unemployed. It's difficult for me to get a job," she said.
Some Thaekhon villagers say it may be time to move on.
"I love my village, but I don't feel comfortable in this village anymore," said Ma Khin Khin Thein, a local woman from Thaekhon Village. "Now the villagers are thinking about how they will make a living and where they will run to if another storm hits."
There are plans to move the Thaekhon Village population to a large field near Gyinchaung Village, where they believe they will be less susceptible to natural disasters, said U Oo Hsan Myint, the village-tract administrator.
"Since the villagers can no longer stay here, they have submitted to the township administrator's office to move them to a new place," he explained. "At the moment, the township administrator's office has not responded with anything regarding the matter," he explained.