Vox Pop: Arakan State activists discuss tree-planting efforts
DMG spoke to a handful of environmentalists and others engaged in afforestation efforts in the aftermath of the storm.
By Admin 11 Jul 2023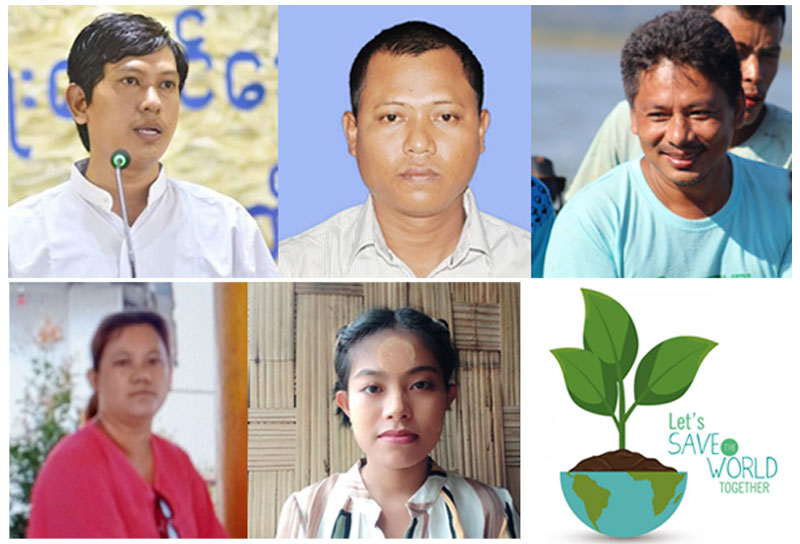 DMG Newsroom
Many trees across Arakan State were blown down by Cyclone Mocha, which made landfall on May 14. In the weeks since, the forest department, Arakan Army, rural residents, civil society organisations and environmentalists have actively engaged in afforestation.
But planting trees is not enough; it is important to take proper care of them for months and years afterward in order to ensure that they grow to a healthy maturity. DMG spoke to a handful of environmentalists and others engaged in afforestation efforts in the aftermath of the storm.
Ko Ran Naung Soe || Environmentalist
Because many trees were lost in the cyclone, many groups are planting trees in various places to compensate. For a tree to grow, there is a need to take care of it for a long time in cooperation with local communities. There is a need to educate local people about it. Trees should be fenced to make sure they are not eaten or damaged by cattle.
U Wai Hun Aung || Social activist
Mangrove trees should also be planted so that they can help mitigate the impacts of storms and high tides. Because of deforestation, Arakan State may be prone to natural disasters.
In Bangladesh, embankments were built to protect against tidal flooding and storm surges. Mangrove forests are also grown there. So, I would like to urge people to conserve and grow more mangrove trees that will mitigate the impacts of storms.
Ma Phyo Myat Thwel || Rathedaung Regional Development Association
Our group has planted trees in around five villages, around 50 trees on average in each village. We plan to plant more trees. But we have financial constraints, and we need more manpower.
Considering that young trees might not survive heavy rains, we have only grown trees that are more than one year old. We have also fenced the trees that we planted.
Ko Myo Lwin || Environmentalist
We always go to the ground to assess whether trees grown by us grow well, or why they die. We've found that people whose livelihoods are dependent on trees tend to cut them recklessly. Few have awareness that trees that are grown by people should not be cut.
There is also a need to choose the right trees that suit the local soil. If you grow the wrong trees, they can cause damage to groundwater sources. For example, almond trees and eucalyptus use a lot of groundwater, and can dry up groundwater sources. So, it is important not to grow such trees.
The best trees to grow are trees that support the ecosystem. Lebbek trees are one of the best trees to grow. Their roots go down deep into the ground. They are also good for the climate. They can reduce heat and conserve groundwater.
Daw Lily Lily Myint || Sein Lan Si Group
Trees were damaged by cattle last year. We have told local residents to take care of the trees we have grown this year. We have told them to fence the trees with bamboo. But then, not all the trees will grow. People with little knowledge about the importance of trees tend to destroy trees. Trees must be taken care of after they are planted. There is also a need to educate people in the neighbourhoods that are chosen for growing trees.