Refugees in Bangladesh Not Counting On a Junta Homecoming
Many Muslims were killed and houses were torched when the Myanmar military conducted its so-called area clearance operations in response to Arakan Rohingya Salvation Army (ARSA) attacks on more than 30 border guard police outposts in Maungdaw, Buthidaung and Rathedaung townships on August 25, 2017.

By Admin 01 Nov 2023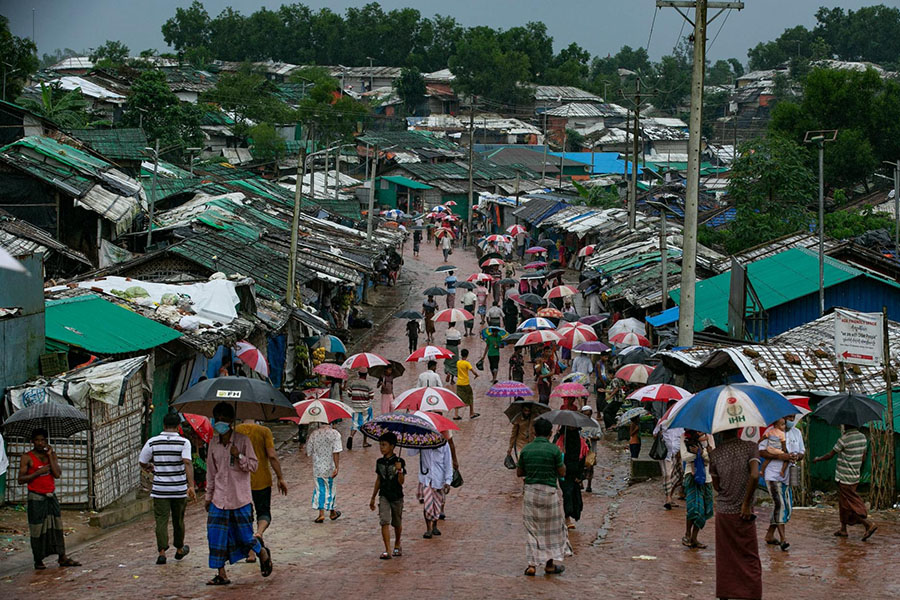 A bearded man in his 30s stared off into space inside a small, makeshift hut with a floor of bamboo, and roof and walls made with tarpaulin sheets.

"There is no one who does not want to return to their native land. We do want to come back. We are ready to come back. However, we still can't," lamented Muhamed Sawyad, a Muslim man who has been living at the Kutupalong refugee camp in Bangladesh since 2017.

Muhamed Sawyad (a pseudonym) is a native of Taungpyo Letwe in Arakan State's northern Maungdaw Township. He was from a well-off family and, prior to his expulsion from Myanmar, made a decent living by farming and running prawn farms.

Part of an eight-member family, he actively participated in social activities in his community and regional development works.
The Mass Exodus of 2017
Many Muslims were killed and houses were torched when the Myanmar military conducted its so-called area clearance operations in response to Arakan Rohingya Salvation Army (ARSA) attacks on more than 30 border guard police outposts in Maungdaw, Buthidaung and Rathedaung townships on August 25, 2017.

"Soldiers gunned down two people in my ward, Taungpyo Letwe No. 4 Ward, that day. Mingyi (Muslim) Village was also torched," recounted Muhamed Sawyad.

His family fled to the "zero-point" refugee camp on the Myanmar-Bangladesh border following the Myanmar military's onslaught. With their home torched, they stayed there for around a week. He then fled to the Kutupalong refugee camp with his wife, while other family members found their way to other refugee camps.

The Myanmar military's operations ultimately caused a mass exodus of more than 700,000 Muslims from Arakan State into neighbouring Bangladesh.

The Kutupalong camp is severely overcrowded, with families packed like sardines in tiny tents made of bamboo and tarpaulin sheets, said Muhamed Sawyad, whose own shelter serves as testament to the conditions of those displaced.

"It is still OK for us as there is only me and my wife. But it is not OK for big families. The camp is heavily populated. There is no space between tents," he said.

"Refugees can't officially work in this country. We survive on cash provided by international agencies," he added.

The World Food Programme (WFP) supplies food for the refugees, and the United Nations High Commissioner for Refugees builds houses for them. The WFP also provides US$12 monthly for each refugee.

But in February, the WFP said that it would cut its cash assistance for refugees in Bangladesh, citing budget constraints. In March, it reduced the allowance to $10, and recently it reduced the allowance further to $8.

Refugees say even $12 was not enough for them. With grim livelihood prospects in the camps, many refugees left for what they believed would be a better future abroad.

"If people starve, there can be a lot of complications. Some people fled to Malaysia and Indonesia at the risk of their lives. Some people died," he noted.

The Muslim refugees in Bangladesh want to return to their home villages, but many say they fear arrests.

Junta Addresses Repatriation

A team of junta ministers including international cooperation minister Ko Ko Hlaing, border affairs minister Lt-Gen Tun Tun Naung and social welfare minister Thet Thet Khine visited so-called transit camps in Arakan State on January 7.

The team visited the facilities in Taungpyo Letwe, Nga Khu Ya, and Hla Poe Kaung in northern Maungdaw. Multiple diplomats from foreign embassies in Myanmar, accompanied by Ko Ko Hlaing, visited the transit camps in northern Maungdaw on September 1.

The regime has said it will bring back more than 1,000 Muslims and Hindus from Bangladesh as part of an initial repatriation plan. However, it has not specified when the repatriation will officially begin.

Bangladesh's foreign ministry said in August that it wants to start repatriation this year.

Muslim refugees view the junta's repatriation programme warily. Karmal, also from the Kutupalong camp, said he would not return to Myanmar without certain assurances.

"We have told the Myanmar government that we would only return when there is guarantee for our safety. But they didn't reply," he said.

Kutupalong refugee camp resident Saw Yos Arr Laung said that if refugees like himself were to return home, they would like to live in their places of origin. A lack of citizenship remains a key sticking point.

"Muslims should be granted citizenship. Also, we cannot stay in reception centres. We can only return if we are allowed to live where our ancestors lived," he said.

Community elders from Maungdaw say that the visits of junta-appointed ministers to these reception centres are merely for show, and that the houses showcased are not solid. Under the National League for Democracy (NLD) administration led by Daw Aung San Suu Kyi, officials met with Muslim refugees three times to discuss their return.

Promises have been made since that government was overthrown in a February 1, 2021, coup.

"The junta officials told us that they would build us new homes in the closest place to the village where we lived previously. And they said they would issue us citizenship cards," Muhamed Sawyad said.

International Stakes

The Gambia, on behalf of the Organisation of Islamic Cooperation, filed a lawsuit in 2019 against Myanmar at the International Court of Justic (ICJ), accusing the Southeast Asian nation of committing genocide against Arakan State's Muslims in 2017.

The Myanmar military has been accused of undertaking a systematic campaign of arson, rape and murder in its so-called area clearance operations.

Myanmar submitted four objections to the ICJ regarding the case brought against it, but the international tribunal rejected all four of those objections on July 22, 2022. The military regime has said it will continue its legal defence.

Many have accused the junta of paying lip-service to the complex and multi-faceted repatriation issue in an effort to boost its image on the international stage, which went from bad to worse when the military followed up its 2017 conduct with the February 2021 coup and subsequent crackdowns on pro-democracy forces in the country.

"The military regime is talking about accepting Muslim refugees again in order to best solve this issue, as it is losing its image internationally during this crisis," said politician U Pe Than, referring to the unmitigated disaster on the world stage that has been the coup and its aftermath.

But willing repatriation, for most, appears to boil down to two things: the right to live in their places of origin, and the right to citizenship.

"The military junta cannot pretend that its doors are always open to Muslim refugees. We do not believe that the military junta will accept back the Muslim refugees," said a despairing Saw Yos Arr Laung.
Many believe that no successful repatriation programme can take place without buy-in from the United League of Arakan/Arakan Army (ULA/AA), which has grown significantly in size and influence since the 2017 exodus.

"The repatriation of Muslim refugees is an Arakan issue. The ULA/AA now has a lot of territorial control in Arakan State," said U Aung Thaung Shwe, an Arakanese politician. "The ULA/AA has received the support of the public. I see that after obtaining the opinions of the ULA/AA, there will be issues regarding Muslim repatriation."

Muhamed Sawyad does not consider an eventual repatriation as guaranteed, but that has not stopped him from planning.
"When I return home," he said, "I want to take part again in the development tasks of my native area."