Dangers of UXOs and the deadly aftermath of battles
"People from IDP camps and villages are now facing the risk of landmines detonating. They are now afraid of going to places where they go every day," he said.
By Sein Ko Ko 15 May 2019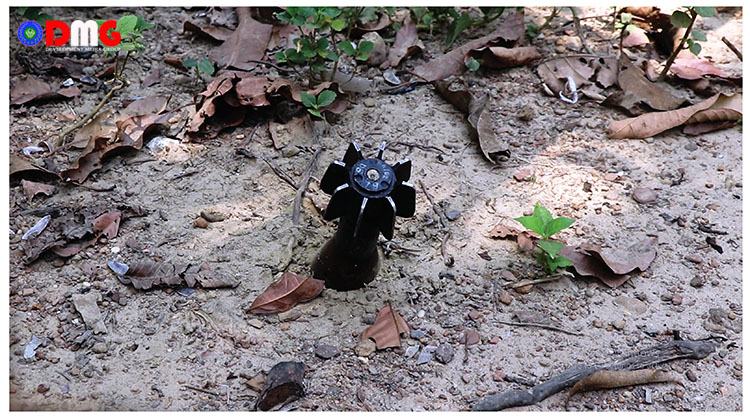 Sein Ko Ko | DMG

Unexploded ordnances were left at a military firing range near villages due to ongoing armed conflicts in Arakan State. This type of action makes landmines pose additional hazards for local residents there.

On May 8, an IDP from Wahtaung refugee camp and a local resident from Khamaung village in Kyauktaw Township got injured by a landmine explosion. In addition, two people died and four people were maimed in Mrauk-U last month after a landmine was detonated. Also, an explosion of a landmine left a person from Ponnagyun Township with injuries.

The victims of landmine explosions are local residents and they accidentally step on landmines while they are heading to their farms to earn their living. According to a survey of the Rakhine Ethnic Congress (REC), at least 15 people have been killed and injured in Arakan State by landmine explosions.

U Zaw Zaw Tun, the Secretary from the Rakhine Ethnic Congress (REC), said that landmine and artillery shell explosions occur very often in the region and it was affecting the daily lives of local residents.

"People from IDP camps and villages are now facing the risk of landmines detonating. They are now afraid of going to places where they go every day," he said.

Unexploded shells are found in Min Phoo village in Rathedaung Township and Si Taung village in Buthidaung Township. Some of them are embedded in the ground while some of them are lying on the ground. They pose a lethal danger to civilians.

Most villagers cordon off these unexploded ordinances but some remain the way they were left right after clashes. Villagers want authorities to clear out these fatal devices, but relevant organizations have yet to come to these areas to clear out unexploded devices.

About 50 percent of injured children during armed clashes in Myanmar are affected by landmines and explosive remnants of war, said the annual report of the Secretary-General on children and armed conflicts published in April, 2016. 

On the morning of April 28, a group of children from Rakhu Chaung village in Rathedaung Township found an unexploded ordnance on the banks of the village creek and they hit it with a piece of brick, a 14-year-old child was killed and two others injured due to the explosion of the device.

On May 12, a 12-year-old child from Meeyutpyin village in Kyauktaw Township found an unexploded ordnance and was killed because it was detonated while the child was playing with it at home. Before that incident, a husband and a wife from Ponnagyun Township brought unexploded devices to their home, but died when these devices exploded on their way back home.

"Even if armed conflicts stopped, people would need to be careful earning their living on a daily basis because of the potential threat unexploded devices pose to people, especially people from war affected areas," said U Khaing Kaung San, director of Wan Lark Foundation.  

In the report of the Monitor, it said that 3,745 people were affected by landmines in Myanmar from 1999 to 2014, 396 of them were killed and 3,145 of them were injured, but the report was not conclusive about what happened to the remaining 204.

According to the Myanmar Physically Handicapped Association (MPHA), military personnel, members of armed groups and civilians become disabled due to armed conflicts that use explosive devices. There are 12,000 people who wear prosthetic legs in Myanmar and one third of them are injured from landmine explosions, the Landmine and Cluster Munition Monitor 2016 Myanmar Country Report said.

In Arakan State, the number of casualties due to landmine explosions is increasing. Meanwhile, the ongoing conflicts in the region is not diminishing at the moment. These set of circumstances bring up the question of how much more of a threat will explosive ordinances be for innocent civilians in the future.

"I noticed that people aren't familiar with the dangers of explosive devices. I saw seven or eight people affected by landmines, I think people who do know about them learn from experiences that are either calamitous or fatal. CSOs and the government urgently educate people about landmines and explosive devices. This way we can predict what the casualty rate may be in the future since the ongoing conflicts in the region are intensifying," said U Oo Tun Win, Pyithu Hluttaw representative for Kyauktaw Township.

He added that Arakanese people are not familiar with military ordnances so it is crucial for people not to inspect these devices and avoid them to ensure their welfare.

As for public awareness about the perils of landmines, UNICEF provided landmine education programs in Buthidaung Township in May. No other organization has bothered with raising public awareness about landmines in Arakan State.

Myanmar is not a signatory of the Mine Ban Treaty and does not make any effort to espouse the treaty's policies although it said it concurs with the treaty in regard to its moral principles. Meanwhile, the Tatmadaw and the Arakan Army have both adamantly denied laying landmines as clashes continue indeterminately in Arakan State.

"Both sides have employed land mines during their fighting, so it's difficult to point the blame at one specific group for casualties resulting from explosive ordinances.  We need to educate people not to go to areas that are hazardous and have the potential to be infested with explosive devices, as long as the conflicts continue the use of landmines and other explosive devices will be employed," said U Maung Maung Soe, observer of ethnic affairs.
Ethnic armed groups such as the KIO, KNLA, DKBA, the Karenni Army and the United Wa State Army have produced blast and fragmentation mines. Some also make Claymore type directional fragmentation mines, mines with anti-handling fuses and explosive booby-traps.

All units of the KNLA are reportedly able to manufacture and deploy bounding mines after training with a foreign technician. Armed groups in Myanmar have also acquired mines by removing mines laid by others, seizing the Tatmadaw's arsenal and obtaining mines from the clandestine arms market, the Landmine and Cluster Munition Monitor said its 2015 report on Myanmar.

Myanmar has produced fragmentation and blast antipersonnel mines, including ones with low metal content.  In September, 2016, Myanmar confirmed it was producing mines, however authorities have not provided any information on the types of mines it produces or the quantities of stockpiled antipersonnel mines it possesses. Myanmar is not known to have exported antipersonnel mines, the Monitor reported.

The civilian death toll and casualty rates in Arakan State is increasing during the ongoing clashes in the region. Civilians were killed or injured from landmine explosions during clashes. The collateral damage is the consequence of war and it is necessary to put an end to war, said U Oo Hla Saw, Pyithu Hluttaw representative for Mrauk-U Towmnship.

"Wars erupt when political problems cannot be resolved in a harmonious way. So, ethnic armed groups, the Tatmadaw and the government need to negotiate to resolve differences through mutual understanding. If not, innocent people suffer because there are no winners in a war," he said.

Currently, people from war affected areas of Buthidaung, Rathedaung, Ponnagyun, Kyauktaw and Mrauk-U Townships are required to provide education about explosive devices to prevent villagers from becoming a victim of landmines and unexploded ordnances that are left over after clashes.