Cyclone Mocha, Subsequent Floods Leave Arakan Farmers in Dire Straits
The apparent river was in fact paddy fields that were flooded in early August. At places, water stood five feet above the ground in paddy fields, utterly submerging many of the rice stalks.
By Admin 12 Oct 2023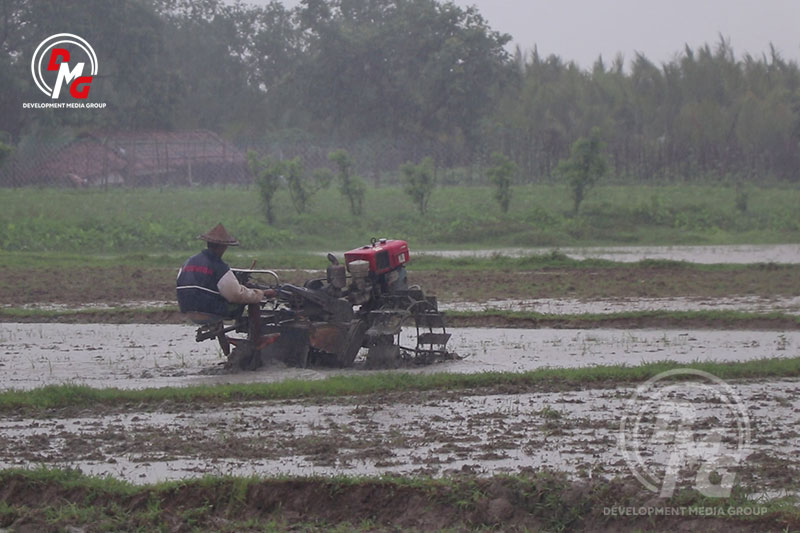 Written by Htet Aung
At first glance, it appeared a river flowed through Nyaungchaung Village — on the outskirts of Kyauktaw along the Sittwe-Yangon road — with mountains in the background to boot. But all was not as it seemed.
The apparent river was in fact paddy fields that were flooded in early August. At places, water stood five feet above the ground in paddy fields, utterly submerging many of the rice stalks.
"I have some seven acres of paddy fields, and all were submerged when the floodwaters rose," said farmer U Maung Win Kyi from Nyaungchaung Village as he told DMG about how his farm fields were inundated on August 8.
Farms in villages including Nyaungchaung and others near the Kaladan River were flooded on August 7-8.
Around 15,000 acres of paddy fields were destroyed by floods in Kyauktaw Township. Nearly 20 villages near tributaries of the Kaladan River suffered from flooding.
"When I went to see my paddy fields after the floods subsided, I felt sorry to see that rice plants were damaged. I was very upset," farmer U Thein Hla from Nyaungchaung Village bemoaned.
U Thein Hla, 40, has been a farmer since he was 19. He currently cultivates 12 acres of farmland, supporting his family.
Nyaungchaung Village is located near Tharichaung Creek, and its residents mainly engage in farming. There are 175 farmers and more than 800 acres of farmland around the village. Over 400 acres of paddy fields were destroyed by flooding, and farmers have struggled to revive their crops and replant their fields.
Elsewhere, more than 1,000 acres of farmlands were destroyed by floods in Pyaingchaung Village, upstream of the Pichaung Creek in Kyauktaw, inflicting heavy losses for local farmers.
Around five townships including Minbya, Mrauk-U and Kyauktaw, which account for the majority of farms in Arakan State, suffered from the flooding of early August. Minbya Township has 70,663 acres of farm, of which nearly 20,000 acres were destroyed by floodwaters.
Buthidaung, Maungdaw, Thandwe and Ponnagyun townships were also hit by floods.
Farmers have had difficulties restoring their farms. Some need agricultural equipment, some need paddy seeds, and some need labourers.
Farmer U Win Pe from Pyaingchaung village in Kyauktaw said: "The rice plants have rotted. It has not rained for weeks, and we can't buy paddy seeds to grow. So, we have grown rice seeds stored for consumption. Half of them are growing, and half are not growing. We don't know what to do."
Meanwhile, the cost to hire a labourer has increased to 10,000 kyats per day, and it has become increasingly difficult to get labourers, he added.
"I had around four acres of my farms damaged by floods. We need tractors to plough the fields again, and we also need rice seeds to grow. Farmers share rice seeds they have among one another. However, those rice seeds don't grow," said U Win Pe.
U Thein Hla, who is fully dependent on farming for his livelihood, said the damage done has been devastating for him.
"I have invested large sums in farming. As we have spent more on fertiliser and pesticides because of price increases, the loss is huge for me," he said.
U Thein Hla said that prior to August's flooding, the cost of farming for him was more than K3 million, a figure he predicted to rise as high as K5 million due to the floods.
Farmers say they need paddy seeds and seedlings to replant their damaged paddy fields. About 390 out of more than 773 acres of monsoon paddy fields in Shwekyan Village, Minbya Township, were destroyed by the flooding.
"Farmers are replanting paddy plants," said U Nyo Maung Thein, an administrator of Shwekyan Village. Farmers are currently ploughing as much paddy seeds as they can share with their relatives. Some have to borrow and then replant paddy. So I don't think the rice will be of the same standard as previous years."
U Nyo Maung Thein added: "So far neither the government nor any other organisation has provided paddy seeds to the farmers. Farmers need paddy seeds to replant the damaged paddy fields, but I don't think there will be time. Paddy plants that are planted late are susceptible to pests, requiring more fertiliser and pesticide."
U Win Pe said: "I re-ploughed about 10 acres of paddy fields and am watching whether the paddy plants will thrive or not. The military junta doesn't provide us with paddy seeds. I don't know how to tackle my family's livelihood [challenges]. Thinking about putting food on the table for my family, my mind is overwhelmed."
Arakan State is a coastal region with a monsoon climate and heavy rainfall. Arakan State is prone to storms during the early and late monsoons in the Bay of Bengal, and is also affected by floods in rainy years. Flooding affects the townships of Arakan State where the freshwater rivers such as the Kaladan River and Laymyo River flow through, affecting fields and residential communities.
There are 1,042,000 acres of monsoon paddy in Arakan State, but the area under active cultivation of monsoon paddy has gradually decreased over the past 10 years, and currently is around 750,000 acres, according to figures compiled by the Arakan Farmers' Union.
Around 70,000 acres of monsoon paddy fields were destroyed due to flooding in Arakan State. U Kyaw Zan, chairman of the Arakan Farmers' Union, said that in order to replant the damaged monsoon paddy acres, farmers need support from all sides, including the military regime.
"Mainly, how to organise for their rights as farmers is important. In the current period, the strength of organised farmers as a group is decreasing. As farmers who do large-scale farming, we should also draw together the farmers who own a few acres of land in a spirit of mutual cooperation," he said.
"The military junta should systematically analyse what the farmers are losing and what the situation is," said U Kyaw Zan of the Arakan Farmers' Union, adding, "and then prepare reforms and support in a generous and systematic manner."