Sex workers face exploitation, arrest and violence under existing Myanmar law 
In Myanmar, sex workers are addressed as "pyae taza" in polite form. The usage is derived from a Pali word, roughly translating to "those who decorate a country." But they are also called far more demeaning terms, such as "porn girls" and "whores". 
By Kyaw Gyi 27 Dec 2021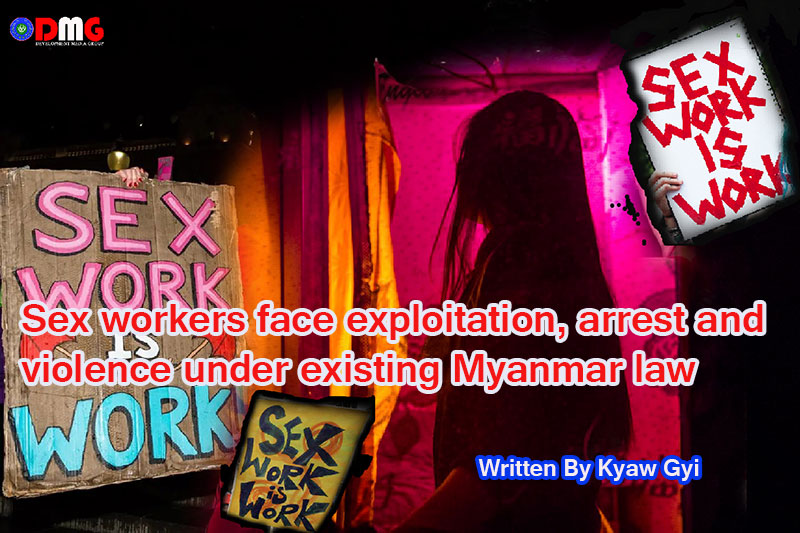 Written By Kyaw Gyi 
Scantily clad women are using their cellphones or talking to each other in a small room lit in dimmed yellow. A 30-year-old man with muscles is sitting near them. 
A vehicle is stopped outside the building late at night. A man in his 40s gets out of a car and walks toward the women. 
The women welcome the guest with a smile. The man scans the women in the room and points to a 25-year-old who is about 5 feet tall, with fair complexion and bobbed hair. They leave and go to another room. This is a Sittwe brothel, a workplace for sex workers in the Arakan State capital. 
In Myanmar, sex workers are addressed as "pyae taza" in polite form. The usage is derived from a Pali word, roughly translating to "those who decorate a country." But they are also called far more demeaning terms, such as "porn girls" and "whores". 
Many people in society see sex workers as disgusting. But sex work is not a new occupation, and in fact is often referred to as the world's oldest profession. 
Nonethess, Myanmar enacted the Suppression of Prostitution Act in 1949, which remains on the books to this day. Under the law, women who work as prostitutes, women or men who force or persuade others to work as prostitutes, and those who run, supervise or help at brothels can be sentenced to from one to three years' imprisonment. 
Controversially, according to the law, a "customer" is granted immunity from prosecution if they testify in court. 
Human rights activists have argued that the law is not fair and discriminates on the basis of gender because it takes action against sex workers but not their clients. The law also makes it difficult to raise awareness about HIV and other sexually transmitted diseases among sex workers, critics say. Work on amending the law gained traction in 2019, including efforts to codify protections for sex workers, but the changes have not been officially enacted.  
In some Southeast Asia countries, adult sex workers are legally allowed to work, and there are laws that protect them. 
A Problematic Status Quo 
In Myanmar, sex workers are frequently harassed, abused and violated due to the Suppression of Prostitution Act. 
Although prostitution is illegal in Myanmar, sex workers' services are on offer in most of Myanmar's 330 townships. Their services are offered near bus terminals, at KTV lounges, in beauty salons, and at numerous other venues. Bribes are sometimes paid so that authorities will turn a blind eye to prostitution being transacted out in the open. 
"It's illegal here, but we are working by giving bribes to authorities. We are arrested sometimes," said one sex worker, Ma Hnin Pwint (not her real name). 
"We are arrested if we fail to give the bribe or on the order of their superior," she said. Ma Hnin Pwint's real name and location are being kept confidential for her own safety. 
Given that they are engaging with potential clients on the streets and outside of the formal economy — and lacking any legal protections — sex workers like Ma Hnin Pwint are sometimes robbed, and face exploitation and gang abuse, according to sex workers' rights advocates. 
Prostitutes are often managed by pimps, and a typical split of a sex worker's earnings sees their pimp getting two-thirds and the sex worker getting just one-third. It is not uncommon to be beaten or otherwise punished by their pimp if a sex worker's client is not satisfied. 
"I am doing this job but I am not happy," said Ma Hnin PWint. "I have no choice as I am uneducated. If a client pays K10,000, I get K4,000. We have to pay K6,000 to the pimp. And, we are always worried about being arrested by the police." 
Sex workers are often arrested when authorities pretend to be a client, or when complaints are made by residents in a neighbourhood where sex work is transacted. 
The underground nature of the sex economy creates a situation where sexually transmitted diseases spread easily and violence against sex workers is common. 
Ma Hnin Pwint, who has experienced violence at the hands of clients, said: "When I was working in Yangon, a man came and hired me for a night and took me to a hotel. When we arrived at the hotel, three people were waiting. I couldn't run away. They had sex with me in turns, all night. They strangled me during sex. I almost died. I was hurt and I couldn't work for a month." 
Many sex workers have had abusive experiences similar to Ma Hnin Pwint, but there is no place for them to complain about the violence. 
Bringing Sex Work Out of Myanmar's Shadows 
Prostitution is a business that cannot be successfully banned. That's why it should be allowed. Prostitutes are often doing this work due to financial hardship, and most have limited education. Very few work as prostitutes for fun. They enter into the sex trade for various other reasons, and under various, often unenviable circumstances. 
Legalising prostitution would bring better protection against sexually transmitted diseases such as syphilis and HIV, for both sex workers and their clients. And it would provide a safer workplace for prostitutes.  
The Women's League of Burma has said that domestic violence and sexual assaults against women in Myanmar have been on the rise since the outbreak of Covid-19 and stay-at-home orders that were issued in response to the pandemic, and domestic violence against women has increased significantly since the military coup on February 1. Additionally, the number of sex workers arrested is also up, according to a Women's League of Burma report. 
Prostitution is a business that exists based on demand, so the notion that prostitution can be eliminated is simply not realistic.  
Properly licensing sex business owners and systematically requiring medical checkups for sex workers are commonsense alternatives to the status quo, better protecting prostitutes and reducing the number of sexual assaults, rapes and other violent crimes. 
When 35 women and men of different ages in Myanmar were asked whether prostitution should be legalised or not, 21 said yes and only nine said no. Five said they did not know. 
According to a survey compiled in 2017, there are more than 66,000 sex workers in Myanmar. They will continue to face arrest, violence and health problems unless the current law criminalising prostitution is amended.