Sayardaw U Ottama Day faces challenges
"We'd like to designate U Ottama Day as an official holiday in Arakan State if it is not declared for the whole Myanmar," said Ko Kyaw Naing Htay, chair of Students' Union of Sittwe University.
By Nay Win San 09 Sep 2019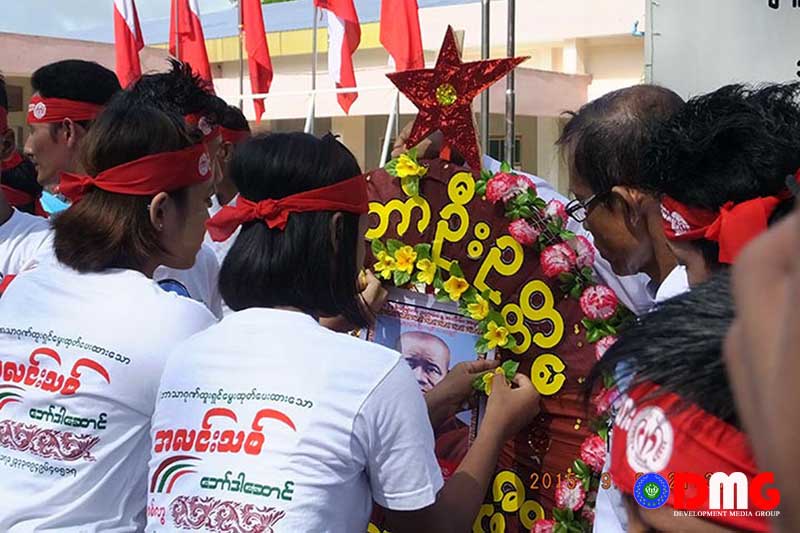 By Nay Win San | DMG

On a day of both rain and sunshine, Arakan State's capital Sittwe is active with an endless procession of people carrying pictures of Ven. U Ottama and wreaths; Arakan traditional drums are grandly played along the way to their destination.

September the 9th was the 80th anniversary of the death of Sayardaw U Ottama, an architect of Myanmar's independence struggle against the British colonial rulers. A large number of local residents commemorated the day by marching to U Ottama Park where the Sayardaw's memorial statue is erected. They paid tribute and laid wreaths in front of the statue.

Sayardaw U Ottama was born on 28 December 1879, his father was U Mya Thar Oo and his mother was Daw Aung Kwra Phru.  He was named Paw Tun Aung when he was young. He died on 9 September 1939. That day is designated as U Ottama day.

Under a military government, authorities did not allow the commemoration on Memorial Day and organizers were arrested. After U Thein Sein government took office, U Ottama Day could be observed freely.

This year's commemoration could be held after overcoming different obstacles and challenges because organizers had to apply for permits for peaceful assembly and a peaceful procession.

"In the past, we did not need to do much. This year, we have to apply for a permit to hold the auspicious event. We were allowed to hold the event only when we signed an official letter," said organizer Bagyi Shin Hla, chairperson of Painters' Association in Sittwe.

Organizers have to take responsibility for any possible problems during the procession according to the permit. Authorities are entitled to arrest organizers if there trouble during procession; that is a threat to organizers.

That's why there may be some setbacks to commemorate the memorial event of U Ottama Day in the coming years across Arakan State. There is now growing concern for the fading history of the event.

"I think any obstacles should be overcome for the commemoration of the Sayardaw," said U Kyaw Zan Maung, central committee member of the Painters' Association.

Arakan State's government reportedly provided MMK 2.8 million for the anniversary of U Ottama Day this year although it did not head the event. Organizers, however, said that it was not enough money to hold the event in a grand scale.

Arakanese people have raised questions because the incumbent chief minister in Arakan State U Nyi Pu did not turn up at the event held at Sittwe's U Ottama Hall. U Win Myint, spokesperson of the regional government and minister for Municipal Affairs in Arakan State, attended the event. He said the chief minister was on trip.

"I believe that the regional government should observe such a historically significant event," U Kyaw Zan Maung said.

As for the commemoration of U Ottama Day, University and High school level oratory contests and primary school level poetry recitation contests were hosted in Sittwe. Arakanese painters also held art exhibitions.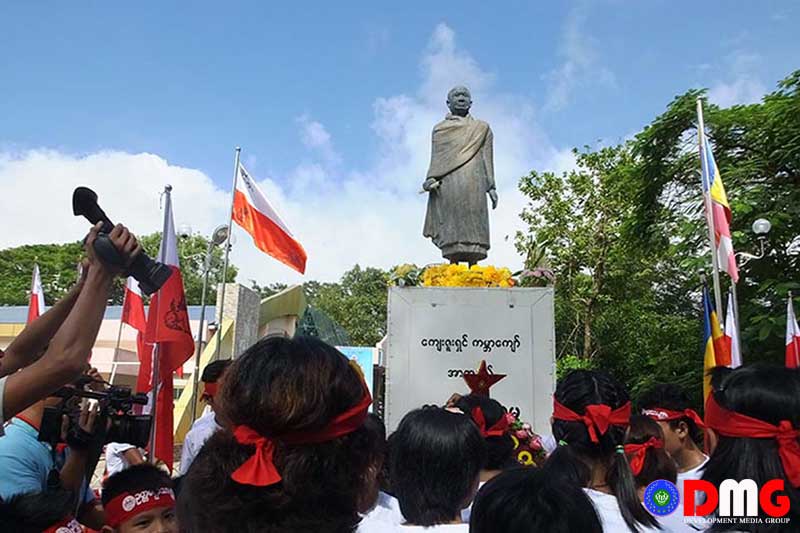 U Ottama Day last year was observed in all parts of Arakan State as well as Yangon and Thailand. The Yangon Region government did not head this year's event, but it was crowded with admirers who come and pay tribute and lay wreaths.

The Arakan National Democratic Party (ANDP) this year headed the commemoration of Sayardaw U Ottama in Tokyo, Japan.

We have celebrated the anniversary of the death of Sayardaw U Ottama abroad to fulfill our historical duty and to show the original quality of Arakanese people, chair of the ANDP Ko Phone Myint said.

"I hope the commemoration for the immense sacrifice of Arakanese martyrs would inspire patriotism among our new generation and they would participate actively in working for Arakanese affairs," Ko Phone Myint said.

Sayardaw U Ottama parent's started to send their son to a vernacular school. When he was nine years old, they sent him to an English-Myanmar school in Sittwe. Sayardaw studied there until the sixth standard. Then, his parents took him out of school but he tried to pursue his education. He studied Buddhist scriptures under the tutelage of the senior monk of Shwe Zedi monastery in Sittwe when he was 13.

When he was 15 years old, he was initiated as a novice together with his younger brother. He was given the title of U Ottama and continued studying Buddhist scriptures in Yangon, Maubin, Bago, Taunggo, Mandalay and Pakokku.

U Ottama was a polyglot, well-versed in nine languages including, Pali, Bengali, Nagari, Sanskrit, Tibetan, English, French and Japanese.

The Sayardaw led in Myanmar's independence struggle. He sowed the seeds of anti-colonialism and carried on Myanmar's independence struggles. Although he was imprisoned several times he kept on conducting anti-colonial political activities.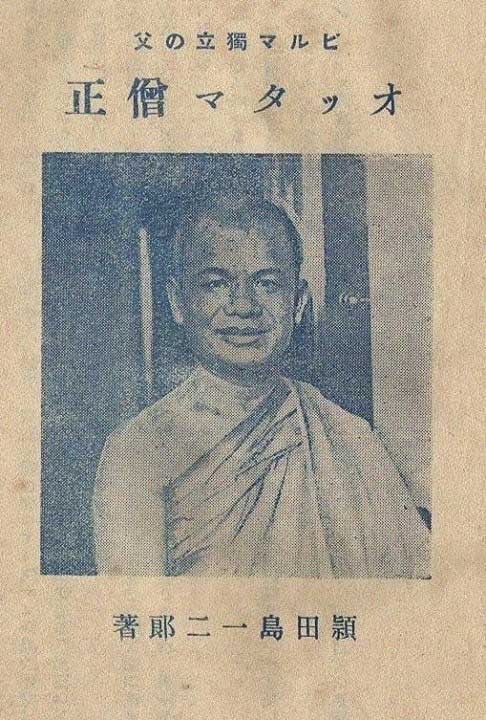 The Sayadaw, who worked selflessly for the independence of the country, contracted diseases and suffered from malnutrition and died at the age of 60 years on 9 September in 1939.

"U Ottama Day should be a well-known day in Myanmar. All Arakanese people want to designate this day as holiday," U Kyaw Zan Maung said.

The committee for Organizing U Ottama Day has also demanded to designate official holiday, but it has not been decided yet until it reaches 80th anniversary of the death of the Sayardaw.

On 9 September this year, schools in Sittwe were closed because students did not turn up. Moreover, the city's market was also closed. It is a demand to designate the day as an official holiday.

"We'd like to designate U Ottama Day as an official holiday in Arakan State if it is not declared for the whole Myanmar," said Ko Kyaw Naing Htay, chair of Students' Union of Sittwe University.