Muslim IDPs in Arakan State ask junta to take preventive measures as Cyclone Mocha approaches
"We've taken note of the impending storm. The government has not informed us about the storm yet. The IDP shelters are damaged, so they won't be able to withstand the storm. The Muslim IDPs are worried about their safety,"
By Admin 12 May 2023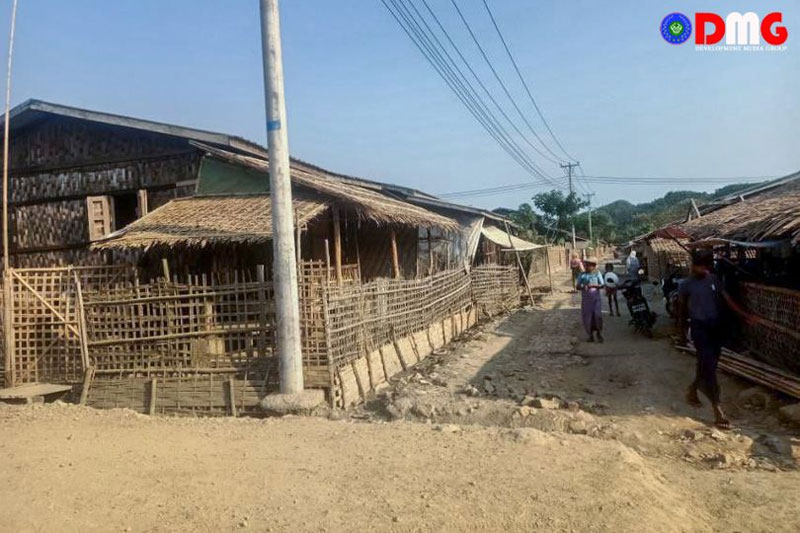 DMG Newsroom
12 May 2023, Sittwe
Muslim internally displaced people (IDPs) in Arakan State are requesting that necessary measures be taken to mitigate the negative impacts of the incoming Cyclone Mocha, which is expected to make landfall over the weekend.
The Muslim IDPs at Thetkelpyin IDP camp in Sittwe Township, which houses more than 6,000 IDPs, are aware of the impending storm, but have not made any preparations yet, said U Maung Lay, manager of the displacement camp.
"We've taken note of the impending storm. The government has not informed us about the storm yet. The IDP shelters are damaged, so they won't be able to withstand the storm. The Muslim IDPs are worried about their safety," he said.
"We haven't prepared anything yet," echoed Daw Hla Thandar, a Muslim IDP woman from Thetkelpyin displacement camp. "We are worried about where we will go if the water rises due to the storm. We have heard the news that a powerful storm will hit Arakan State."
Some Muslim IDPs from the Hnget Chaung IDP camp, which is home to more than 5,000 IDPs in Arakan State's Pauktaw Township, have also evacuated their homes in response to the impending storm, fleeing to what the hope will be safer locations in Sittwe, Minbya and Myebon townships.
Over 1,000 Muslim IDPs who remain at the Hnget Chaung IDP camp have urged local authorities to provide them with necessary assistance.
"There is no cyclone shelter at the displacement and they [Muslim IDPs] don't have their own mobile phones. Some IDP shelters were swept away by floodwaters when the previous storm hit the camp. It will be better if the government does something for those who remain in the displacement camp," said U Maung Nu, an IDP at the Hnget Chaung IDP camp.
Some Muslim IDPs from Pauktaw Township are currently taking shelter at Taung Paw Kan IDP camp in Myebon Township, and the evacuees are reportedly in need of food assistance.
"Casualties were reported when a powerful storm hit Arakan State in 2004. We were not prepared for the storm and are worried about the children. I want the military regime to provide us with lifejackets and food," said Daw Ma Than Shwe, an IDP from the Taung Paw Kan IDP camp.
DMG was unable to obtain comment from the spokesman for the Arakan State military council, U Hla Thein, regarding the incoming storm and any preventive measures being taken by the state government.
The Arakan State military council announced via social media that some townships in Arakan State are carrying out storm risk prevention and awareness campaigns and natural disaster drills.