Diagnosing What Ails Arakan State's Political Economy
We can say that Arakan State has been generously endowed with natural resources. However, everyone should bear in mind that natural resources are depletable, and the problem of scarcity must factor into every economic calculus.   
By Myo Nyein Naing 26 May 2022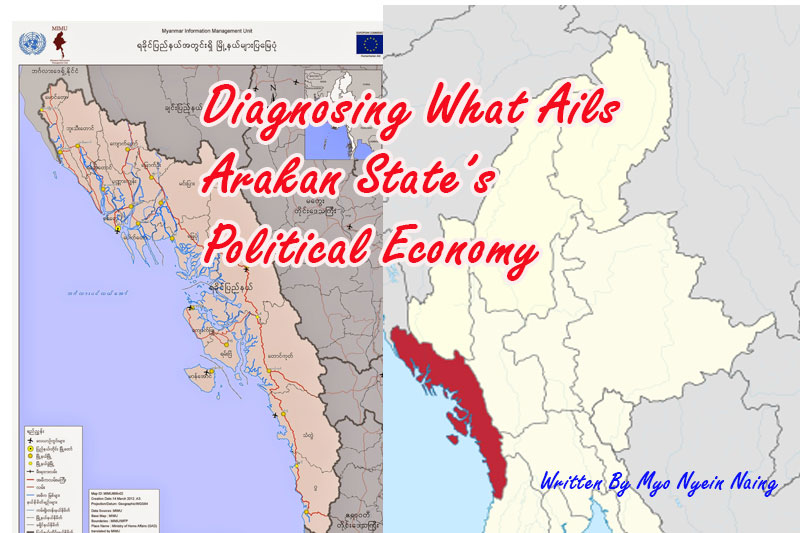 Written By Myo Nyein Naing 
Myanmar's economic growth has been hindered by the military coup and economic activities have declined in the year-plus since the putsch. The inflation rate, meanwhile, is swiftly rising, meaning the price of goods and services is taking up an increasing proportion of every household budget, as well as businesses' expense sheets. Consumption is falling as the same amount of money fetches fewer and fewer goods and services. What's more, net trade has significantly decreased and that will lessen the real GDP of Myanmar in ways that will be made clear soon.  
All of these trends are worrying, but there are actions that can be taken to ameliorate the economic pain. 
Leveraging Geographic Strengths  
Geographically, Arakan State is located at a focal point of Myanmar's trading economy with foreign countries. Exports that are shipped across oceans leave ports along the Arakan coast, and large sums of goods are traded overland to and through Bangladesh. 
We can say that Arakan State has been generously endowed with natural resources. However, everyone should bear in mind that natural resources are depletable, and the problem of scarcity must factor into every economic calculus.   
Tourism, services, and advanced technological development are mainly promoted and comprise larger segments of the economies of more developed countries, such as Germany and the United States. But Arakan State can and should make these integral parts of the state's economic activity.  
We have a lot of unused land, a young and sizable labour force, and capital for production, but technology is one of the most important things Arakan State needs to develop in order to increase productivity. If the political situation is stable and amenable, tourism should be a main focus of economic growth, with many beautiful, valuable, and attractive destinations on offer such as Mrauk-U, Ngapali and other coastal treasures.  
The lands of Arakan, meanwhile, can be used to expand the agriculture economy, cultivating rice, vegetables and other crops for export to other countries. Government-imposed price floors should be considered as a means of making sure that agriculture, the lifeblood of the Arakan State economy, remains viable for the often-poor farmers who are the backbone of that economy, and who are sometimes victims of price manipulation by unscrupulous traders and businesspeople.  
The Trade Factor 
In Arakan State, exports and imports should be balanced, because when the people of Arakan consume more imported goods and services than they produce, some proportion of disposable income is ultimately leaving the state. (In this context, we can consider "exports and imports" to be the movement of goods out of and into Arakan State, where borders with other Myanmar states and regions should be viewed as the edges of the "domestic economy," in addition to transnational trade.) 
If instead we can maintain a balance, or even export more goods and services to other states/regions and countries than we import, the economy of Arakan State will grow and diversify. Domestic businesses will increase investment as profits rise, and more jobs for local people will be created. The unemployment rate of Arakan State will decline and fewer people will leave the state in search of jobs elsewhere. Currently, Arakan State loses huge amounts of human capital from labour force outflows as job-seeking migrant workers travel abroad to countries like Thailand and Malaysia, or closer to home in the Myanmar commercial hubs of Yangon and Mandalay. The existing migrant worker dynamics put strain on families and come at the expense of local economies, as well as being ripe for exploitation by human traffickers. 
Alongside increasing economic activity and domestic investment, with the right policy choices Arakan State could expect to see a rise in foreign investment as well. This in turn would raise government tax revenues that could then go toward increasing spending on roads, rail and other infrastructure, as well as education, healthcare and other sectors where increased public spending is sorely needed.  
Political Realities 
Politics is inextricably tied to the economy of Arakan State. The politics of Arakan is intricate, which makes decision-making difficult for businesspeople, who crave stability and predictability in order to effectively run their enterprises. Take, for example, two economic developments in recent years that have made business more difficult and depressed potential investment. 
In the months following the coup, banking has become exceedingly difficult in Myanmar. Withdrawing money from an ATM or even a bank branch is by no means guaranteed, and people's confidence in the financial system has arguably never been lower.




Over recent years, Arakan State has seen the emergence of parallel administrations: one under Myanmar's central government in Naypyidaw, the other led by the Arakan Army and its political wing, the United League of Arakan. Unfortunately, for average citizens and businesses alike, with two governments comes occasional double taxation. This puts businesses in Arakan State at a distinct disadvantage when competing for labourers and investment with other parts of the country and overseas. 
A country's unemployment rate is never perfect (at 0%) due to what economists have categorised as cyclical, structural, seasonal, frictional and institutional factors that cannot be eliminated entirely. Having said that, there is no doubt that Arakan State's unemployment is too high, and has been so for far too long. This persistent problem has led to homelessness, and an overreliance on charity for basic needs in many households, among many other societal maladies.  
The government can play a larger role in remedying some of these problems until a more robust economy can bring unemployment down to more acceptable levels. It could better regulate the housing market to prevent predation from landlords, as well as subsidising low-cost housing options. It could also provide a more robust social safety net by way of unemployment benefits, which could have the added benefit of reducing the likelihood that the jobless will resort to criminality to meet their material needs. 
Economic growth and political stability must be the current focus of policymakers if Arakan State is to achieve a more promising future. Too often, in Myanmar and around the world, economics and politics are in tension or outright conflict, when actually they must be in harmony if development is to proceed optimally.