A Sittwe Woman Who Heads Diverse Communities
"Even the Muslims told me to continue to serve in this position until my death. They say so because of my impartiality regardless of race and religion,"
By Admin 03 Jul 2023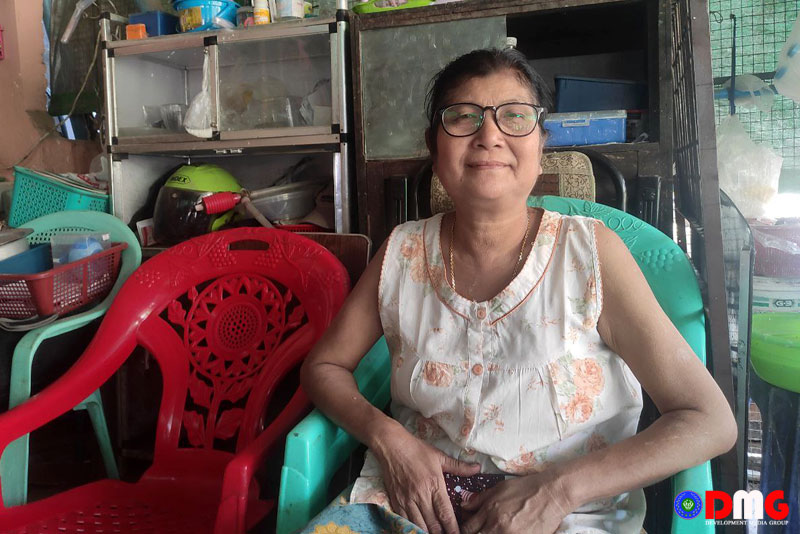 Written By Min Tun
Aung Mingalar, one of the 32 wards in Arakan State's capital Sittwe, is home to some 7,000 people of different races and religions — Arakanese, Maramagyi, Muslim, Hindu and more. Muslims make up the majority of the ward, whose administrator is a 57-year-old woman.
Daw Cho Cho Yi is one of a handful of female administrators in Arakan State. She started serving in this position some nine years ago.
She ran for her ward administration office in 2015. Her opponent was the former ward administrator. She beat him by a margin of just 50 votes, and became the ward administrator.
"I am happy working shoulder-to-shoulder with men. Because I am overjoyed to serve my community," Daw Cho Cho Yi said of her political success.
Before she took up the post of ward administrator, she was a social activist and member of the Maternal and Child Welfare Association.
Some did not accept her, and looked down on her in her first year as the ward administrator, Daw Cho Cho Yi said.
"When there was a meeting, I was the only woman. So, I'd feel unsure of myself," Daw Cho Cho Yi recalled of that challenging first year.
However, she managed to overcome challenges thanks to support from her fellow administrators. She was able to prove her worth with actions, and proved her critics wrong, Daw Cho Cho Yi said proudly.
There are greater challenges to female administrators than their male counterparts in ensuring security, community peace and tranquility, and the rule of law. For example, it is not easy for women to make nighttime patrols, or to handle people who are drunk and disorderly.
Daw Cho Cho Yi sought the help of relatives, and her subordinates — 10- and 100-household heads — to handle those challenges.
"If I need to go out at night, I am always accompanied by my husband, son, and son-in-law," she said.
There are seven 100-household administrators and 20 10-household administrators in Aung Mingalar Ward working under Daw Cho Cho Yi. Two of the 100-household administrators and 10 of the 10-household administrators are Arakanese, and the rest are Muslims.
"Even the Muslims told me to continue to serve in this position until my death. They say so because of my impartiality regardless of race and religion," said Daw Cho Cho Yi.
In cases of dispute, Daw Cho Cho Yi often tells the quarreling sides to settle their differences in front of her.
In 2017, she ran for her second term against three rivals, all of them being 100-household administrators. She edged out her nearest rival by just 10 votes to secure her position.
"They stood for election as if they didn't want to live under a woman administrator. But ward residents voted for me. So, I won," Daw Cho Cho Yi said with a smile.
Women's participation in politics is still low in Myanmar, and the situation is the same in Arakan State. Out of 177 ward administrators and 1,009 village administrators, only five are women. There are two female ward administrators in Sittwe and Ramree, and three female village administrators in Gwa and Thandwe townships.
Women's rights activists say that in addition to government support for women to enter the positions of ward and village administrators, it is still necessary to change the views of much of Myanmar society.
"We will have to do a lot of organising and campaigning in order to embrace and believe in women's voices and capabilities. We have to create a lot of scenarios that can be done practically," said Saw San Nyein Thu, chairwoman of the Rakhaing Women's Initiative Organization.
As trends evolve, women increasingly work side-by-side with men in the workplace, and there are also female leaders in teams and organisations.
At present, women are more accepting than ever as women are active in social and societal roles. It is said that the participation of women in administrative roles has increased more than ever in Arakan State.
On the other hand, if there had been peace in the country, women's activists would have been in a position to appear more prominently than now. After the military coup, Myanmar's administration is facing a deteriorating situation.
There are challenges for women to participate in administration due to the administrative competition between the Myanmar military and the Arakan Army (AA) in Arakan State.
"Some women were willing to serve as administrators in administrative roles with a government that would emerge after the 2020 elections. But in the corrupt state of the country, there is no situation where women participate until they have a desire," Saw San Nyein Thu said.
Women have been placed in community administrations in areas controlled by the Arakan Army. Previously, women were not even allowed to participate as members of the community management committees, but now they are participating in the top positions of the community administrative committee.
"Previously, women were not even included in the executive committee. The ULA [United League of Arakan] now considers appointing women to village-level administrative committees," said a women's rights activist who declined to be named for security reasons.
Former Arakan State lawmaker U Aung Thaung Shwe believes that in order for more women to participate in administration, it is still necessary for women to take the lead and work boldly and courageously.
"It's time for women themselves to show that they can do this. That's why it is necessary for women to join together and lead the public. If this is done, all women will be recognised by everyone," the ex-legislator added.
Some believe that the low participation rates of women in administration is due to traditional ways of life and gender norms that tend to place men in leadership roles over women.
"The lack of female participation discourages us," said Daw Cho Cho Yi. "There are some people who wonder if it is possible for women to do this work without self-confidence. There are also women who say a woman's business is only cooking at home."