ANP leader discusses pending registration, Myanmar's election prospects 
ANP chairman U Thar Tun Hla recently spoke to DMG about why he thinks the regime has not yet approved his party's registration, and shared his views on Myanmar's current political landscape.
By Admin 05 Aug 2023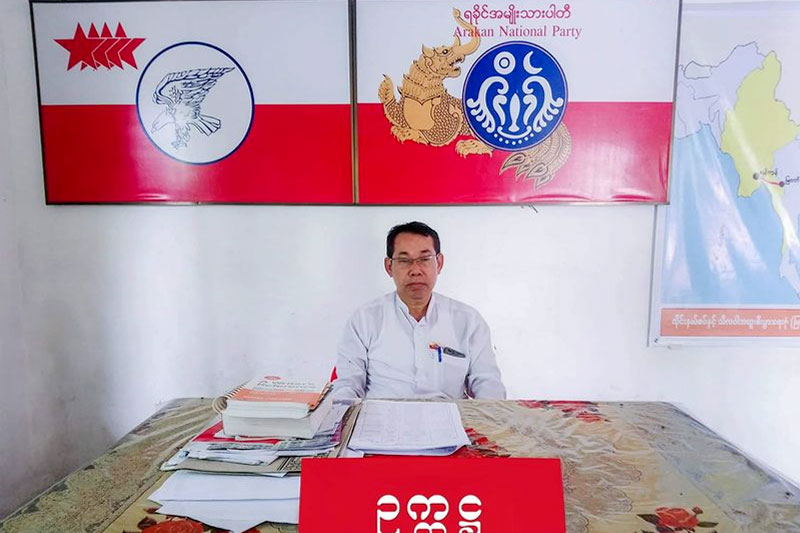 DMG Newsroom
5 August 2023
More than 50 political parties have applied to register with the junta-appointed Union Election Commission (UEC) to participate in national elections proposed by the regime. So far, the regime has approved the registrations of over 30 parties.

Six political parties have applied for registration with the UEC in Arakan State. The election body has approved the registration of five of the parties, but a decision remains pending for the Arakan National Party (ANP).

ANP chairman U Thar Tun Hla recently spoke to DMG about why he thinks the regime has not yet approved his party's registration, and shared his views on Myanmar's current political landscape.

DMG: What is the ANP doing these days?

U Thar Tun Hla: In the current political landscape in Myanmar, political parties have little role to play. After the regime's administrative body, the State Administration Council, issued a law that requires political parties to register, we considered it necessary to re-register as a political party. So we have applied for registration.

DMG: Why do you think the election commission has not yet approved your party's registration?

TTH: Not only our party, but other ethnic parties are yet to be approved. There are also parties in other parts of the country whose registration has not yet been approved. Every [ethnic group] has big parties that represent them. [The UEC] might be thoroughly examining those big parties. That's all I can say for now.

DMG: Some say the UEC is deliberately taking its time in approving the ANP's registration because the ANP has members who have ties to the Arakan Army. What do you say to that?

U Thar Tun Hla: Everyone has their own views, and it is just the view of an individual.

DMG: We heard that some ANP members have sided with either the military regime or the Arakan Army. Do you have a plan to expel either faction from the party?

U Thar Tun Hla: Our party is still in the process of being registered. We will act accordingly, depending on political developments in the country. So, I can't say what move we will make when our registration is approved. For now, I have no plan to expel party members.

DMG: How do you view prospects for elections being held in Arakan State, and beyond? [Editor's Note: Myanmar's military regime once planned for elections to be held in August 2023, but recently said the vote would be postponed indefinitely due to ongoing violence and political instability in the country.]

U Thar Tun Hla: If an election is to be held, it is important that the voters who will cast their ballots have the opportunity to vote safely and freely. In the current situation, people in Myanmar are fleeing their villages every day, and there are deaths, so people are living with security concerns. So, if we talk about the current situation, I see that we are not yet in an environment where people can vote freely and safely.

DMG: It has been said that Arakanese political parties are weak in providing assistance to people affected by Cyclone Mocha. Why do you think that is?

U Thar Tun Hla: Based on the current situation in Myanmar, I have to say that the voters themselves are in a situation where there is little interest in political parties. Political parties are also under restrictions, because after the enactment of the Political Parties Registration Law, some political parties were allowed to register, but some parties were not allowed to register. As for our party, the registration has not yet been approved. Due to various circumstances, political parties are unable to work effectively.

DMG: How do you see the current state of relations between the junta and Arakan Army?

U Thar Tun Hla: The Myanmar military and Arakan Army (AA) agreed to observe an informal ceasefire in late November 2022. There was no dialogue between the junta and the AA during the ceasefire. According to some reports, during his Arakan State visit following the cyclonic storm, the junta chief instructed the military to be ready to fight. I see that it depends entirely on the discussion and resolution processes between the military and the AA.

Even since the military reached an informal ceasefire with the AA, some Arakanese people were arrested on suspicion of having ties to the ethnic armed organisation. Some of those who have been arrested on suspicion have been tried in the courts, and there are still court trials that have been delayed without delivering any verdict. There are some restrictions, such as that food and construction materials are only allowed to be transported from mainland Myanmar to Arakan State with the permission of the state's Minister of Security and Border Affairs.
There is no political dialogue between the military and the AA in this ceasefire situation due to these restrictions.

DMG: Do you have anything else to add?

U Thar Tun Hla: If there is a desire to solve the political problems happening in Myanmar and to build a true federal union, the process needs to be done quickly. If you just say it by mouth, people may be harmed and suffer more. If the process of building federalism can be implemented not by word of mouth but by obtaining political commitment and planning the process, the restrictions of the junta will be relaxed.

That's why I would like to say that the people who have the right to national equality and the right to self-determination — the right to create their own destiny — have come to put it into practice.