Out of displacement hardship, resilience and assistance is born at a Buthidaung IDP camp
"There were no trash cans at Yan Aung Myay IDP camp. And people discarded their rubbish unsystematically," said Ko Wai Yan Soe. "So, the environment is polluted with rubbish. We've now placed trash cans, and the municipality's garbage truck comes every Monday to collect rubbish from the camp." 
By Maung Mayu (Buthidaung) 25 Oct 2021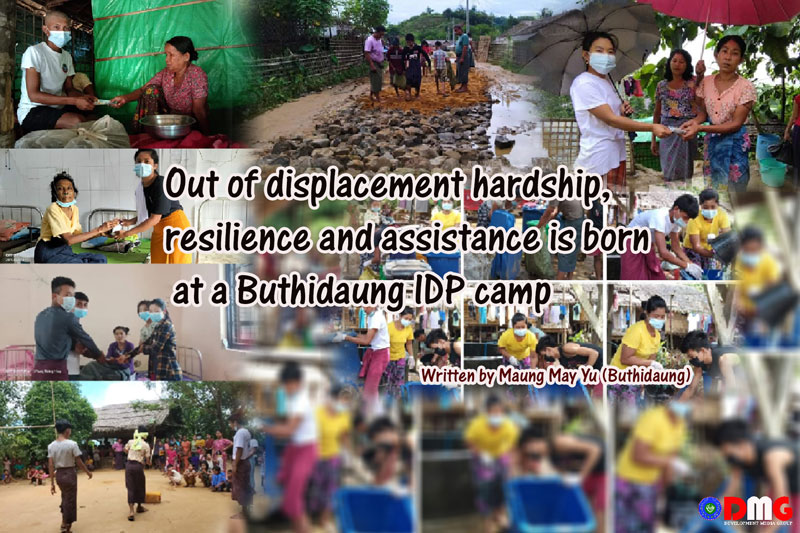 Written by Maung May Yu (Buthidaung) 
A young niece of mine who is sheltering at a camp for internally displaced people (IDPs) visited my home one day recently. She lives at Yan Aung Myay IDP camp in Buthidaung town, Arakan State. She told me that young IDPs at the camp had established a charity group called Yang Aung Myay Charity Youths Network. I donated to the group as much as I could. 
According to the Rakhine Ethnics Congress (REC), there are 185,631 IDPs in Arakan State at present. There are nine IDP camps in Buthidaung Township alone, sheltering 8,680 IDPs. Most of them face livelihood difficulties, so they have to work any job available to them. 
As daily wage workers, they cannot get a job every day. Their hardest days have been relatively recently, during the July and August peak of Covid-19 infections amid the pandemic's third wave. Daily wage workers' families were in dire straits as coronavirus movement restrictions made scarce job opportunities even scarcer, at the same time that humanitarian aid donors began tightening their own belts.
The Yang Aung Myay Charity Youths Network was established to provide help for such families, said Ko Wai Yan Soe, a member of the group. 
"We could not work outside the camp during the Covid-19 outbreak. So, some families were in difficulties with livelihoods. So, we discussed forming a charity network and it was successfully formed with the help of donors from abroad and in the country," he explained. 
More than two dozen youths from Yan Aung Myay IDP camp are the faces of the Yan Aung Myay Charity Youths Network. The mission of the network is to conserve the environment and to provide emergency social aid.  
"We formed the network with the intention to provide labour or financial aid for the people who need help. We will provide blood or an ambulance for those who are sick by connecting with the Western Door Rescue Association Buthidaung," said Ko Aung Htay, chair of the network. 
The network is involved in a variety of activities aimed at easing the hardships of displacement. Its members recently filled the dirt roads at some IDP camps with gravel so that vehicles can travel through the camps more easily. 
The network provided money to an expectant mother at Yan Aung Myay IDP camp who needed help paying the medical expenses of delivering her baby. 
The young philanthropists have also provided financial aid for sick people so that those ailing were able to seek hospital treatment. They have repaired toilets at IDP camps, and donated blood for patients in urgent need of transfusions.  
They have encouraged IDPs to place trash cans inside and outside the camps, and to discard their rubbish systematically. 
"There were no trash cans at Yan Aung Myay IDP camp. And people discarded their rubbish unsystematically," said Ko Wai Yan Soe. "So, the environment is polluted with rubbish. We've now placed trash cans, and the municipality's garbage truck comes every Monday to collect rubbish from the camp." 
Daw Pyae Phyo Hlaing, a resident of Yan Aung Myay IDP camp, said since the charity network was established, young people at the camp are more united and the camp is cleaner than before. 
The network has also arranged games for children staying at the camps — in often poor conditions — seeking to boost morale among the little ones. It is developing a library for children too. 
"We think about what we can do for the children who cannot go to school. Then, we decided to build a library for them," said Ko Aung Htay. "So, we invited donors. The construction work of the library is completed 75% now. We need books to place in the library." 
On Sayadaw U Ottama Day, September 9, the network observed a commemorative event, proving that history appreciation is part of its mandate.  
The charity group has also offered assistance to other IDP camps. It provided financial aid for IDPs from Mya Taung refugee camp for funeral costs, and for patients who needed money to go to hospital. Members of the network have cleaned up rubbish at other IDP camps, as well. 
U Khin Maung Nyunt, a manager of Mya Taung IDP camp, said the local philanthropic network was helpful. 
"I am glad about what the young people are doing for the IDPs. If we need help, we have to ask for help from them. They come and provide help," he said. 
Ko Khaing Min Shin, who is assisting IDPs in Mrauk-U town, said most IDPs do not have such a charity group to look to when needs arise. Having a support entity as such is good for an IDP camp, he said, suggesting that other displacement camps should form similar organisations if feasible. 
"If there is a charity group in an IDP camp, it is easy for donors to connect with the IDP camps. And, if there is a challenge in an IDP camp, it can be resolved as early as possible," he said. 
As young people are working together and learning new skills as members of the Yan Aung Myay Charity Youths Network, they are increasingly well-positioned to become leaders in their communities when they return home, said group member Ko Aung Chay. 
"Forming a charity group in an IDP camp is good for the community. When they return home, they can work for their villages. At the moment, two or three youths from a given village participate in the Yang Aung Myay Charity Youths Network. So, they can form a charity group in their villages when they return home," he said. 
While not everyone can do charity activities, the young people from the Yan Aung Myay IDP camp are a potential model for how those affected by armed conflict might use this unenviable experience for good. Their activities are exemplary, and could offer a blueprint for young people from other displacement camps who are also looking to make a difference.  
With tens of thousands of IDPs remaining across Arakan State, there is certainly no shortage of need.