Cyclone inflicts heavy losses on paddy seed stocks in Arakan State
"Farmers have lost everything and can't farm without paddy seeds. I don't know what the farmers will do in the coming rainy season,"
By Admin 23 May 2023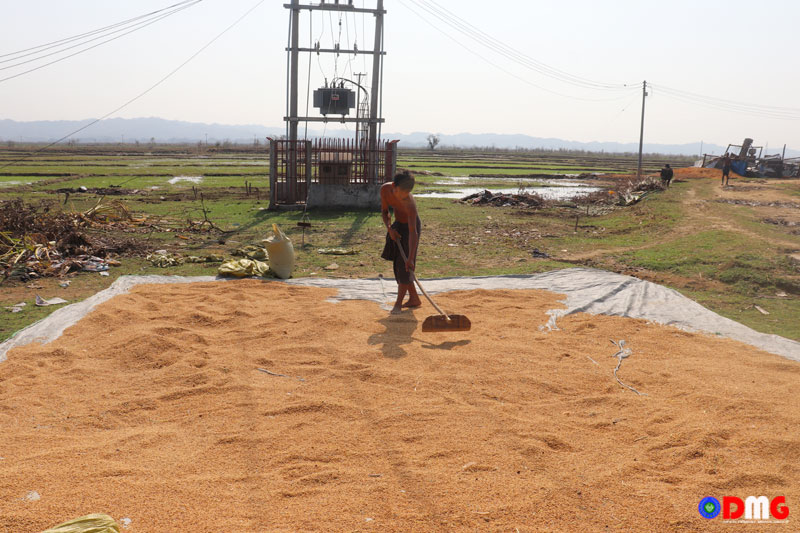 DMG Newsroom
23 May 2023, Sittwe
Many of the paddy seeds stored by farmers in the storm-hit townships of Arakan State for planting in the next rainy season have been destroyed by Cyclone Mocha.
About 80 percent of paddy seeds stored by farmers in Sittwe, Pauktaw, Rathedaung, Kyauktaw, Mrauk-U, Ponnagyun and Maungdaw townships were reportedly destroyed by the cyclonic storm. In addition, some rice barns in Gwa, Kyaukphyu and Thandwe townships were destroyed by the storm, according to farmers.
"If the sun is hot after the rain, the sprouts will be gone, so the paddy seeds can no longer be used. The paddy seeds are also red and not suitable for eating," said Ko Paing Paing, a resident of Leik Hsin Pyin Village in Mrauk-U Township.
Farmers said the cyclonic storm also killed many cattle and ruined significant stores of stockpiled fertiliser.
"For farmers, paddy seed is the number one most important," said U Khin Maung Soe, a local man from Khahnaunggyi Village in Rathedaung Township. "Farmers have to farm for a living, so if they can't farm, they don't know how to survive. I am worried about our livelihoods."
During this year's growing season in Arakan State, paddy yields reportedly decreased by as much as 50 percent due to a combination of climate change, high input costs, and soaring fertiliser prices.
About 75 percent of the rural population in Arakan State is primarily engaged in agriculture, raising the stakes for any large-scale loss of paddy seeds.
"Farmers have lost everything and can't farm without paddy seeds. I don't know what the farmers will do in the coming rainy season," said Daw Ma Shwe Than, a resident of Kalaka Village in Mrauk-U Township.
The Myanmar Rice Millers Association has said it will donate K10 million per township for 10 townships in Arakan State, as well as 5,000 baskets of paddy seeds per 500 acres of fields. The 10 recipient townships are Sittwe, Ponnagyun, Maungdaw, Buthidaung, Rathedaung, Mrauk-U, Kyauktaw, Minbya, Pauktaw and Myebon.