Buthidaung in Need, Indeed
Some officials will point to the large field near Kandawgyi Lake. But the site is just a large, fenced field, not a public park. It is said that authorities made a budget allocation and designated it a public park years ago. However, to this day, there is no shade tree, only a few brick benches and thick grass.
By Admin 18 Oct 2023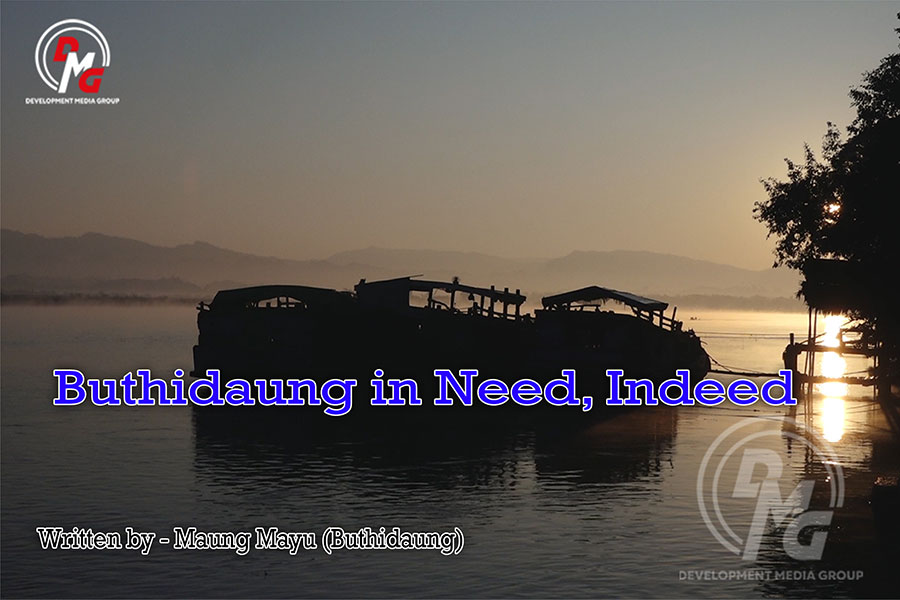 Written by Maung Mayu (Buthidaung)

Located in the westernmost part of Myanmar, Buthidaung town lies in the embrace of the Mayu mountains. To the east of the town is a creek that empties into the Mayu River. As boats, ships and sampans sail those waters, the majestic Sai Tin mountains to the east provide a stunning backdrop.

Located between the Mayu Mountains and the Sai Tin Plain, Buthidaung has survived many years of conflict and hardships.

The town has gone through the Second World War, communal violence between Muslim and Arakanese communities in 1942 and a mujahid insurgency. It was rocked again by communal violence in 2012, followed by a crackdown on Muslims in 2017 that sent more than 700,000 people fleeing to neighbouring Bangladesh, and a war between the Myanmar military and Arakan Army that began in 2019.

Today, there is still no sign of peace and tranquillity in the town. Rather, fears have grown over fighting between the Arakan Rohingya Salvation Army and the Arakan Army in August.

The town has shown progress in terms of infrastructure development compared with the past, despite the instability. Roads and bridges have improved. The quality of building construction has risen alongside standards of living. But still, Buthidaung lacks certain features of a modern town.

While the majority of the town's population is teetotaling, Buthidaung is full of pubs. Whenever a new shop opens in the town, odds are it is a pub. The rarest thing in this town is a book shop. Since I was old enough to take notice, there has never been a book shop. There used to be book rental shops.

Knowledge is power, and reading books can help bring positive changes to societies. The future of Buthidaung depends on the younger generations, who will one day run the town. If their brains or their heart don't grow, the town will fail. Town residents and authorities therefore should support libraries in the town.

The only thing that is considered a landmark and point of pride of the town is a clock tower that stands near the jetty, as high as a three-story building. The clock tower, however, has no lights, and there is no floral landscaping surrounding it.

It is very sad that there is no public park in Buthidaung where residents can relax. In these times of political instability, people have to work all day long to earn a living, and they grow weary amid the ever-rising commodity prices. Buthidaung town does not yet have a shady park with fresh air that can relieve people's fatigue for a while.

Some officials will point to the large field near Kandawgyi Lake. But the site is just a large, fenced field, not a public park. It is said that authorities made a budget allocation and designated it a public park years ago. However, to this day, there is no shade tree, only a few brick benches and thick grass.

Almost every township in Arakan State has parks where residents can relax, often with playgrounds for children. In Buthidaung, without a proper park, there is no place where children can play and stretch their legs, so it can be said that children's rights are being lost. I feel very sad for the children of Buthidaung when I see the children's playground in Sittwe's U Ottama Park, or other parks in other towns.

A small playground was created for children in the field next to Kandawgyi Lake, but the children could not play because the sun was beating down all day in the absence of shade trees. Buthidaung really needs a park where working people can relax and a playground where children can play happily. In Buthidaung, which is often called a "town of employees" because many government employees live there, it is also worth noting that there is no good place for retirees to rest and relax.

In Buthidaung, there are good people who are active in nationalism, but there is still no place reserved for Sayadaw U Ottama, who made Arakanese and Burmese people at large proud and stoked the spirit of nationalism. Over the past two or three years, we have seen the establishment of U Ottama Parks and statues across the townships of Arakan State. The U Ottama statues were erected as a national symbol of the Arakanese people.

In the town of Buthidaung, however, there is no place to lay a wreath for U Ottama and no place to hold a ceremony to honour the man.

During the open seasons, Sai Tin Waterfall is a very popular and very busy resort. Along with the waterfall, the historical Donthein Temple and 31 Common Pagoda also draw crowds. Buddhist statues and religious structures at 31 Common Pagoda, which were damaged during the 2018-2020 fighting between the Myanmar military and Arakan Army, have yet to be repaired.
The military, aka Tatmadaw, has been stationed at 31 Common Pagoda since 2019, leaving locals unable to repair the damage. This is because the military has deployed around the 31 Common Pagoda and the surrounding villagers have become internally displaced people (IDPs). It would be great if the military regime would allow the villagers to rebuild and live in the villages and remove the military presence from around 31 Common Pagoda.

31 Common Pagoda is a big pagoda that is valued by most of the people from the villages of lower Buthidaung Township. However, residents have not been allowed to visit 31 Common Pagoda for more than four years. Therefore, it would be very satisfying if the locals had the opportunity to visit the pagoda during the next open season.

These are just some of the challenges facing my beloved Buthidaung. Oral histories passed down through the generations indicate that Buthidaung was considered to be a town of great beauty by the colonial British, nestled as it has always been between the Mayu mountain range, Mayu River and Sai Tin mountain range. But for all its geographic advantages, Buthidaung today has many unfulfilled needs, and deserves more care and attention from those with the power to make change.