Regime silent on rehabilitation of fire-ravaged villages in Arakan State
Myanmar's military regime has reportedly been silent on the issue of rebuilding homes that were destroyed by fire during the 2018-2020 fighting in Arakan State.
By Admin 16 Mar 2023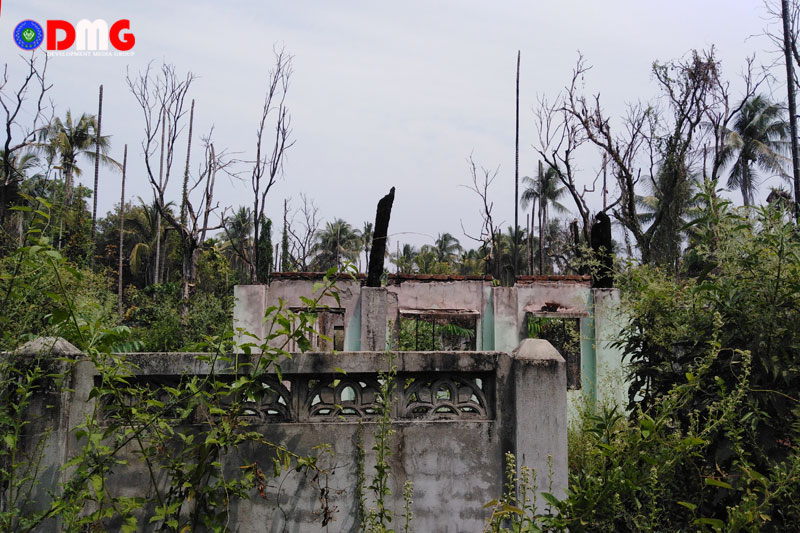 DMG Newsroom
16 March 2023, Sittwe
Myanmar's military regime has reportedly been silent on the issue of rebuilding homes that were destroyed by fire during the 2018-2020 fighting in Arakan State.
U Oo Tun Win, a former Arakan State lawmaker representing Kyauktaw Township, pointed out that those who lost their homes in the fire are facing many difficulties, and the regime has not been clear on how to plan for restoration and rehabilitation.
"Those whose homes were destroyed by fire are living in poverty in displacement camps. The government's accountability for fire victims is weak. If the military council can work effectively, the fire victims will be comfortable," the ex-legislator added.
At least 2,005 houses across 48 villages were destroyed by fire during the 2018-2020 fighting between the Myanmar military and Arakan Army (AA) in Arakan State and Paletwa Township in neighbouring Chin State, according to Arakan civil society organisations.
The military council has built basic new houses in Phayarpaung and Taungpauk villages in Kyauktaw Township; Lekka village in Mrauk-U Township; and Pharpyo Village in Minbya Township, with each home reportedly worth K5 million ($2,400).
However, many homes that were damaged by fire have not yet been rebuilt, and fire victims have not received support for their losses, according to local residents.
A total of 132 houses and the village monastery in Tinma Village, Kyauktaw Township, were damaged or destroyed by fire. The village has been uninhabited for a long time, so much of it has been overrun with vegetation, and many houses are badly weather-worn, residents said.
Venerable U Wayamida, abbot of the Tinma Village monastery, said the residents who lost their homes were being ignored by the military council.
"The government has not yet said anything about the villages that were burned. We sent letters to [junta chief] Senior-General Min Aung Hlaing on March 3 seeking approval for the return of internally displaced people to Tinma," said the abbott, who added that it was the ninth letter of its kind that the villagers had sent in recent years. "The military council gave the reason that the area was not peaceful and the landmines had not been cleared."
The regime has not yet done anything about the restoration of Pyaingtaing Village in Kyauktaw Township, where almost the entire village was destroyed by fire, according to local residents.
"The military council has not said anything about the houses that were lost in the fire, so we don't know anything," said Daw Ma Mya Than, an internally displaced person (IDP) from Pyaingtaing Village. "Our home and tractor were all burnt down, and if you calculate the value of the losses, it is more than K10 million. I lost all my life's savings, and now I have nothing."
Residents said more than 200 houses in Pyaingtaing Village were destroyed by heavy weapons and fire during the fighting.
DMG phoned Arakan State military council spokesperson U Hla Thein and Arakan State Minister for Natural Resources U Than Tun to find out how the regime intends to proceed with the restoration of homes destroyed by fire, but they could not be reached.
It has been more than three months since the Myanmar military and the AA observed an informal ceasefire on November 26. Since then, more than 5,000 displaced villagers have returned to their homes in Arakan State and neighbouring Paletwa Township, at the arrangement of Myanmar's military regime. Many of them have reported difficulties returning home due to fire damage and landmine danger.