Gold price per tical approaches K4 million in Arakan State
"The gold price was K3 million per tical for 24K gold in July. The rise in price is attributed to the junta's introduction of a 20,000 kyat banknote,"
By Admin 17 Aug 2023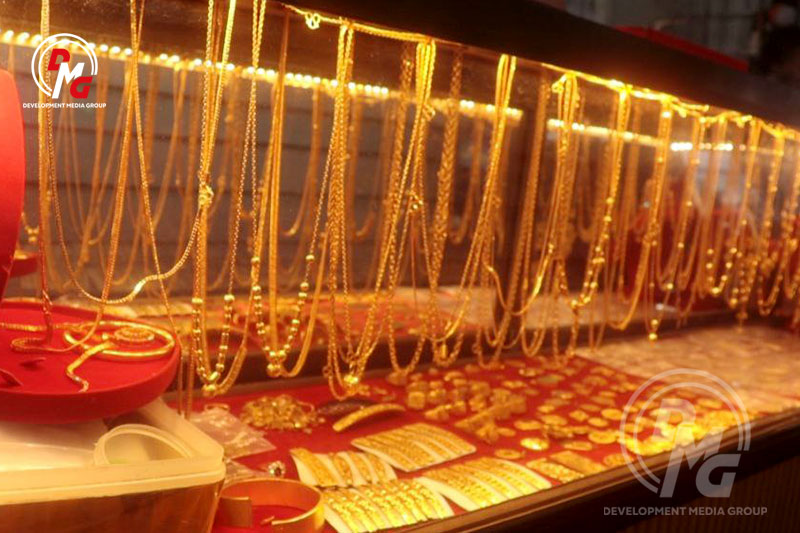 DMG Newsroom
17 August 2023, Sittwe
The price of gold has increased to nearly K4 million per tical in Myanmar since the military regime announced that it would issue new, higher denomination notes worth K20,000 — an amount double the value of the previously highest denominated bill.
The gold price was K3,845,000 per tical for 24K gold and the price for 22K gold reached around K3.6 million per tical in Arakan State on Thursday, according to gold shop owners.
"The gold price was K3 million per tical for 24K gold in July. The rise in price is attributed to the junta's introduction of a 20,000 kyat banknote," said the owner of Pwint Thit Sa, a gold and jewellery shop in Sittwe.
There are fewer buyers and more gold mortgages due to the skyrocketing price of gold, according to the owners of gold shops.
"Gold shop owners face difficulties due to skyrocketing gold prices and lack of buyers. Workers from the gold jewelries struggle to make ends meet," said U Maung Gyi, owner of a gold shop in Sittwe.
Commodity prices are also rising, taking an especially hard toll on low-income households.
"The grassroots will go hungry due to commodity price rises," said Daw Pan Wai, a Sittwe resident. "The grassroots are struggling to support their families due to the scarcity of jobs and rising commodity prices."