Editorial: Provocations in the Stable State of Arakan 
By DMG 12 May 2022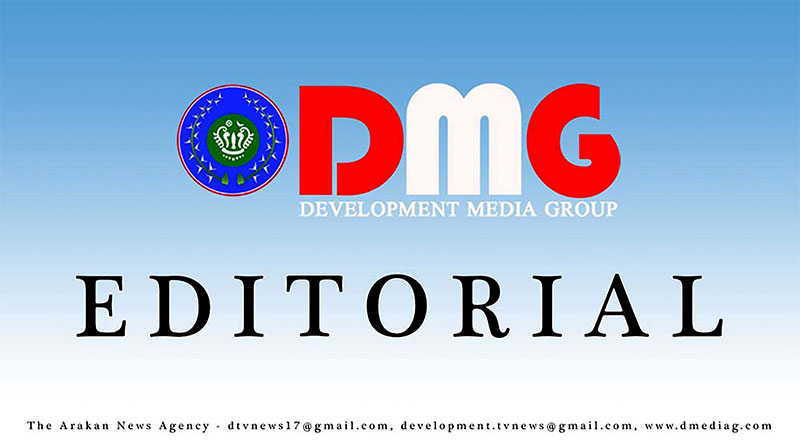 The Myanmar military is tightening security measures and conducting door-to-door visits in almost every township in Arakan State. With military personnel interrogating pedestrians and strictly scrutinising drivers at traffic checkpoints, locals are worried that fighting could soon resume in Arakan State.  
Among other alarming actions over recent months, the military detained at least 40 Arakanese people in Ayeyarwady Region; tightened security checks on ferryboats along the Lay Myo River; barred local people in Ann Township from transporting rice to their villages; and arrested a handful of Muslim administrators on suspicion of having ties to the Arakan Army (AA). It is not alarmist to say that such reckless conduct by the Myanmar military jeopardises the relative stability that Arakan State has enjoyed for more than a year. 
The ceasefire between the military and Arakan Army is based on mutual understanding, not a formal agreement. And mutual understanding, as a general rule, is a less durable basis for a peace accord than something more official. U Khaing Thukha, a spokesman for the Arakan Army, did little to assuage fears about growing tensions when he criticised the military's aggressive actions at a press conference on April 5, saying fighting could resume in Arakan State at any time.
 The potential for armed hostilities to be rekindled by these actions is of foremost concern, but there are other aspects to consider as well, including harmful economic impacts. For example, stepped up checks at overcrowded security checkpoints have made travel difficult and delayed the shipment of goods to and from Arakan State.  
All of this has clearly been aggravating the AA commander-in-chief, Maj-Gen Twan Mrat Naing, who on May 6 took to Twitter to publicly excoriate, by name, the head of the military's Western Command.
 On the other hand, the administrative initiatives being undertaken in Arakan State by the United League of Arakan (ULA), the political wing of the Arakan Army, are clearly vexing the military junta.  
That is not to say that each side is to blame in equal measure. The ULA has the support of a large percentage of the Arakanese people, so its administrative endeavours are arguably more democratically legitimate than any governance under the auspices of the junta regime that forcibly seized power in a coup last year.
 Nonetheless, each side sees the other as engaging in provocations, and as a result, the potential for a misunderstanding or miscalculation has grown. 
Out of Myanmar's 14 states and regions, Arakan State is the only one where no heavy fighting has taken place since the military coup. If clashes flare anew in Arakan State, the number of internally displaced people (IDPs) will likely increase and farmlands will go uncultivated. People could go hungry.  
The Myanmar regime is no longer able to provide assistance to the IDPs affected by past conflict in Arakan State. Most of the displaced people in Arakan State are dependent on relief items donated by international organisations and Arakanese people. Any rise in Arakan State's IDP population will not be easy to accommodate, with the prices of numerous commodities having soared over the past two years.  
As DMG has noted previously, too often the poorest and least privileged bear the brunt of the hardships wrought by economic disruption and war.  
What's more, many of those facing charges under the Counter-Terrorism Law for alleged ties to the Arakan Army remain detained despite the military regime's decision to remove the ethnic armed group from its list of terrorist organisations. Instances of torture, arbitrary arrests and killings of civilians will no doubt rise if Arakan returns to a state of active conflict. 
DMG thus urges the leaders of both sides to exercise utmost restraint rather than resort to escalatory confrontation, with a focus on ensuring peace and stability in Arakan State in the weeks, months and years to come.