'My son is no longer in the revolution, but the people who are will take revenge'
Those who have committed crimes will be punished for their sins. My son is no longer in the revolution, but the people who are there will take revenge.
By DMG 07 Jul 2022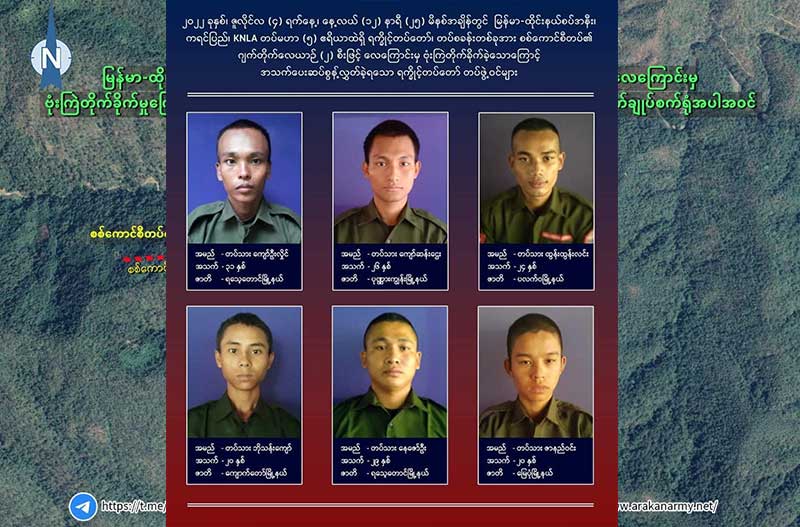 7 July 2022, DMG

On July 4, Myanmar's military regime carried out a surprise aerial assault on an Arakan Army (AA) outpost based in territory of the Karen National Liberation Army, near the Myanmar-Thai border in Kayin (Karen) State. Six AA fighters died, and others were injured.

Those killed in the air raid were privates aged between 20 and 31 — Nay Zaw Oo and Kyaw Oo Hlaing from Rathedaung, Bo Than Kyaw from Kyauktaw, Kyaw Hsan Htay from Ponnagyun, Zarni Win from Myebon and Tun Tun Lin from Chin State's Paletwa.

Their deaths caused grief hundreds of miles away in Arakan State. DMG recently talked to the bereaved mother of Nay Zaw Oo, 29, who served as a medic for the Arakan Army. DMG is choosing not to reveal her name for security reasons.

DMG: How did you hear about the death of Nay Zaw Oo?

I didn't believe it at first. One of my relatives, who is also an AA member, and a friend of my son, later phoned me about his death. I had to accept it after I saw the news and photos on social media. I don't know details about the circumstances, I only know that aircraft dropped bombs at the outpost where my son was assigned to. I am overcome with grief.

DMG: As a mother, how do you feel about the death of your son and his comrades in arms?

I miss him a lot. I wouldn't mind so much if my son was killed in a face-to-face fight. But I feel extremely sorry that they were killed in a deliberate [and unexpected] bombing.

DMG: When was the last time you had contact with your son?

It was in April. He was then at a Kayin village because of fighting in the area. He asked me to transfer some money to him, and I did so. He called me not with his phone, but with someone else's phone. Three days later, he phoned me again and said he had to go back to his unit, and told me not to worry about him, and not to call back to that number. I didn't have regular contact with him.

DMG: Did you experience any bad omens before his death?

My lips were trembling the whole day that day. I thought I would have a quarrel with someone. Around 12 p.m. the following day, I learnt that he had died. It was confirmed when neighbours showed his photos on social media.

DMG: Can you tell us more about your son and who he was as a person?

He had a kind heart and was helpful. Initially, he was working in Thailand and supported the family. Later, he joined the AA. He always helped the AA while working in Thailand. He lived at an AA office in Thailand. He worked in Bangkok for around eight years, together with his father.

After his father married again, he joined the AA. He joined the AA four years ago. He had strong nationalism. He was a good-natured man. He raised funds for the Arakan Army while he was in Thailand. He was also at the forefront of Arakanese nationalism rallies in Thailand. He did his best for the sake of the Arakanese people.

DMG: What did Nay Zaw Oo do when he lived in his village?

He was a student in the village, but he was very eager to attend meetings and campaigns concerning Arakanese nationalism. I forbade him to do such things, but I could not [stop him]. He loved the truth and did not tolerate injustice.

DMG: Did he inform the family when he joined the Arakan Army?

When he was in Thailand, he often asked me if he could join the AA. I told him that his younger sister had not graduated, prohibiting him from joining the AA. But he decided to join the AA after asking his friends. One of his friends phoned me on the day he joined the AA.

Later, he would often phone me about military training and medical training courses conducted by the AA. He told me that he would call me if there was any problem, telling me not to add his mobile phone number onto my phone contacts list.

DMG: What is your response to the military's sudden, lethal airstrikes on the AA camp in Kayin State?

I'm not happy about it and if possible, we want to retaliate against the Myanmar military. For my son's sake, I hope that the revolution for the liberation of Arakan State will succeed. I hope he will one day return to his village with a higher position. I am proud that he was working for the independence of Arakan State. Now he is dead, before the end of the journey. I'm sorry for him.

DMG: What else do you want to say about your fallen son?

Those who have committed crimes will be punished for their sins. My son is no longer in the revolution, but the people who are there will take revenge.

As a mother, I am proud of the loss of my son. I am proud that my son died for the people and for Arakan State. My youngest son also encouraged me not to be disappointed about the death of my son. We are proud that he gave his life for the country and the people.