Experts working to extract underground water in Sittwe Twsp
In order to be able to extract and use groundwater, water resources, analysis and research is being conducted.
By Admin 11 Mar 2023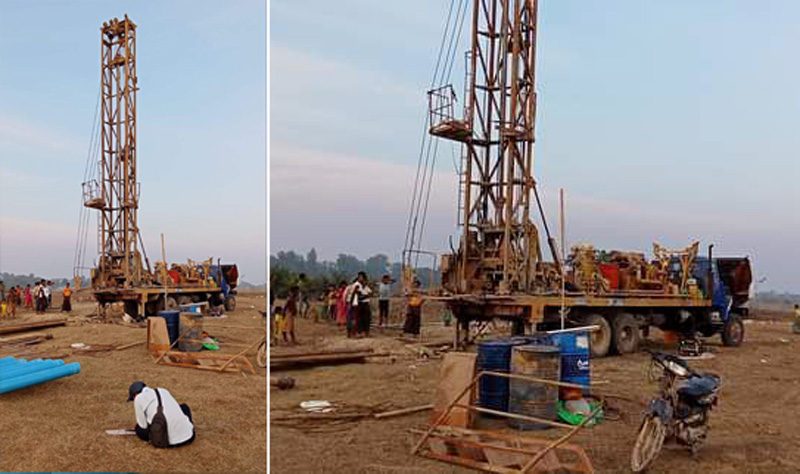 DMG Newsroom
11 March 2023, Sittwe
Since the people of Sittwe, Arakan State, face water scarcity issues every year during the summer, experts are working to extract groundwater for the convenience of the urban population.
In order to be able to extract and use groundwater, water resources, analysis and research is being conducted.
"It is likely to be OK soon," said a member of the Arakan State military council. "Water resources experts, irrigation experts and soil experts are working to extract water from underground."
Experts arrived in Sittwe during the first week of March to facilitate the extraction of groundwater, and the machinery needed to extract groundwater has also arrived in recent days.
In order not to harm the environment, the experts will work systematically to extract groundwater, and the extracted groundwater will be stored in Sittwe's Kandawgyi Lake and supplied to residents.
The junta-controlled Myanmar Alinn daily on March 3 reported that officials of the Sittwe Water Supply Working Group have identified seven points for the extraction and use of groundwater in Thinganet Village, which is located about 3,000 feet away from Kandawgyi Lake.
Sittwe residents say that in order for the people of the Arakan State capital to be able to use enough water, if they are going to extract and supply groundwater, the water needs to be clean and the environment should not be harmed.
"Water is essential," said resident Ko Maung Ngel. "In a country, water and electricity are the most important. We also need clean water for the locals. If the water is not clean, people will suffer. It is good that the people of the city are doing it with a good heart so that there is no water problem."
Residents of Sittwe mainly use Kandawgyi and Sat Yoe Kya lakes for their water needs. But currently, Kandawgyi Lake is dry, and Sat Yoe Kya Lake is not clean due to lack of proper maintenance.
During junta boss Min Aung Hlaing's second visit to Arakan State this year, he relayed instructions to members of the provincial military council on matters to prevent water scarcity in Sittwe and maintain the water level in the lake.