Arakan State gold shops shutter over impending intro of K20,000 banknote
"Gold has not been quoted in the Yangon market so far. Previously, it was quoted around 11:30 a.m. We are not doing business so far,"
By Admin 24 Jul 2023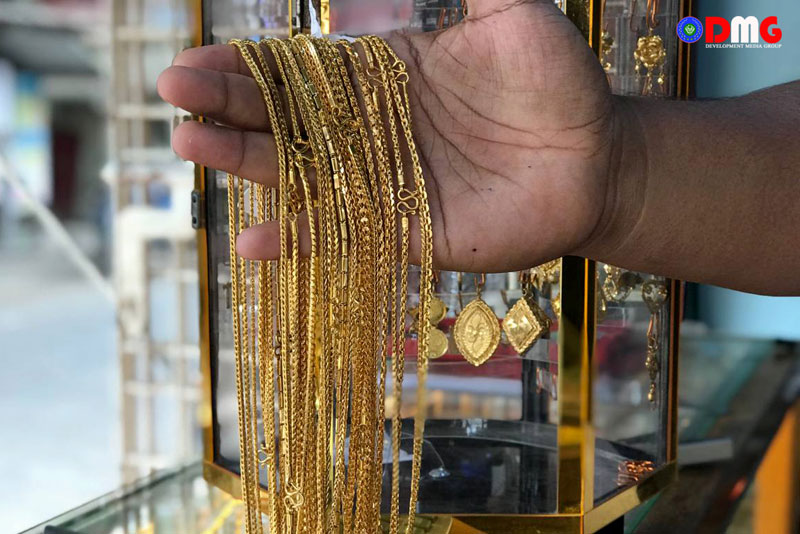 DMG Newsroom
24 July 2023, Sittwe
Many gold shops in Arakan State have temporarily closed up as gold prices have been unpredictable since the regime announced that it would issue new, higher denomination notes worth 20,000 kyats.
The junta-controlled Central Bank of Myanmar (CBM) announced on Sunday that it will issue the new banknote, worth twice as much as the current highest denomination of 10,000 kyats, beginning on July 31.
"Gold has not been quoted in the Yangon market so far. Previously, it was quoted around 11:30 a.m. We are not doing business so far," the manager of Theikdi Aung gold shop in Sittwe told DMG at around noon on Monday.
The gold price was 327,000 kyats per tical for 24K gold on Saturday. Gold shop owner U Maung Gyi from Sittwe said he is not doing business as the Yangon gold market has closed up, and there is no reference selling rate.
"I don't know the gold prices today. So, I am not doing business today," he said.
A gold shop owner from Kyauktaw Township said: "We make business depending on gold prices in the Yangon market. So, we can't make buying and selling [decisions] unless the Yangon market issues a reference selling rate."
Gold shop owners are concerned that gold prices may further increase because of the introduction of a 20,000 kyat banknote at a time when demand for gold items has been declining.
The chairman of the Yangon Gold Entrepreneurs Association, U Myo Myint, said the reference selling price was more than 2.3 million kyats per tical in Yangon on Monday.
"We have set the reference selling rate at a little over 2.3 million kyats. I don't know why prices are so high in the open market while the business is slow. Some gold shops closed in Yangon today," he said.
The gold price has surged since the military staged a coup in February 2021, from less than 1.4 million kyats per tical before the putsch to around 3.2 million kyats currently.