Myanmar junta bars aid agencies from directly helping storm victims in Arakan
"They [the regime] told us to hand over the relief supplies to us. We are not allowed to deliver directly. It is not ok for us. Other NGOs and INGOs also have plans for relief operations. But, we are not allowed,"
By Admin 25 May 2023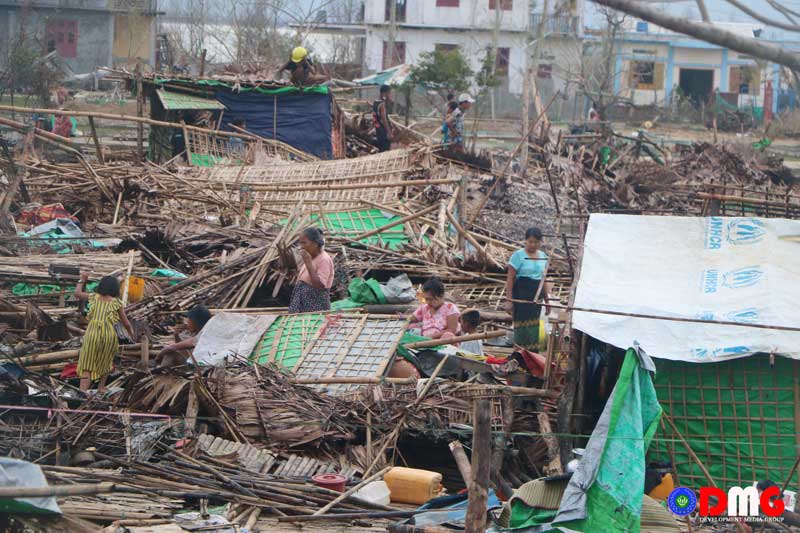 DMG Newsroom
25 May 2023, Sittwe
Local and international non-governmental organizations (NGOs and INGOs) are facing challenges in distributing relief supplies to storm victims in Arakan State, as the Myanmar military regime does not allow them to deliver aid directly to the affected population.
The regime has rejected organizations' request to deliver relief supplies directly to townships in northern Arakan where many people are starving after the cyclone destroyed their homes on May 14, a source close to Myanmar Red Cross Society told DMG.
"They [the regime] told us to hand over the relief supplies to us. We are not allowed to deliver directly. It is not ok for us. Other NGOs and INGOs also have plans for relief operations. But, we are not allowed," he said.
Some organizations are therefore cooperating with the junta-controlled health department to supply pharmaceuticals, he said.
NGOs and INGOs have been forced to help through local civil society organizations as they don't receive travel permission from the regime, said a staff member of INGO in Sittwe.
"We can only operate within Sittwe, and are not allowed to go to other townships. We, NGOs and INGOs, have to seek permission in advance from the Arakan State Administration Council to travel to other parts of the state. Our travel request to help cyclone victims in the aftermath of the storm was rejected," he said.
The cyclone caused widespread devastation in Sittwe, Pauktaw, Ponnagyun, Rathedaung, Maungdaw, Kyauktaw, and Mrauk-U townships, and cyclone victims need food, shelter, drinking water and medicines.
"We have been going hungry and can't sleep well since the storm. People are in trouble, and donors are yet to arrive," said Daw Sandar Win from Saparhtar village in Rathedaung Township.
Wan Lark Foundation director U Khaing Kaung San has called on authorities to ease restrictions to fulfill the needs of storm victims in emergency periods.
"There is a need to relax restrictions in emergency situations like this. Authorities can't reach every place. In rural areas, there are United League of Arakan and local civil society organizations that are engaged in humanitarian operations. [Authorities] must work together with those organizations. If authorities can reach a place, they need to work together with other organizations that can reach those places," he said.
DMG's phone calls to Arakan State Administration Council spokesman U Hla Thein went unanswered.
Junta spokesman Major-General Zaw Min Tun told BBC on Thursday that the regime "has allowed local and international organizations helping recovery efforts in Rakhine (Arakan State) in line with rules and regulations."
More than 1.1 million people were affected by Cyclone Mocha, and the financial loss totalled over 4.6 billion kyats, according to the Arakan State Administration Council.