Covid, Coup and Cyclone: The Triple Crises Weighing on Women Breadwinners in Arakan State
Daw Win Mya Yi, who is shouldering the responsibility of caring for three children, once had big hopes but now lives day-to-day.
By Admin 30 Jul 2023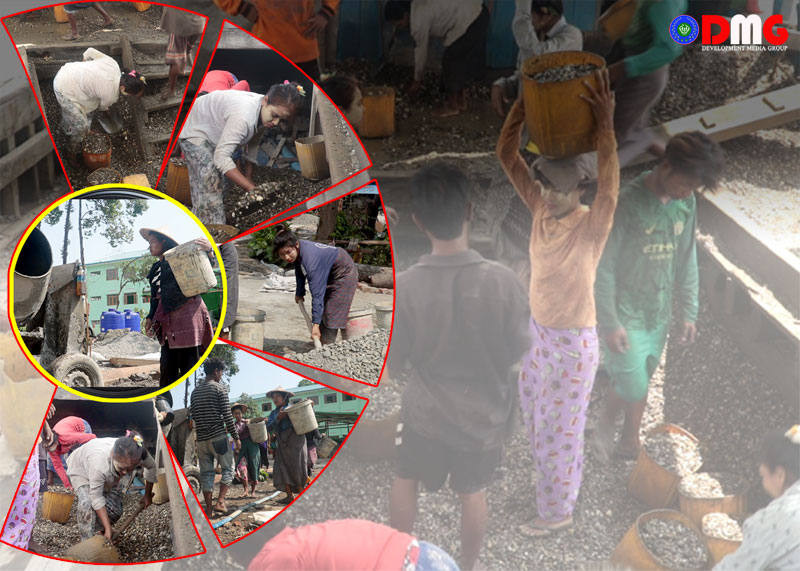 Written By Myat Swe
As soon as day broke, Daw Win Mya Yi, a mother of three children, was busy cooking in the kitchen. She was cooking to fill her lunchbox, and also those of her children.
The 40-year-old widow has two sons and a daughter, and makes a living hauling gravel at a jetty in the Arakan State capital Sittwe. Her coworkers are mostly men. The job is tiring, and the wage is small.
"I only earn 4,000 to 5,000 kyats a day for carrying gravel the whole day. But food prices are so high, and I am struggling to make ends meet," Daw Win Mya Yi lamented.
She is from Kyein Khamaw Village in Pauktaw Township. Because she had no job in her native village, she came to Sittwe to work, renting a house in the state capital.
It has been more than a decade since she started working as a porter in Sittwe. While her wage has basically remained the same all those years, food prices and the cost of living have steadily increased.
She struggled to feed her family as Myanmar's economy was battered by the twin shocks of the Covid-19 pandemic and February 2021 coup. Cyclone Mocha, which swept through Arakan State in mid-May, has dealt another serious blow.
"I had no job during the Covid-19 [pandemic]. There were many days when we went hungry. Things are not much better," said Daw Win Mya Yi.
With monthly rent always taking up too large a share of income, the family continues to go hungry. Inflation is taking a heavy toll as well, particularly on low-income families in Arakan State.
A sack of Paw Hsan Hmwe rice sold for 50,000 kyats before the coup, but increased to 90,000 kyats in the months following the coup. The price further increased to 110,000 kyats in the aftermath of Cyclone Mocha.
The price of peanut oil increased from 8,000 kyats per viss before the coup to 15,000 kyats after the coup. It has reached 18,000 kyats since the cyclone struck. The price of onion has also increased from 1,000 kyats per viss before the coup to more than 3,000 kyats now.
"Food prices soared in the aftermath of the storm. Prices almost doubled. Prices are relatively stable now," said rice dealer Daw Thida Oo.
Levels of poverty, unemployment and inflation rose significantly in 2022 due to the economic downturn resulting from the pandemic and coup. The impacts are taking an even heavier toll on Myanmar people in 2023.
But for families led by female breadwinners like Daw Win Mya Yi, things are especially hard and jobs are scarce. Ma Hla May is one of them, too. She works as a manual labourer at construction sites in Sittwe, carrying sand, gravel and bricks the whole day. She has also been struggling to make ends meet since the coup.
"Food prices have steadily increased since the Covid-19 pandemic. Prices increased further after the coup. I don't have a regular job. I have work for two days and then I have no jobs for around three days," said Ma Hla May.
When DMG spoke to her this month, she was already looking for another job as there was only one week until her current employment was to wrap up at a construction site in the Arakan State capital.
"Jobs are extremely scarce. It is difficult to find a job. How can I support my family if I don't have a job? I don't know where to find a new job," she said.
For many women as with men in Arakan State, Cyclone Mocha has changed life.
Ma Than Than Wai is a fish trader in Thae Khon Village, Pauktaw Township, Arakan State. Pre-cyclone, she was able to feed her family with the income she earned from selling fish, but due to the storm, all the food she had stored for the family was destroyed.
"My house, fishing boats, and fishing equipment were all destroyed by the cyclonic storm. Now I don't know where to find those things. Now that I have no income, I feel like I'm dying," said Ma Than Than Wai, wiping away tears.
She added that she has been unable to eat or sleep well thinking about how to replace her lost property amid rising prices, low incomes and job shortages.
Daw Ma Chay is a resident of Kyaukseik Village, part of Arakan State's Ponnagyun Township. She came to Sittwe to look for a job because there was a shortage of jobs to support her family in her native village. She currently resides in Block 11 of Sittwe's Mingan Ward, and ekes out a living as a laundry worker.
However, her laundry job is not consistent, so there are more days than not without an income to support the family. With no regular income, she is finding it difficult to cope with the rising commodity prices.
"I couldn't find a job so I had to work as a laundry worker. If I don't work, I will starve to death. I can't do my job normally," Daw Ma Chay explained.
Daw Ma Chay used to go around Sittwe selling ice pop from 8 a.m. to 6 p.m. The gig didn't make as much profit as she'd thought it would, however, and after facing losses she gave it up, and now works as a laundress.
Hundreds of thousands of residents across Sittwe, Rathedaung, Buthidaung, Pauktaw, Ponnagyun, Kyauktaw and Mrauk-U townships were more affected by Cyclone Mocha.
Civil society organisations in Arakan State say the state has been suffering from poverty for decades, and due to Cyclone Mocha, it will suffer more poverty. Arakanese men and women alike have looked at that poverty and are deciding to leave in droves to work in neighbouring foreign countries such as Thailand, Malaysia, China and Singapore.
"They are leaving Arakan State mainly because there are no secure livelihoods, or job prospects, or decent salaries that can guarantee a decent living," said a labour rights activist and chairman of Yangon-based Arakan National Network, U Tin Htoo Aung.
"Mainly due to the current socioeconomic and political crises, many local people are leaving for abroad. Also, the development of Arakan State is lagging behind," he added.
The chairwoman of the Rakhine Women's Network said that in order to reduce poverty and unemployment in Arakan State, it is necessary to reduce commodity prices and get necessary assistance from the government and relevant international organisations.
"As the prices of commodities go up, women workers cannot afford to eat enough rice," she added. "After the storm, I saw that seven out of 10 people in Arakan State are poor and hungry. Women without husbands face more difficulties. It is the government and international organisations that need to provide a lot of assistance to women without husbands."
Daw Win Mya Yi, who is shouldering the responsibility of caring for three children, once had big hopes but now lives day-to-day.
"The prices of goods are rising, so it is very difficult for us to survive, and the income and expenditures do not match," she said. "We want an end to the rising prices, so that families like us have plenty of food to eat."