Arakan State villagers demand more roads and bridges
Locals, however, say they still need many more bridges and roads, and local authorities have not yet responded to their demands.
By Admin 01 Mar 2023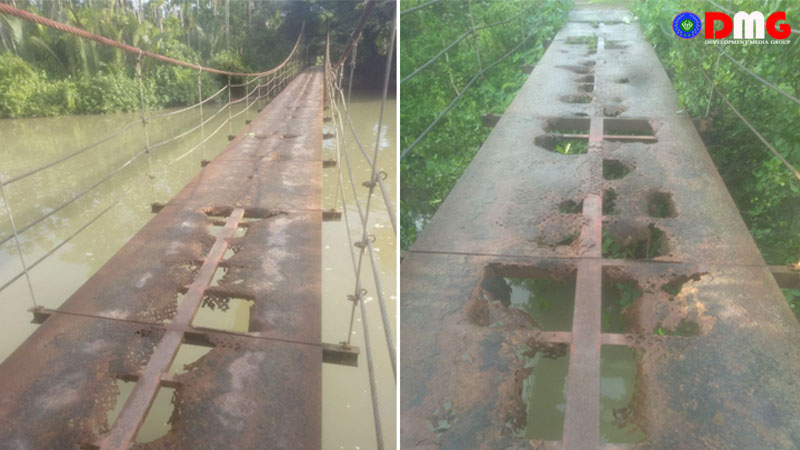 DMG Newsroom
1 March 2023, Sittwe
Local residents in Arakan State have stressed the need to improve transportation infrastructure for the socioeconomic development of people living in remote parts of the state.
Eighteen rural roads for the transportation of farm products and 39 conduits are being built in Sittwe, Ponnagyun, Rathedaung, Mrauk-U, Kyauktaw, Minbya, Myebon, Gwa, Pauktaw, Kyaukphyu and Manaung townships in the 2022-23 fiscal year at a cost of over 2 billion kyats, according to the Arakan State Rural Development Department.
"We have built those roads at the request of locals. When locals make requests, our department conducts a feasibility survey, and seeks approval from upper level authorities to build those roads," said U Oo Chit Maung, director of the department.
In the 2021-22 fiscal year, seven rural roads for transporting farm products and nine conduits were built at a cost of nearly 600 million kyats in Pauktaw, Mrauk-U, Kyauktaw, Kyaukphyu and Gwa townships.
Locals, however, say they still need many more bridges and roads, and local authorities have not yet responded to their demands.
A gravel road used by more than 10 villages in Ponnagyun Township has been in bad condition for a long time, but authorities have not yet begun to repair it, according to locals.
"If we are to [go to the town to] sell our crops, it is the only road," said U Oo Hla Maung, the administrator of Kywe Htoe Village. "It was previously just a 10-minute ride. But we have to spend more than half an hour now. And it is dangerous for locals to ride three-wheelers and motorbikes on that road. There were also cases in which people who needed emergency treatment could not be rushed to the hospital in time and died instead."
A suspension bridge used by around 15 villages in Kutoeseik village-tract, Minbya Township, also needs repairs, according to residents.
The deck of the 214-ft long suspension bridge linking Kutoeseik and Htaungche villages is badly damaged, and locals have had to lay bamboo matting on the damaged parts of the deck so that they can continue to use the bridge. It can be particularly dangerous in the rainy season, residents complain.
"We mainly use this bridge for trade," said Kutoeseik village administrator U Maung Aye Hlaing. "People can use the bridge, but vehicles can't. So, we have to carry our products across the bridge to the other village on the opposite side, and from there we go to town by car [to sell our products]."
About 75 percent of Arakan State's people reside in rural areas, with these populations' economic, health, education and social development seriously hindered by poor transportation networks in the state.