Arakan State fighting resumes in apparent expansion of 'Operation 1027'
"I woke up when I heard gunfire at my paddy farm. The sounds of heavy weapons and small arms fire are still heard," said U Aung Than, a local man from Koetankauk Village.
By Admin 13 Nov 2023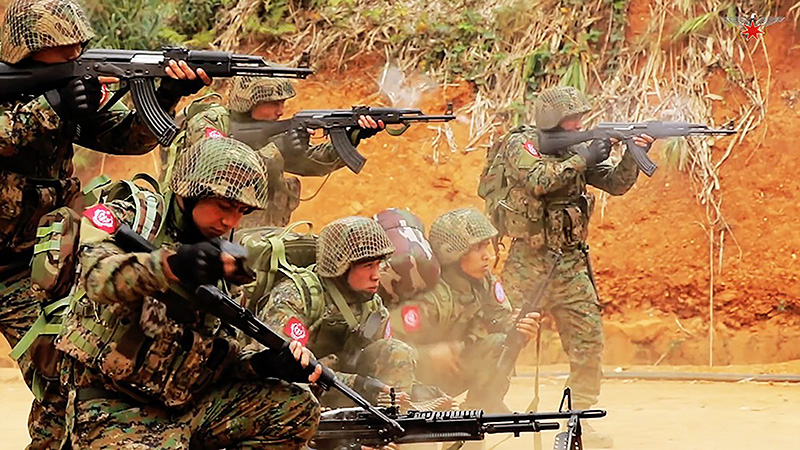 DMG Newsroom
13 November 2023, Rathedaung
Clashes between the Myanmar military and Arakan Army (AA) resumed in Arakan State on Monday as the Arakanese ethnic armed group reportedly attacked multiple junta positions, bringing an end to the two sides' ceasefire as fighting continues to escalate elsewhere in Myanmar.
The hostilities in Rathedaung and Minbya townships did not come as a shock to many amid speculation that a "western front" to the anti-junta armed resistance movement might open in Arakan State after the Three Brotherhood Alliance, of which the AA is a member, launched an offensive late last month with the aim of toppling Myanmar's military regime.
"Clashes were reported in Rathedaung and Minbya Township this morning, confirmed AA spokesman U Khaing Thukha. "The AA occupied some military camps and fighting is ongoing in some places. We also captured some military officers and will release a statement in detail."
DMG attempts to contact Arakan State Minister for Security and Border Affairs Colonel Kyaw Thura were unsuccessful on Monday.
Fighting between the military and AA was reported beginning early on November 13 near Cheinkharlein and Donpaik villages in Rathedaung Township, where the AA launched attacks on Border Guard Force outposts along the Angumaw-Maungdaw road. In response, the military's Rathedaung-based battalions fired artillery shells into the areas where fighting was erupting, locals said.

"I woke up when I heard gunfire at my paddy farm. The sounds of heavy weapons and small arms fire are still heard," said U Aung Than, a local man from Koetankauk Village.
Locals from Cheinkharlein, Donpaik, Hsinpaik, Kyantaingaung and Koetankauk villages fled to safer locations due to fighting, with estimates that upwards of 2,000 people were displaced.
"We heard gunfire at about 4 a.m. and all residents in the village began fleeing at around 5 a.m. Locals displaced by the fighting are hiding in the Mayu mountain range," said a resident of Cheinkharlein Village.
Meanwhile, clashes were reported near Phetharpyin and Pharpyo villages on the Yangon-Sittwe road in Minbya Township at around 7 a.m. on Monday as AA fighters ambushed a military convoy.
"AA combatants launched an attack on a military convoy bound for the No. 9 military training school from Minbya [town]. A military truck was badly damaged in the attack and heavy weapon fire is still heard," said a local from Pharphyo Village.
A Phetharpyin villager was severely injured in an artillery shelling on Monday morning. The man, identified as U Aung Thein Phyu, was wounded when an artillery shell fired by a military regiment in Minbya landed and exploded near a farm at around 8:30 a.m.
"He sustained shrapnel wounds to his back. He was injured while he was harvesting paddy. He is still unconscious due to the severity of his injuries," a resident of Phetharpyin Village told DMG.
Phetharpyin villagers fled their homes after five mortar shells landed and exploded in and around the village.
"An artillery shell fell about 100 feet from the monastery. I am currently hiding in a safe place. All residents in the village have fled to safer locations," said the abbot of the village's monastery.
As many as 2,000 locals across Rathedaung and Minbya townships were reportedly uprooted by Monday's clashes.
According to a DMG tally, more than 700 residents from Donpaik Village and 1,200 locals in Cheinkharlein Village in Rathedaung Township, about 100 people from Phetharpyin and Pharpyo Villages in Minbya Township, around 50 locals from Yaypaukchaung and Tankhoe villages in Ponnagyun Township and about 50 residents from Sittwe Township fled to nearby villages or other locations deemed safer.
The military and Arakan Army reached an informal ceasefire in late November of last year on humanitarian grounds, but the launch of "Operation 1027" by the Three Brotherhood Alliance on October 27 in northern Shan State proved prelude to a resumption of conflict in Arakan State.
In a statement declaring the commencement of their offensive last month, the Brotherhood Alliance said: "Our primary objectives in launching this operation are multifaceted and driven by the collective desire to safeguard the lives of civilians, assert our right to self-defence, maintain control over our territory, and respond resolutely to ongoing artillery attacks and airstrikes perpetrated by the State Administration Council [Myanmar's military regime]."
The statement added: "Furthermore, we are dedicated to eradicating the oppressive military dictatorship, a shared aspiration of the Myanmar populace."
Prior to the renewed hostilities on Monday, there were already more than 58,000 internally displaced people (IDPs) in Arakan State and neighbouring Paletwa Township, Chin State, uprooted by previous military-AA conflicts and unwilling or unable to return home, according to figures from the United Nations High Commissioner for Refugees (UNHCR).
"A Myanmar military regiment in Rathedaung and a Myanmar Navy vessel in the river are still firing heavy weapons into the residential areas," a community elder from Cheinkharlein Village told DMG on Monday afternoon. "We, along with our children, fled to safer places. We have yet to eat lunch."